AUSTIN, Texas -- The friendship that Jason Day has developed with Tiger Woods is a nice storyline, one that has the 14-time major champion bestowing friendly advice on the Aussie -- who used it to his advantage again on Sunday when Day won the Arnold Palmer Invitational.
Presumably, those text exchanges did not venture into the area of bad backs and how to deal with them.
Woods has been out of action since August, dealing with two back surgeries and a slow recovery process that still leaves doubt about his return to competition.
Day limped off the course at Austin Country Club on Wednesday after a 3 and 2 victory over Graeme McDowell at the WGC-Dell Match Play Championship, looking nothing like the guy who has played a ton of dominating golf over the past 14 months.
All of that could change by Thursday, when Day is scheduled to resume the tournament with a match against Thailand's Thongchai Jaidee -- one he could concede and still play on Friday. Day has a late tee time Thursday, meaning more time to recuperate.
Or more time to look at the big picture with the Masters looming in two weeks.
Despite describing the pain as "searing'' when he first came off the course for treatment, Day's agent, Bud Martin, issued a statement several hours later saying that the golfer was "getting prepared to play tomorrow.''
But he wouldn't let Day talk as he exited the course, nor would he allow a PGA Tour media official to ask him any questions.
Martin seemed to be telling a different story than the one projected on TV and by simple witness to Day's actions. He started to favor his back on the 15th hole, and then clearly was in pain after his tee shot at the 16th, which was hit poorly into a fairway bunker.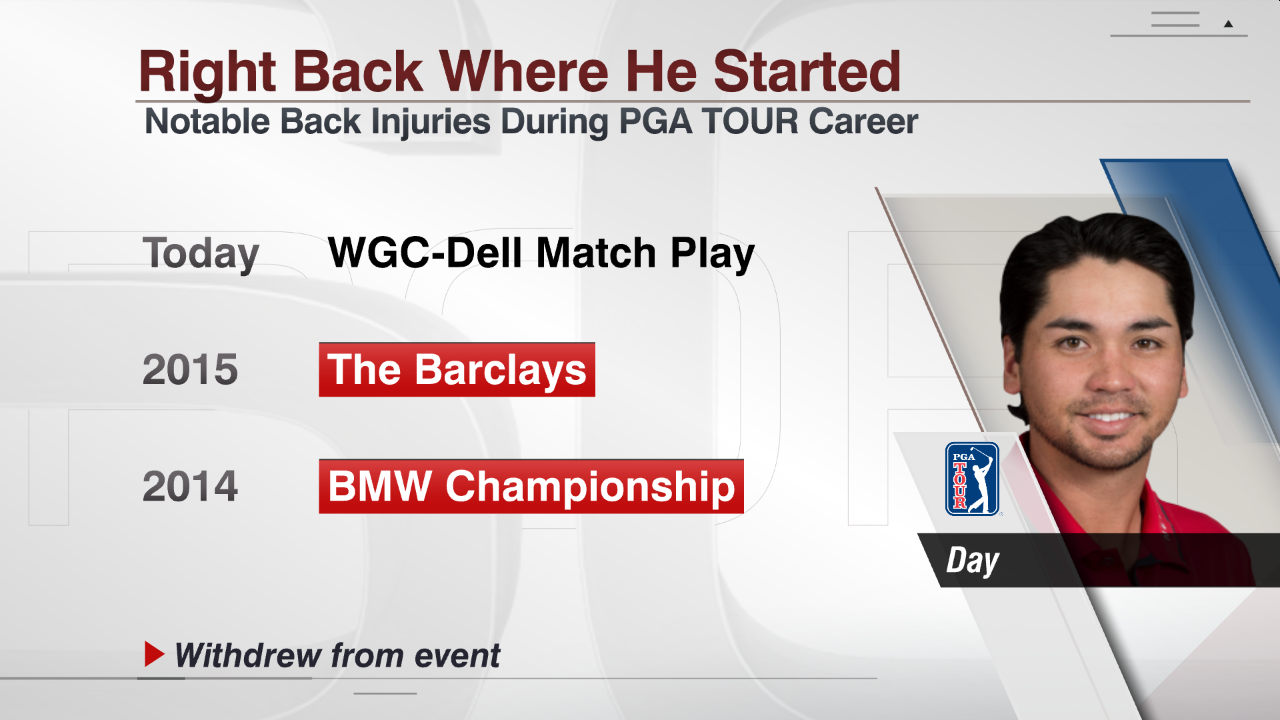 He managed to get that shot onto the green, from where he 2-putted for par -- McDowell actually picking up his marker for him to concede the hole so Day would not have to bend over. While McDowell tried to make his putt to continue the match, Day went down to his knees to watch.
McDowell missed, sparing Day having to play two more holes, but just starting the questions about what this all means.
Day has the chance to go to No. 1 in the world this week if he can get to the quarterfinals and finish ahead of Jordan Spieth in the tournament -- which seems a ridiculously low priority at this point.
Perhaps the physical therapists in the PGA Tour's fitness trailer worked wonders on Day's back and it's simply "tweaked," as Martin suggested. Maybe some ice, a hot tub, some ointment, prayers ... and Day is back to normal Thursday, ready to resume his good golf. He did have five birdies Wednesday.
But what if it's worse than that? It is impossible to know at this point, given the lack of information provided. But last fall, Day withdrew from the pro-am at the Barclays due to a back injury before going on to win the tournament. The year prior, he missed the same event completely because of a bad back.
Are these isolated incidents or a trend? Again, at this point, you can't make too much of it, and you sense that Day has enough smarts to shut it down if there are any issues that might jeopardize the Masters or anything beyond.
But for a player of his stature and age, he has dealt with myriad injuries and ailments. Day, 28, had a well-chronicled case of vertigo last summer at the U.S. Open and has battled it at times throughout his career. He has also withdrawn from tournaments due to ankle, wrist and thumb injuries.
After winning five times in 2015, including the PGA Championship, Day took a lengthy offseason break around the birth of his daughter, Lucy. He returned in January and has needed some time to regain his form of a year ago. The flu caused him to miss the cut at the Farmers Insurance Open in January, and he wasn't a contender at Pebble Beach or Doral.
Then he led wire-to-wire last week at Bay Hill, making a clutch up and down from a bunker on the 18th hole to preserve the victory.
"I've been busting my butt,'' Day said on the eve of the Arnold Palmer tournament. "Not only on the golf course practicing and consuming myself in the strength and weakness of my game, but also what I've been putting in my body, what I've been doing in the gym and really kind of the last piece of the puzzle, kind of linking that all together and going out there and feeling confident ... obviously going out there and winning.''
Day then went out and won it. His confidence is high and he was playing beautifully Wednesday before he grabbed his back.
It was Woods himself who said back injuries are "no joke." Just this week, Nick Watney announced he would take the rest of the year off to make sure an ailing back gets better.
Maybe a text or two to Woods is in order again. Perhaps Tiger will tell him he regrets returning from his various back problems too soon. Or that he ignored warning signs. Or that a little rest could go a long way at this point.
Who knows how this will go, but one thing is certain: It would be great to be privy to that conversation.