Commentary
Commute hampers Chevron field
Updated:
November 30, 2011, 8:10 PM ET
By
Bob Harig
| ESPN.com
THOUSAND OAKS, Calif. -- The Tour Championship ended more than two months ago, with Bill Haas hoisting the tournament and FedEx Cup trophies.
The official PGA Tour season ended the week prior to Halloween, with Luke Donald making a spirited final-day rally to win the Disney tournament and the PGA Tour money title.
[+] Enlarge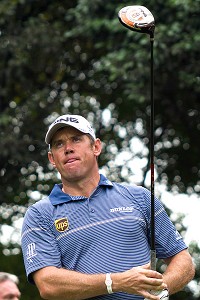 ChinaFotoPress/Getty ImagesNo. 3 Lee Westwood is among seven players in the top 10 in the world rankings who is teeing it up this week. Westwood is playing at the Nedbank Golf Challenge in Sun City, South Africa.
Thanksgiving has come and gone, the Christmas holidays beckon, and the 2012 PGA Tour season is another five weeks from its beginning.
It seems like this would be a good time to put the clubs away, prop up the feet, catch up on some reading, spend time with the kids... do anything but play golf.
And that is hardly the case as we roll into December.
This, as it turns out, is one of the busiest golf weeks of the year.
Seven of the top 10 players in the world are competing at tournaments being played on three different continents.
No. 1 Luke Donald is in South Africa, No. 2 Rory McIlroy is in Hong Kong and No. 6 Steve Stricker heads the field here at the Chevron World Challenge in California, the tournament that benefits the Tiger Woods Foundation.
So much for the offseason.
"It seems the better you play, the less offseason you have,'' Haas said. "You get in the Presidents Cup and going to play in Australia and China [for the HSBC Champions] and playing this event -- these are all good problems to have.
"If I could play these every year, I don't know if I care to have an offseason. These are pretty special tournaments to be in. And in years prior, hey, you could have a few months off if you wanted it.''
Woods' tournament has often been viewed as a really nice offseason perk, an opportunity to make easy money (last place in the 18-player field pays $140,000; the winner gets $1.2 million). And now for the third year, while the tournament is considered unofficial, participants receive world ranking points.
And yet, there are still other options to draw players away. Woods' tournament, now in its 13th year, is taking a bit of a hit this year due to a change in scheduling on the European Tour.
Defending champion Graeme McDowell, Donald, McIlroy and Ian Poulter all played Tiger's tournament a year ago. All had played the week prior at the season-ending Dubai World Championship on the European Tour.
Follow On Twitter

Want great insight into the game of golf in 140 characters or fewer? Follow @BobHarig.
But this year, the Dubai event is the week after, which would have made for an awful commute from California. Due to the time change and distance of travel, any of those players who competed here would not have been able to get to Dubai until Tuesday.
That is why Donald, Westwood and Martin Kaymer are playing the Nedbank Golf Challenge in Sun City, South Africa, another big-money, small-field event. The tournament has just 12 players, with last place earning $250,000 and $1.25 million going to the winner.
At least it is an easier commute to Dubai.
Same goes for the Hong Kong Open on the European Tour, where McIlroy is playing and where Poulter is defending his title.
"The challenge this year was all about the Presidents Cup being played later,'' said Greg McLaughlin, the Chevron tournament director and president of the Tiger Woods Foundation. "Now the Dubai event is moving up [next year]. My understanding is it will be Thanksgiving week. I think it's all a little bit in flux.
"This year was a unique situation and it happens. All of the European Tour players who weren't able to play were apologetic, felt bad, were very complimentary of the event. They were very supportive.
"The thing to keep in mind is schedule and field strength always evolves. If you look at the quality of players, they are great names... It's something you just have to deal with, but everybody has a situation on every tour, where you are dealing with something.''
The second half of the 2012 European Tour schedule has yet to be released, but if the Dubai event moves back to the week prior to Chevron, then this tournament promises to get more European Tour players while also having to compete against the Nedbank event.
Regardless, at a time when golf figures to be in sleep mode, there are plenty of lucrative opportunities for the top players in the game.
"At the beginning of the year, I'd have never thought I'd be here playing,'' said Keegan Bradley, the PGA Championship winner who won twice this year and is now ranked 27th in the world. "Before the PGA, I wouldn't have thought I would have been here playing. It's an honor for a player like me to be in a field like this with players like Tiger and Nick Watney and some of the other guys. It's just really cool.''
Bob Harig covers golf for ESPN.com. He can be reached at BobHarig@gmail.com.
SPONSORED HEADLINES
MORE GOLF HEADLINES
MOST SENT STORIES ON ESPN.COM
EDITORS' PICKS
Relive 2014's most memorable golf moments -- in photos.
The Masters

Ryder Cup defeat caused the PGA to look in the mirror.
Bob Harig »

Martin Kaymer's Players win catapulted him higher in 2014.
Bob Harig »