Commentary
Brian Harman won't wilt vs. competition
Updated:
December 23, 2011, 2:19 PM ET
By
Farrell Evans
| ESPN.com
Five feet, 7 inches is perhaps a too generous estimation of this diminutive Georgian's height, but what Brian Harman lacks in size he makes up for in self-confidence and charisma. The 24-year-old Savannah native and ex-Georgia Bulldog finally got his PGA Tour card this fall through Q-school, after two years on the mini-tours. The 2003 U.S. Junior Amateur champion expounds on his height, duck hunting, the mini-tours, beating Rickie Fowler in college, and college partying.
---
I'm the only one in my family who plays golf, but when I was 3 years old, my dad moved our family to a house on the third hole of the Southbridge Golf Club in Savannah, Ga. Once I got done with baseball when I was 11, I started playing golf. I would ride my bike to the course after school and hit a couple of bags of balls. Eventually my dad joined the club so that I could hit unlimited range balls and I just went from there. Within a year, I broke 80 for the first time.
[+] Enlarge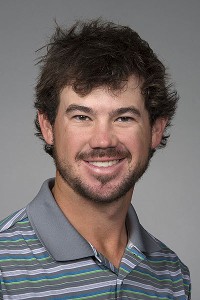 Stan Badz/PGA TOURBack in college at Georgia, Brian Harman took down one of the PGA Tour's current bright young stars -- Rickie Fowler -- in match play competition at the NCAA Championships.
When I was really little I would try to swing a bat left-handed. So my parents got me a right-handed baseball glove, thinking that I was going to throw left-handed. But I would catch the ball in my right hand and take my glove off and throw it back to them with my right hand. Golf is the only thing that I do left-handed.
After I won the Thunderbird junior tournament on the AJGA in Arizona, I got a nice letter from Phil Mickelson. I'm looking forward to meeting him this year.
Rickie Fowler and I played against each other in the match play portion of the 2009 NCAA Championships. I birdied the last three holes to beat him 1 up. I have known Rickie for a long time and he's a good buddy of mine. We both played pretty well that year and it worked out that our match against Oklahoma State came down to our match.
I was 1 down with three to play. We both birdied 16 but he couldn't match my birdies at 17 and 18. After the match on the 18th green, one of my teammates came and lifted me onto his shoulders. It was one of the better moments of my life.
The eGolf Tour made me recognize the weaknesses of my game. But what's humbling about the mini-tours is that you have to pay a lot of money to get into the tournaments. It can cost you up to $1,100 to $1,200 a week.
So you don't have a whole lot of money in your pocketbook. Some of the golf courses will make you pay for a practice round. You have to pay for lunch. At the start of the week you know that you have to play really well because you have bills to pay. In college you don't think about those things, because everything is covered. It definitely gives you some perspective.
When you're down on the mini-tours it's easy to get into a mindset where you think that the PGA Tour should do more to help more guys on tour. And I got a little wrapped up in that at times. But I have learned that the way to do it is to work really hard and surround yourself with the right people. But if you sit there and complain about things not being in your favor, you're in for the long haul.
I had a really bad junior season. I didn't even make All-American. I had a little too much fun. On the golf course I had no idea where the ball was going. I hurt my team.
Follow on Twitter

ESPN.com senior golf writer Farrell Evans has taken to Twitter. See what he has to say about all things golf. Follow @EvansESPN
I had a bunch of different buddies in fraternities and it seemed like one of them had something for me to do every night other than studying or getting up early going to the golf course. I fell victim to the peer pressure for a little while and that's definitely not hard to do in a town like Athens. It took me awhile to realize how hard I was going to have to work to get back to where I needed to be to play at the next level.
I have been duck hunting a lot since the end of Q-school. I haven't been killing a whole lot. I also do a lot of off-shore fishing, but right now I'm in hunting season. For good duck hunting you need to find the ducks. The second most important thing is the weather. A good cold, clear morning is perfect. We haven't had a whole bunch of cold mornings in Savannah, so it's been tough. The third most important thing is your decoy spread or the way you arrange your fake ducks in the water. It has to be perfect.
Being a little guy definitely gives you a little bit of an edge. The first time I ever played in real match play as a junior I was up against this really tall 17-year-old guy from South Carolina. I was 14 and about 5-foot-3. I was the youngest guy at the tournament by a couple of years.
When I walked on the tee box the guy laughed in my face. I was like OK. I knew that once I drove it past him on the first hole that it wasn't going to take me long. I shot like 4 or 5 under and beat him 7 and 6. I didn't talk any trash, but he did walk off with his tail between his legs.
Farrell Evans covers golf for ESPN and can be contacted at evans.espn@gmail.com.
Senior golf writer for ESPN.com
Wrote for Sports Illustrated/Golf Magazine for 9 years
Played college golf at Florida A&M
2012 SEASON PREVIEW
The PGA Tour's first tournament -- the Hyundai Tournament of Champions -- starts sooner than you might think. 2012 PGA Tour preview
2012 PGA Tour schedule
2012 Major Venues
Masters:
Augusta National Golf Club; April 5-8; Augusta, Ga.
U.S. Open:
The Olympic Club; June 14-17; San Francisco, Calif.
Open Championship:
Royal Lytham and St Annes; July 19-22; Lancashire, England
PGA Championship:
Kiawah Island Ocean Course; Aug. 9-12; Kiawah Island, S.C.
Ryder Cup:
Medinah, No. 3 Course; Sept. 28-30; Medinah, Ill.