Phil Mickelson won't use driver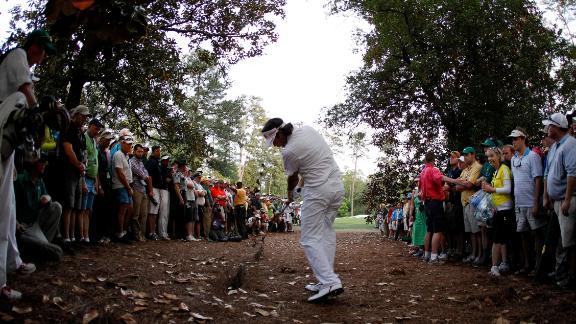 The Masters: Bubba's Shot
The Masters: Bubba's Shot
NEXT VIDEO
AUGUSTA, Ga., -- Phil Mickelson will use a modified 3-wood as his driver when the Masters begins Thursday at Augusta National Golf Club.
The three-time Masters champion, who last won here in 2010, had his club manufacturer combine characteristics of a driver with a 3-wood for a club that gives him better accuracy off the tee without sacrificing distance. The club conforms to USGA guidelines.
Two weeks ago at the Shell Houston Open, the 42-year-old San Diego native first mentioned his "special club" that would have a smaller head, a lower-ball flight and more run in the fairway.
More on ESPN.com
Complete tee times for the first two rounds at Augusta National. Tee times • Stats & Info: Storylines
Mickelson said on Tuesday the club takes spin off the ball. So on some holes now at Augusta, he's getting another 15 to 20 yards in distance.
"The tee shot on 15 is getting down to where I have one or two clubs less, and because it comes off fast, as well as low spin, it's running, which is exactly what I wanted here," said Mickelson, who finished in a tie for third last year.
Mickelson is looking for anything that will help calm his nerves.
"I haven't been in competition since the Sunday of the Houston Open, and that's been -- it will be 10, 11 days, I guess, as opposed to three, and that's what I'm nervous about is just those first opening five or six holes, being mentally tuned in," Mickelson said.
However, Mickelson said he did have some nice practice sessions the past several days.
The 41-time PGA Tour winner said he's not surprised to see Tiger Woods is the favorite to win this week.
"Tiger is playing some incredible golf," Mickelson said. "It's going to be a very difficult thing for us to beat him this week."
Since 2000, Mickelson has finished outside of the top 10 at Augusta on only two occasions. He's optimistic about his chances for success this year.
"I don't have to hit perfect shots to make pars," Mickelson said. "There are a lot of holes here where I can make mistakes off the tee and with my short game, I know can recover.
"It's not like the U.S. Open where if you make one little mistake, it's costing you one or two shots because you don't have the ability to recover. That's what Augusta National offers is that recovery shot, which means you don't have to be perfect from the tee, which I like."
Senior golf writer for ESPN.com
Wrote for Sports Illustrated/Golf Magazine for 9 years
Played college golf at Florida A&M
SPONSORED HEADLINES
MORE GOLF HEADLINES
MOST SENT STORIES ON ESPN.COM
2013 MASTERS

Adam Scott lived the charmed life, except when it came to majors. That's all a thing of the past after his Masters playoff win. Gene Wojciechowski
Champ Central
2013 champion:
Adam Scott
Course:
Augusta National Golf Club
Where:
Augusta, Ga.
Yardage, par:
7,435 yards, par-72
Past champions:
Complete list
SUNDAY
ANDY NORTH'S MASTERS TOP 10
MASTERS.com
FANTASY GOLF
MORE COVERAGE