Commentary
Steve Stricker quietly surprising
Updated:
September 3, 2013, 7:00 AM ET
By
Farrell Evans
| ESPN.com
NORTON, Mass. -- Semi-retired. That's the tag Steve Stricker put on his future back in January. At 45, he was reducing his schedule to 10 to 12 events to spend more time with his family.
The Wisconsin native was playing the best golf of his career -- nine wins in his 40s. Late in his career by tour standards, he had finally reached his prime.
[+] Enlarge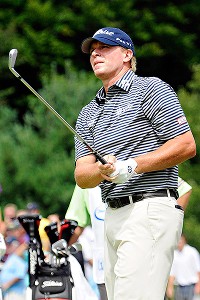 Mark Konezny/USA TODAY SportsSteve Stricker wouldn't seriously consider skipping the Tour Championship for a hunting trip, would he? According to the 46-year-old, he just might do that despite being eighth in the FedEx Cup points standings.
He kept his word. Coming into this week, he had played just 10 events and even skipped the Open Championship to celebrate his wedding anniversary with his wife, Nicki, and his two daughters on a northern Wisconsin lake, where he tore his right hamstring water skiing.
Still, the former Fighting Illini has managed six top-10s, including his third second-place finish of the year this week in the Deutsche Bank Championship.
His 20-under total, which fell 2 shots short of Henrik Stenson, was also good enough to lift him to automatically qualify for his fifth U.S. Presidents Cup team.
"I came here trying to get one of those last few spots on the team, knowing that I needed to play well," said Stricker, who came into the week 11th in the Presidents Cup points standings. "I had texted Freddie [Couples] earlier in the week. I didn't want one of his spots as a pick. I wanted to make the team on my own.
"So I had great incentive, great motivation to play well this week."
How good could Stricker be if he played a full schedule? Stenson is the hottest player in the world, but a now 46-year-old part-timer who hadn't played in a tournament since the PGA nearly beat him.
Stricker is not even sure if he's going to enter the Tour Championship. He's a lock to play in the BMW in two weeks in Chicago, but he has a scheduling conflict with Atlanta.
"I've had this [elk] hunting trip scheduled all year," he said. "I know it sounds a little strange, but I'm going to see how I play in Chicago. We're supposed to leave Monday after Chicago. [My buddies] pushed this trip back for me a couple of days so I could play in Chicago."
He's just made $864,000, earned his way onto the Presidents Cup team and jumped to eighth in the FedEx Cup playoffs standings, but he's being considerate of his friends and their much-anticipated bow-hunting trip to Colorado.
FOLLOW GOLF ON ESPN
Stay up to date with the latest news, stories and analysis.
Follow ESPNGolf on Twitter
But his pals shouldn't count on him making that trip the week of the Tour Championship.
"If I'm up there and have a chance to win or top 10 going into Atlanta, I'll probably go into Atlanta," Stricker said.
This could be his last realistic shot to win the FedEx Cup playoffs. So he should pour everything into these last few weeks. A major championship might not lay in his future, but a playoff series fits right into his narrative of consistency. Only Tiger Woods, who has played 14 tour events in 2013, has a better record than Stricker over such a limited schedule.
How Stricker played his way onto the Presidents Cup team is a testament to his elite status on tour. There aren't many players in the world that can dial up their best golf under the kind of intense pressure that he faced this week in suburban Boston.
He has proven that he can stay sharp over the course of the year, despite limited play and a game that is more about precision and craft than brute force.
As the much more physically gifted Sergio Garcia faded from the lead on Monday, Stricker -- in his workman-like fashion -- kept the pressure on Stenson to not make any major mistakes. Stricker had five birdies and a bogey in a 4-under 67 that didn't fully represent his performance on a rainy Labor Day.
"I hit some great shots on the back nine all the way around and had some makeable putts that I just couldn't get in there," Stricker said. "There's a couple of things there that I didn't do, which I'll look back and be a little frustrated on and disappointed that I wasn't able to pull it off."
In two weeks in Chicago, Stricker will have an opportunity to make amends for these mistakes at the BMW Championship.
Semi-retired. Huh. If it means playing like Stricker, every player on tour should aspire to his schedule. He's having another great year and doing it completely on his terms.
There will be time for elk hunting once his career is fully done. For now, he should give his best aim at hunting down the FedEx Cup playoffs crown.
Senior golf writer for ESPN.com
Wrote for Sports Illustrated/Golf Magazine for 9 years
Played college golf at Florida A&M
SPONSORED HEADLINES
MORE GOLF HEADLINES
MOST SENT STORIES ON ESPN.COM
EDITORS' PICKS
Deck the halls

O'Neal's focus on making it to the PGA Tour hasn't wavered.
Evans »

Our scribes pick Tiger's most memorable moments in 2013.
Four-Ball »