Commentary
Top 25 Open Championship rankings
GULLANE, Scotland -- Well the pressure's on now!
Last week, I let my 4-year-old and 6-year-old have their own top-25 list picking golfers randomly from a pile of index cards. I have a sneaking suspicion that if their list has better results than mine, I might have to co-sign their new ESPN employment deal while I'll look for work in a kitchen washing dishes.
Daddy's gonna need some aspirin. Here we go:
| Player | Analysis | Best finish |
| --- | --- | --- |
| 1. Graeme McDowell | The epitome of feast or famine this year. On the European Tour, he's got four starts with two missed cuts and two wins. On the PGA Tour, he has seven starts, two missed cuts, a win and three top-10s (who knows what happened at the Arnold Palmer Invitational with a T-45). He's had two missed cuts in the first two majors of the year, so you know what's coming this week. Remember who told you first! | T-5, 2012 |
| 2. Phil Mickelson | Just because he seems to always be the bridesmaid at the U.S. Open doesn't mean he can't be a bridesmaid at the Open Championship, as well, this year. Coming into the week off a playoff win, seems the stars are aligning again for a big Sunday disappointment for the lefty. | T-2, 2011 |
| 3. Jason Day | Seems the Open Championship is the only major where the guy has yet to finish inside the top 10. Until this year, that is. Perfect weather plus a sound new mental approach sets Day up for his best finish in this event. That's not saying much, since this is only his third time teeing it up in the Open. | T-30, 2011 |
| 4. Bubba Watson | Since missing the cut in his first two tries at the Open (2009, 2010), the big lefty has finished 30th and 23rd in consecutive years at this major. Fatherhood has put a new maturity inside Bubba, who still said golf ranks about fourth in his life's priorities. That being said, the competitive fire and want to win still drive him on the course. | T-23, 2012 |
| 5. Peter Hanson | Here's that player on the European Tour for whom we always end up saying, "WHO?" when his name is on a leaderboard. But he's the 26th-ranked player in the world with his six victories on the European Tour. He's played in seven Opens and has missed the cut only once. This will be his best finish ever at the Open Championship and his first top-10, but at least the hard-core fan will know who he is after this week. | T-23, 2012 |
| 6. Charl Schwartzel | He's missed only one cut in 11 events on the PGA Tour this year. With finishes of 25th at the Masters and 14th at the U.S. Open in his pocket coming into the week, he might be one of the best "under-the-radar" players on the list of previous major champions of our time. | T-14, 2010 |
| 7. Justin Rose | The U.S. Open champion's only top-10 in the Open Championship was as an amateur sensation in 1998 when he finished fourth. Oh, what a major title will do for your confidence -- as will the rest of a couple of weeks off, since he hasn't teed it up since the Travelers Championship. But it's much easier to shake the rust off with a major trophy at your house. | T-4, 1998 |
| 8. Tiger Woods | Elbow is good to go and he's ready to get after it. At least that's what he says. But nowadays, we don't ever know whether there's an issue until after the fact. Tiger has had some great first two days in majors lately, but his weekends are what have been costing him the chance to get off the No. 14 he's been stuck on since 2008. | Win, 2000, 2005, 2006 |
| 9. Billy Horschel | Being the "odd man out" in the Ryder Cup rematch pairing works to his advantage, as he can play his own game while enjoying the battle between Ian Poulter and Keegan Bradley. Don't scoff at Horschel's game, though. Remember, he had the longest cut streak on tour until winning in New Orleans and then missing the cut at the Players. He hasn't missed a cut since. | First appearance |
| 10. Ian Poulter | The pairing with Keegan Bradley (and Billy Horschel) might stir enough memory and emotion of the 2012 Ryder Cup heroics to carry Poulter into contention going into the weekend. The gravity of winning the major that means the most to him will keep Poulter from finishing better than 10th, though. | 2nd, 2008 |
| 11. Rickie Fowler | Three times, he's teed it up at the Open. Three made cuts, with finishes of 31st, fifth and 14th. That should tell you that his golf-course maturity in taking what the course gives is well beyond his age. The only thing that will hold him back from getting a top-10 will be the one big number he'll put on his scorecard somewhere this week. | T-5, 2011 |
| 12. Matteo Manassero | At 20, the kid already has four European Tour wins, including the 2013 BMW Championship (the European Tour's version of the Players Championship). It seems he'll just stay over on this side of the pond because the only place he's not successful is the U.S. | T-13, 2009 |
| 13. Adam Scott | Yes, of course he's over the loss of the Open last year, but maybe, coming down the stretch Sunday, old ghosts will reappear. Or maybe he'll just play unspectacular but solid golf and finish just outside the top 10. Either way you see it, the Aussie will be fine with it. | 2nd, 2012 |
| 14. Lee Westwood | Best player never to win a major? Well, he's got to be in the argument. Westwood is not getting that label taken away this year. As much as I'd love to see him break through that glass ceiling, it seems he's just going to have to wait at least another year to kiss the Claret Jug. | 2nd, 2010 |
| 15. Jonas Blixt | Oh, what a win and a week off can do for you. Saturday of the Greenbrier Classic, Blixt had no idea where his driver was going. By Sunday night, he was putting his driver and a trophy in his luggage, knowing he had a week off and then was coming to Scotland. That newfound confidence and rest will give him a good showing this week, which is not a bad way to prepare for your first major. | First appearance |
| 16. Dustin Johnson | It's been somewhat of a roller-coaster ride for the man who won the first event of 2013. Two WDs, three missed cuts and an injury, yet he's still managed four more finishes inside the top 13. His past two Opens have been successful, but in this one he'll finish outside the top 10. | T-2, 2011 |
| 17. Keegan Bradley | His one and only start in the Open Championship, last year, produced a 34th-place finish. And as it now seems, there is no stage too big for the die-hard Red Sox fan. A finish inside the top 20 will be the consolation prize this year. | T-34, 2012 |
| 18. Kevin Streelman | From the middle of March until the middle of May, Streels put on an impressive string of golf by winning at Tampa Bay, then -- after the Masters -- finishing third, sixth and second. A cold spell through June looks as if it came to an end with his good play early at the John Deere Classic. | MC, 2011 |
| 19. Louis Oosthuizen | Ranked 10th in the world, the 2010 Champion Golfer of the Year comes into the week with an early-season victory (the Volvo) under his belt and a solid finish at the Masters (fifth). Pair that with his 17th-place finish at the Greenbrier Classic a couple of weeks ago and you know his game has come into form. | Win, 2010 |
| 20. Niclas Fasth | Look for the Swede to catch a little lightning in a bottle this week, as his year hasn't produced anywhere near what his capabilities are on the course. Still, as his compatriot Jonas Blixt proved, it only takes one good week. | 2nd, 2001 |
| 21. Fred Couples | Every year, a Champions Tour guy gives us a glimpse of that old magic. This year, it'll be Freddie's turn. Remember the Masters in April, when, for a few minutes, he was up close enough to the lead for us to pause and think "what if?" for just a minute? Be prepared for that again this week. | T-3, 2005, 1991 |
| 22. Richie Ramsay | This is like a home game for the Scotsman, who lives in Edinburgh. The bad news is he's coming off a missed cut at the Scottish Open last week. The good news is he's got the "home game" jitters out of the way and now can make his first cut in an Open. | MC, 2007, 2009, 2012 |
| 23. Ben Stow (A) | Every year, at least one amateur makes a name for himself at the Open Championship. This year, it'll be a Stow-away. Even though he's from Salisbury, England, he's now playing golf at the University of Kentucky. | First appearance |
| 24. Jason Dufner | A 20th-place finish at the Masters followed by a fourth at the U.S. Open lets you know he's in big-game mode. Unfortunately, I can't rank him higher than 24th because of his prior record at Open Championship. | T-31, 2012 |
| 25. Tim Clark | Yes, I know, in eight starts at the Open Championship, Clark has managed to make only two cuts with no finishes inside the top 20. But I believe this year, with the extra motivation of the impending anchoring ban, Clark will find a way to dig deep and get inside the top 25. | T-23, 2005 |
Senior writer/video talent for ESPN.com
Worked for several players as PGA Tour caddie
Former stand-up comedian
THE OPEN CHAMPIONSHIP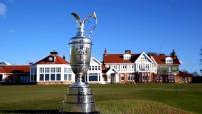 The Open returns to Scotland and Muirfield for the first time since 2002. Who will hold the Claret Jug this time around?
ROUND 4
ROUND 3
ROUND 2
EDITORS' PICKS
As she blossoms into adulthood, Lexi Thompson is close to cracking the next stratosphere in marketing and in golf. Melissa Isaacson »

The Masters is less than 10 days away, and Tiger Woods' status remains a mystery. Should he return to golf in Augusta? Bob Harig

The name is unfamiliar, but the year's first LPGA major still comes replete with its cherished traditions. Bill Fields »
MOST SENT STORIES ON ESPN.COM