Commentary
Round 1 Open Championship grades
GULLANE, Scotland -- Time for me to put on my teacher's hat, grab my ruler and give out some grades and maybe even a few slaps on the wrists.
Every major I'll grade the top five in the OWGR (Official World Golf Ranking) and throw in a couple of random ones just to keep you on your toes. How did the top five grade out for the first round of the Open Championship? Check it out ...
Tiger Woods World Ranking: No. 1 | Score: 69 (2 under)

This was a huge step for the world No. 1. Thursday was easily a round that could've gotten away from him early. He showed some of that old Tiger grind. That's the Woods we haven't seen in a while. Making the turn at 1 over, Tiger birdied two of the five toughest holes on the course (11 and 13) in a three birdie-over-four hole stretch. That now has him in position to get near the lead by the end of Round 2 if his game can stay solid.



Rory McIlroy World Ranking: No. 2 | Score: 79 (8 over)

Wow (and not the good kind). Where to start? First, only hitting five of 14 fairways at a place where everyone says hitting fairways is at a premium shows you are still lost. Making your only two birdies at par 3s and only hitting 10 of 18 greens reinforces it. Can Rory find his swing and salvage something for Round 2? I doubt it, and it kills me to write that.



Justin Rose World Ranking: No. 3 | Score: 75 (4-over)

You didn't make your first birdie until the 17th hole? I understand you might still be on a bit of a high from your U.S. Open win, but as the third-ranked player in the world, you have to know expectations are going to be higher. Three bogeys and a double on a course where you hit 12 of 18 greens is just no longer acceptable.



Adam Scott World Ranking: No. 4 | Score: 71 (Even)

Four birdies and four bogeys, a little better than average greens in regulation (66.7 percent -- the field was 64.3 percent) and fairways hit (78.6 percent -- the field was 62.2 percent) are not bad. Making a bogey at the second hole, which played as the fourth easiest on the golf course, was weak. The good news is he's sitting at even par and still in a good position to try to win a second major. The bad news is now he's going to have to work a bit harder to get it.



Phil Mickelson World Ranking: No. 5 | Score: 69 (2 under)

Why the minus? Because the guy who now only uses a Frankenstein 3-wood birdied zero of the three par 5s. The four birdies were good. The bogeys were what I'll call collateral damage because apparently he has a problem with those holes and how the R&A set them up. From now on, pretend that when you take a shot at the guys who set the course up, they won't listen to you, because it only makes you look bad. No, wait, that's reality. Now stop complaining and keep trying to win.



Shiv Kapur World Ranking: No. 210 | Score: 68

I can see the haters already. "How can you give this guy an A-plus, blah, blah, blah!!!" You know what? Quiet down. You had no idea who Shiv Kapur was on Wednesday, but by Thursday at noon, he was going viral like Jeremy Lin did when he broke out with the Knicks. Of course he wasn't going to be able to hold on during the back nine, but for just a little while when he made six birdies in the first seven holes, we were all holding our breath as the 21-year-old from New Delhi, India, made us say ... "______________!" I give you permission to insert your own Shiv wordplay.



Charl Schwartzel World Ranking: No. 14 | Score: 75 (4 over)

You only get the plus because when you holed out for birdie from the bunker at the 18th, you smiled and waved to the crowd. You get the D grade for the way you broke your club on the 15th hole on TV. Even though it did prove how hard the ground is over here, I can't condone breaking a club like that. Man up and snap it over your leg!



Muirfield World Ranking: n/a | Score: n/a

So let me get this straight. That many guys shot under par at a major and golfers were still complaining about the course setup? And it was some of the guys at the top of the leaderboard complaining? Guess where they won't be after Day 2? On the top of the leaderboard. The R&A got the setup right. The big winds we're used to seeing at an Open never showed up, so they had to make the course play tough without it. They succeeded. Muirfield teetered on the edge of fair on some holes, and that's fine with me.


Senior writer/video talent for ESPN.com
Worked for several players as PGA Tour caddie
Former stand-up comedian
THE OPEN CHAMPIONSHIP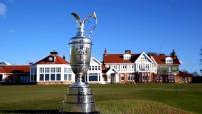 The Open returns to Scotland and Muirfield for the first time since 2002. Who will hold the Claret Jug this time around?
ROUND 4
ROUND 3
ROUND 2
EDITORS' PICKS
Historic vote by the R&A membership.
Story »

Carlos Ortiz carries a nation's hopes to the PGA Tour.
Farrell Evans »

Michael Collins hands out his awards.
Watch