Arnold Palmer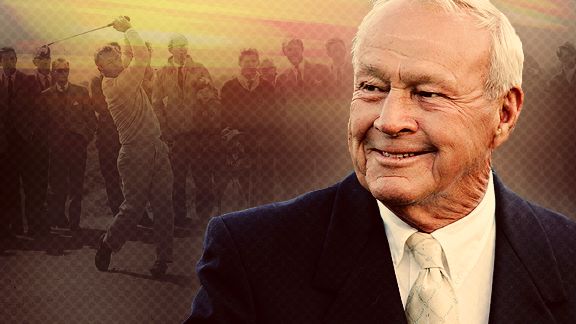 Arnold Palmer is a former professional golfer who won 62 tournaments during his career on the PGA Tour. Widely considered one of the greatest golfers of all-time, Palmer captured seven majors that included four Masters wins from 1958 to 1964 and two British Open titles. Part of golf's "Big Three" with Jack Nicklaus and Gary Player that helped to popularize the sport in the 1950s and '60s, Palmer was named "Athlete of the Decade" for the 1960s in an Associated Press poll. Nicknamed "The King," he also claimed 12 titles on the Senior PGA Tour, and was elected to the World Golf Hall of Fame in 1974. Following his PGA career, Palmer has entered into a number of golf-related business ventures that include the Arnold Palmer Design Company that is based at Orlando's Bay Hill club, which hosts the annual Arnold Palmer Invitational.
Arnold Palmer was born on September in Latrobe, Pa. on September 10, 1929, the son of Milfred (Deacon) Palmer, who was a golf professional and course superintendent at Latrobe Country Club.
Palmer began playing golf at the age of four, using a set of clubs that his father had cut down in size. An established golfer by his teenage years, Palmer twice won the Pennsylvania high school championship and won the first of his five West Penn Amateur Championships as a 17-year-old.
He was a regular participant in national junior golf events by the time he entered college at Wake Forest (in Winston-Salem, N.C.), where he became the No. 1 player on the school's successful golf team.
After withdrawing from school in his senior year (following the death of a classmate and friend), Palmer joined the Coast Guard. He became refocused on his golf game while stationed in Cleveland, and began playing amateur events again after his discharge. In 1954, Palmer's victory in the Ohio Amateur was followed by victory at the U.S. Amateur.
Arnold Palmer turned professional in the fall of 1954 after winning the U.S. Amateur that summer. His first victory on the PGA Tour came at the Canadian Open in 1955. Two years later, he led the professional tour in victories for the season with four titles in 1957.
In 1958, Palmer claimed the first major championship of his career, by winning The Masters, along with two other tour victories on the season. His aggressive playing style and charismatic personality earned him many fans, as golf began to gain in popularity as a television sport.
Three more titles came in 1959, before Palmer began to dominate the PGA Tour in the early part of the following decade. He captured his second Masters victory early in the 1960 season, and followed that with a spectacular win at Denver's Cherry Hills Country Club -- making up seven strokes in the final round -- to earn the U.S. Open trophy. After winning a total of eight tournaments in 1960, Palmer was named as the "Sportsman of the Year" by Sports Illustrated magazine.
In 1961, Palmer claimed his first British Open title, at Royal Birkdale, among six tour victories. With the lowest scoring average among PGA golfers, he won his first of four Vardon trophies that year, and was also part of the victorious U.S. team at the 1961 Ryder Cup.
Palmer won two more majors in 1962, claiming his third green jacket with another Masters victory at Augusta National while repeating as British Open champion at Royal Troon in Scotland. His eight victories on the season topped the PGA Tour, and he also garnered a second consecutive Vardon Trophy.
Although Palmer's throng of on-course followers known as "Arnie's Army" didn't see him lift any major trophies in 1963, the Pennsylvania native did win seven events on the year. He also captained the U.S. Ryder Cup team that defeated Great Britain at the Atlanta Athletic Club.
After winning 29 PGA tournaments in four seasons from 1960 to 1963, Palmer claimed only two titles in 1964. But one of them was a victory at the Masters, making him the first player to ever win that major championship four times. 1965 brought one more tour victory and participation in another Ryder Cup, but Palmer's dominance began to wane as Jack Nicklaus and Gary Player -- the two other members of golfing's "Big Three" during that decade -- emerged victorious at a number of big tournaments.
Palmer again had the PGA's lowest scoring average in 1967, when he gained four more titles; his wins included his third career victories at both the Los Angeles Open and the Tournament of Champions.
He continued to win at least once each season from 1968 to 1970 before producing another big year in 1971, when he captured four tournaments. The last of his 62 PGA Tour victories came at the Bob Hope Desert Classic in 1973.
Following his impressive career on the PGA Tour, Arnold Palmer was among the first group of players eligible for the inaugural PGA Senior Tour (for players 50 years of age or older) that debuted in 1980. Still one of the world's more popular golfers, he helped build that tour into a successful entity and won ten events that included five senior major championships.
Palmer has also become involved in a number of golf-related business ventures over the years. He has been president and owner of his hometown Latrobe Country Club since the early 1970s, and has been a principal owner of the Bay Hill Club and Lodge in Orlando, Fla., which now hosts the Arnold Palmer Invitational each year on the PGA Tour.
He was also involved as a consultant and chairman of the board for the Golf Channel, and has helped to build a golf course design and management company. Now called Arnold Palmer Golf Management and based at his club at Bay Hill, the company offers a variety of course-related services and operates a number of clubs throughout the country.
NEWS RESULTS FOR ARNOLD PALMER
AUDIO RESULTS FOR ARNOLD PALMER
VIDEO RESULTS FOR ARNOLD PALMER
ARNOLD PALMER QUICK FACTS
Birth Date: September 10, 1929 (age 81)
Birth Place: Latrobe, PA
College: Wake Forest
PGA Tour Debut: 1954
PGA Tour Wins: 62
Major Championships: 7
Inducted into World Golf Hall of Fame in 1974
ARNOLD PALMER CAREER MAJOR WINS
7 Major Championship Wins
| Year | Event | Score |
| --- | --- | --- |
| 1958 | Masters | -4 (284) |
| 1960 | Masters | -6 (282) |
| 1960 | U.S. Open | -4 (280) |
| 1961 | Open Championship | -4 (284) |
| 1962 | Masters | -8 (280) |
| 1962 | Open Championship | -12 (276) |
| 1964 | Masters | -12 (276) |
5 Champions Tour Majors
| Year | Event | Score |
| --- | --- | --- |
| 1980 | PGA Seniors' Championship | +1 (289) |
| 1981 | U.S. Senior Open | +9 (289) |
| 1984 | PGA Seniors' Championship | -6 (282) |
| 1984 | Senior Players Championship | -12 (276) |
| 1985 | Senior Players Championship | -14 (274) |