Gary Player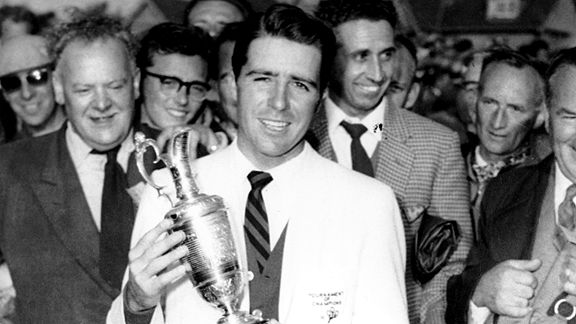 Gary Player is a South African golfer and one of the most successful international golfers in history. During a professional career that began in 1953, Player won nine major championships and nine events on the Champions Tour. Player was inducted into the World Golf Hall of Fame in 1974.
Player is known as the "Black Knight," for his all-black golfing ensembles, or the "International Ambassador of Golf," thanks to his 15 million miles in travel, more than any other athlete. Player was the first non-American, non-European golfer to reach international fame.
Player now owns several businesses, including Gary Player Design, Player Real Estate, Black Knight Enterprises and the Gary Player Stud Farm. He also owns and operates The Player Foundation, which aims to improve underprivileged education around the world.
Gary Player was born Nov. 1, 1935, in Johannesburg, South Africa. He was the third of three children to his parents, Harry -- a captain in a gold mine -- and Muriel Player. His mother died of cancer when Player was only 8 years old.
Player didn't begin playing golf until he was 14, but it didn't take long for him to pick up the sport. His father had taken out a loan to buy Player a set of clubs, and he played his first round at a course in Johannesburg -- parring the first three holes. Two years later, he avowed to his father that he would be the No. 1 golfer in the world. Two years after that, he turned professional and began trying to make that claim a reality.
He turned pro at 18 in 1953. He quickly began racking up wins in Africa and Europe, and four years later, he joined the PGA Tour.
Gary Player began his professional career in Africa in the mid-1950s, winning his first South African Open in 1956. He had traveled to England briefly several years before, where he was told he did not have what it took to be a golfer. He responded by returning in 1956 and winning the Dunlop Masters at Sunningdale Country Club.
One year later, in 1957, Player joined the PGA Tour. He won his first major championship only two years after joining the PGA when he took the 1959 British Open, becoming the youngest man to win that tournament. In 1961, he set another record when he became the first non-American to win the Masters. That year, Player topped the PGA money list for the first time.
By then, Player was not only succeeding on the greens, but gaining more popularity off them. His all-black golfing ensembles earned him the nickname "The Black Knight," and he became known for his impressive fitness routines and bulging muscles (from which another nickname, "Mr. Fitness," stemmed). He won a third major, the PGA Championship, in 1962, and in 1965, he won the U.S. Open in a playoff and earned a career Grand Slam before he turned 30.
But Player was not content participating in only PGA events. He continued playing in South African Opens -- winning 13 in his career -- and Australian Opens (winning seven). In every year from 1955 to 1982, Player won at least one sanctioned international tournament. His constant travel -- he estimates he's spent three years of his life in airplanes and traveled more than 15 million miles -- leads many to believe that the "International Ambassador of Golf" has traveled more than any other athlete.
Also significant about Player's popularity and success was his nationality. A South African, Player was the first non-American, non-European golfer to gain worldwide notoriety and a truly international following. He represented his country at the World Cup 16 times, winning twice -- in 1965 and 1977. He also won the World Match Play Championship a record five times between 1965 and 1974. In all, Player won titles in the U.S., England, South Africa, Australia, Brazil, North Africa, West Africa, Canada, Japan, Latin America and Brazil (where, in 1974, he shot the only 59 ever in a national open).
Player won a second PGA Championship in 1972, and two more Masters titles in 1974 and 1978. He became the first and only man to win Open Championships in three different decades when he added victories in 1968 and 1974 to his 1959 title. That 1978 Masters title was his final major victory on the PGA Tour, and he won it despite being seven back at the start of the final round. But, at age 42, Player birdied seven of the final 10 and won the tournament by one stroke.
Even after giving up most other PGA Tour events, Player participated in the Masters every year until 2009, playing for his record 52nd time. In 1998, at 62, he became the oldest golfer ever to make the cut.
Champions Tour
By the time Player joined the Seniors Tour in 1985, he already had recorded 21 victories on the PGA Tour (he would earn three more PGA titles while playing on the senior circuit). He went on to find great success on the Champions Tour as well, winning 19 events in 10 years -- nine of those being major titles.
His first senior win came in 1985, when he won the Quadel Seniors Classic, and he would win his first senior major one year later, when he won the Senior PGA Championship for the first time. He went on to win the Senior PGA title two more times in the next four years, also winning a Players Championship and two U.S. Senior Opens in that time. Two of those -- a Senior PGA Championship and a U.S. Senior Open -- came in a five-win season in 1988.
In 2009, Player competed in the Senior Open Championship at Sunningdale Country Club -- 53 years after he earned his first European Tour victory at the same venue.
Since his retirement from the PGA Tour, Gary Player has become known as one of the greatest golfers in the history of the game. He was one of the inaugural inductees into the World Golf Hall of Fame in 1974. He also won the South African Sportsman of the Century award in 2000, and he earned a decoration for meritorious services and the gold Order of Ikhamanga for services to sport by the South African government.
Now he focuses much of his attention on The Player Foundation, which helps improve underprivileged schools. The foundation established the Blair Atholl Schools in Johannesburg in the 1980s, which created schools for more than 500 students from kindergarten to eighth grade. When celebrating its 25th anniversary in 2008, the foundation had rasied more than $35 million.
Player also owns Black Knight Enterprises, which handles Player's licensing, events and marketing, as well as wine, apparel, memorabilia and publishing efforts. Player's oldest son, Marc, owns and operates Black Knight International, which represents Player in commercial activities. He also owns a well-respected real estate company and a stud farm that has become known for breeding high-quality thoroughbred race horses.
Player also has become a renowned golf course architect in recent years. He has completed more than 300 projects in 35 countries on five continents. His company offers three design brands -- Gary Player Design, Player Design and Black Knight Design -- each of which places a different focus on appearance or environmental policies for courses.
VIDEO RESULTS FOR GARY PLAYER
NEWS RESULTS FOR GARY PLAYER
AUDIO RESULTS FOR GARY PLAYER
GARY PLAYER QUICK FACTS

Birth Date: November 1, 1935 (age 75)
Birth Place: Johannesburg, South Africa
PGA Tour Debut: 1957
PGA Tour Wins: 24
Major Championships: 9
Inducted into World Golf Hall of Fame in 1974
GARY PLAYER CAREER MAJOR WINS
9 Major Championship Wins
| Year | Event | Score |
| --- | --- | --- |
| 1959 | Open Championship | E (284) |
| 1961 | Masters | -8 (280) |
| 1962 | PGA Championship | -2 (278) |
| 1965 | U.S. Open | +2 (282)* |
| 1968 | Open Championship | +1 (289) |
| 1972 | PGA Championship | +1 (281) |
| 1974 | Masters | -10 (278) |
| 1974 | Open Championship | -2 (282) |
| 1978 | Masters | -11 (277) |
5 Champions Tour Majors
Year
Event
Score
1986
PGA Seniors' Championship
-1 (281)
1987
U.S. Senior Open
-14 (270)
1987
Senior Tournament Players Championship
-8 (280)
1988
PGA Seniors' Championship
-4 (284)
1988
U.S. Senior Open
E (288)*
1988
Senior British Open
-8 (272)
1990
Senior British Open
E (280)
1990
PGA Seniors' Championship
-7 (281)
1997
Senior British Open
-10 (278)
*Won in playoff