Commentary
Top trio struggles to start U.S. Open
Updated:
June 16, 2011, 7:09 PM ET
By
Bob Harig
| ESPN.com
BETHESDA, Md. -- The idea of putting the top three players in the world together for the first two rounds looked even better when you consider that Luke Donald, Lee Westwood and Martin Kaymer all have occupied the top spot in 2011 as well.
Westwood started out on top of the world rankings, Kaymer took it away, then Westwood grabbed it back again before Donald moved to No. 1 for the first time in his career when he defeated Westwood in a playoff three weeks ago.
[+] Enlarge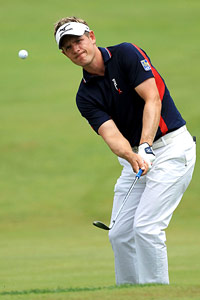 David Cannon/Getty ImagesLuke Donald started the 111th U.S. Open birdie-birdie and all seemed right with the No. 1 ranked player in the world. But he played the last six holes of the back nine at bogey golf en route to a 74 on Thursday.
The volatility is not surprising given the state of world golf, but their play during the first round of the U.S. Open certainly did not live up to their lofty status.
The trio combined to shoot 10 over par at Congressional Country Club, with Donald and Kaymer each shooting 74 on the par-71 course and Westwood shooting 75.
They combined to make nine birdies, 17 bogeys and a double-bogey. All of which took away from the buzz of such an illustrious grouping.
"If we had played well, having the top three in the world would have been more enjoyable for people to watch, but none of us played well," Westwood said. "I think we all just about got what we deserved."
Yet, starting on the treacherous par-3 10th hole Thursday morning, Donald birdied the first two holes, Kaymer made a birdie at 10 as well, and all three were in reasonable shape through nine holes -- having played the tougher half of the course.
They all struggled from there.
"Our back nine -- the front nine of the course -- with the wind was quite tough to go for the flags," Kaymer said. "My driving was not good today. I was always a very consistent driver and very precise and quite long. I'm struggling with the driver at the moment. My short game kept me alive. I was saving a lot of pars and made great birdie putts. If I can build on that tomorrow, it will be great."
Kaymer, who won the PGA Championship in August and is the only player in the group with a major title, has been struggling with his swing of late and has had difficulty finding any form since winning in Abu Dhabi on the European Tour early this year, then losing in the final of the WGC-Accenture Match Play. He missed the cut at the Masters and had not been a contender since.
Westwood won two tournaments in Asia after the Masters to climb back to No. 1 and then nearly won Europe's biggest non-major tournament, the BMW PGA Championship, losing to Donald in a playoff.
Follow On Twitter

Want great insight into the game of golf in 140 characters or fewer? Follow @BobHarig.
Any of the three could be No. 1 at week's end. Westwood could do it with a win, while Kaymer would need a win and Donald to finish worse than 15th and Westwood end up no better than a two-way tie for second.
Westwood came over from England last week to defend his title at the FedEx St. Jude Classic, where he tied for 11th with a final-round 66.
"I didn't swing it very well last week, either," Westwood said. "You just don't get away with it at the U.S. Open. I felt the course was great and receptive, and it gave us a very good chance to score. I'm surprised that no one has taken advantage.
"I played poorly and shot a 75, 4 over. It's not a very good score because I think the course is there for the taking. I didn't hit enough good iron shots or hit enough fairways. My short game was pretty good. I just made too many mistakes. Any course is a mental grind if you don't hit it well, which I didn't today, and the U.S. Open is no different. Obviously it is a tough test, but I thought the golf course was set up great today. If you played well, I'm quite surprised that no one has gone out and shot 66, to be honest."
Donald came into the U.S. Open on the best roll of anyone in the tournament. Since missing the cut at the Northern Trust Open in February, he has rattled off 10 consecutive top-10 finishes around the world, including victories at the WGC-Match Play and the BMW PGA Championship.
In addition, he has two runner-up finishes and two other top-five finishes, including a tie for fourth at the Masters.
And when he birdied the first two holes, you figured he was on his way.
But he played the 13th through 18th holes in 6 over par, with two birdies and a bogey on the front side helping to salvage something that could have been far worse.
Bob Harig's mailbag
Who will get off to a fast start to the 2012 PGA Tour season? Should the tour change how it opens the season? Drop ESPN.com golf writer Bob Harig a line, and he'll respond to some of the best questions. Ask Harig a question
"I've played enough U.S. Opens and majors to know that if I shoot something in the red, I'm putting myself back in position," Donald said. "Even though you are seeing some red, it is only going to get harder, and that could play into my hands as long as I control the ball a little better.
"Everyone knows it is going to get tougher. If I can plug away and shoot some good scores, I'm right there. It was a little bit discouraging that I didn't play like I felt I could play, but I'll go and find something on the range and be back tomorrow."
Bob Harig covers golf for ESPN.com. He can be reached at BobHarig@gmail.com.
SPONSORED HEADLINES
MORE GOLF HEADLINES
MOST SENT STORIES ON ESPN.COM
2011 U.S. OPEN
Now that Rory McIlroy owns major championship victory No. 1 at just 22 years old, let the Tiger Woods comparisons commence. Gene Wojciechowski
Championship Central
2011 champion:
Rory McIlroy
Course:
Congressional CC, Blue Course
Where:
Bethesda, Md.
Yardage, par:
7,574 yards, par-71
SUNDAY
SATURDAY
VIDEO
OFFICIAL SITE