Commentary
Top 25 U.S. Open rankings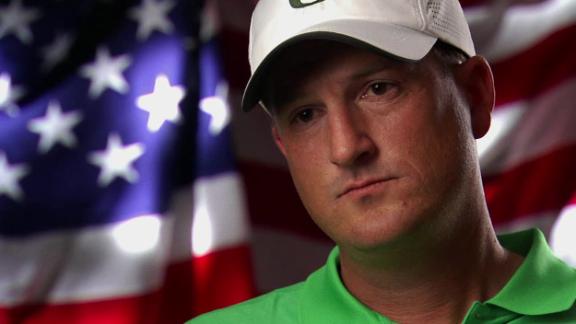 Defying The Odds
Casey Martin has defied all the doubters by qualifying for the US Open, all while dealing with a circulatory defect in his lower right leg.
Defying The Odds
SAN FRANCISCO -- I've caddied in two U.S. Opens -- 2004 at Shinnecock Hills for Daniel Chopra and 2005 at Pinehurst No. 2 for Omar Uresti. Made the cut with both players and to this day say those were some of the greatest experiences of my caddying career.
Since the U.S. Open is the toughest test of golf, we decided that a top 10 list wasn't tough enough. So here's my top 25!
Player
Analysis
Best finish
1. Luke Donald
One win on the PGA Tour, one win on the European Tour, no missed cuts in 13 combined starts. There is nothing flashy about the world's No. 1-ranked golfer, which is why so many people seem to overlook him. That and the fact that he doesn't have a major on his résumé are why the baby-faced assassin is probably the least scrutinized No. 1 in a long time.



Surgical precision is what it's going to take this week at the Olympic Club and it's exactly what Donald brings to a golf course.

T-12, 2006
2. Tiger Woods
The roller-coaster ride continues, only this week I think we're all throwing our hands in the air screaming with glee instead of running to the nearest trash bin to throw up. The $20 million question is can the Tiger Woods we saw Sunday at the Memorial show up on Thursday and Friday in the absolute loony bin that will be the Bubba, Phil and Tiger group for the first two rounds. At best it'll be Tiger playing Jack Nicholson in "One Flew Over the Cuckoo's Nest." At worst it'll be Tiger playing "Debo" from the movie "Friday." If he can make it to the weekend and be inside the top 20 going into Saturday, he'll have a chance to win on Sunday.
Win -- 2000, 2002, 2008
3. Jason Dufner
Beware the tired golfer who just learned how to win on the PGA Tour and then took two weeks off to rest. His new wife probably had him watching "Real Housewives" and "Say Yes To The Dress" episodes, guaranteeing he would be sleeping well during his time off. And now that he's learned to win and is very comfortable on Sunday afternoon with a late tee time, expect him to contend again just like last year at the PGA Championship.
T-33, 2010
4. Rory McIlroy
The disaster of the double-bogey on the final hole last week was a blessing in disguise for Rory. It will force him to tighten up his game even more coming into the week. For guys like Rory, a win before a major isn't the best motivation. Missing three cuts in a row was a slap in the face and a wake-up call that he took to heart.

And believe me when I tell you, he wants that No. 1 ranking back, much more than he'll let on publicly. And the chance to be the first guy since Curtis Strange to defend the U.S. Open title also motivates him. Unfortunately, three will be better this week.
Win, 2011
5. Lee Westwood
He is the best player right now without a major. Westwood comes into the U.S. Open off a win at the Nordea Masters, which ended a day early for those players making the trip here to California. But even with a private jet, the time change is going catch up with the 39-year-old Englishman.

One thing in his favor: He ranks first in GIR on the PGA Tour, which will be a major factor in him finishing top-five this week. Also, he ranks No. 1 in sand save percentage, which on a course like Olympic that has plenty of greenside bunkers will also come in handy.
3rd -- 2008, 2011
6. Dustin Johnson
What a strange season it's turning out to be for DJ. After his WD at the Bob Hope, he hasn't missed a cut. He has only nine starts on tour this year and took three months off after the WGC-Cadillac Championship due to a Jet Ski incident. Then he came back at Memorial with a tie for 19th and won last week in Memphis.

Since he didn't bring a Jet Ski here to Olympic, I'll say it's pretty safe to assume his game did make the trip to San Francisco. A tie for fourth and a tie for fifth in his two events in Cali in 2012 make him a safe bet for a top-10 finish.
T-8, 2010
7. Jason Day
Remember when Phil Mickelson finished second to Payne Stewart in the 1999 U.S. Open at Pinehurst all while being on baby standby? Well that's Jason this year as he and wife Ellie await their first child. And in all seriousness, worrying about a baby will help him immensely on the course.

Thinking about his wife and the baby will free him up and allow him to just play golf instead dwelling on what happened the last hole or thinking about the next hole. It's amazing sometimes what it takes for golfers to free their minds.
2nd, 2011
8. Zach Johnson
Although he missed the cut last week at Memphis, I think that was just because he was looking ahead to this week. And just like you don't want to be undefeated going into the NFL playoffs, it was his first missed cut all year. His rankings in driving accuracy (15th) and strokes gained-putting (sixth) along with his ability to grind on difficult golf courses make him an easy top-10 choice at a venue that will not be known for its length.
T-30, 2011
9. Adam Scott
Matt Willis uses a system called "The Eliminator" in which he doesn't pick a winner but instead eliminates 155 losers until there's one man standing. Using his "scientific reasoning" Adam Scott should win. But as my hero Chris Berman says, "That's why they play the games!"

Scott's only top-10 this year in seven starts was at the Masters, and while I do believe he has the game to get a top-10 this week at the U.S. Open, I don't think an Australian using a long putter gets a win this year.
T-21, 2006
10. Rickie Fowler
Remember how quickly Rory McIlroy forgot about the Masters? Yeah, well Rickie was able to laugh about his Sunday 84 at the Memorial that night. Didn't hurt that he was playing with Tiger, but more importantly he told me he was "glad to get that out of my system before the U.S. Open." Now he comes into Olympic playing some of the best golf of his life and feeling like he has a chance to win.
T-60, 2008
11. Nick Watney
He's a Butch Harmon student who's become not only consistent, but comfortable working the ball both directions. That will only be a benefit this week at the U.S. Open. His stats this year are nothing spectacular but his demeanor is what will set him apart from the field as he never gets too low or too high. That will serve him well at this test of patience.
T-60, 2008
12. Martin Kaymer
Since his tie for 44th at the Masters, the quiet German hasn't finished outside the top 17 in four starts including a 15th-place finish at The Players Championship. He hasn't missed a cut all year. That's not saying much since he's got seven combined starts on the PGA Tour and European Tour, but it just proves that "quality starts" mean something.
T-8, 2010
13. Louis Oosthuizen
Taking a week off after missing the cut at the Memorial is the best medicine Oostey could've given himself. And with a ninth-place finish in last year's U.S. Open and a second at this year's Masters, the South African will be poised to make another good showing at a major.
T-9, 2011
14. Graeme McDowell
After finishing second at the Volvo Match Play on the European Tour, he missed the next two cuts in a row -- the BMW PGA Championship and the FedEx St. Jude Classic. Now you'd think that wouldn't be how a guy should be playing coming into a major, but having talked to McDowell earlier in the year, I know he's the first guy to admit he'll look past some and that's what he did. But this week is here so it's time for him to buckle down.
Win, 2010
15. Phil Mickelson
Speaking of amazing short game ... Unfortunately for Phil the circus that will be his group on Thursday and Friday (with Tiger and Bubba) will also be the reason he doesn't contend on the weekend. It's one thing to play great head-to-head versus Tiger on a Sunday (Pebble Beach this year), but now throw Bubba in the mix and make it last two days ... not good for Phil.
2nd -- 1999, 2002, 2004, 2006, 2009
16. Hunter Mahan
Why would I rank a guy who's won twice on tour so middle of the road for the U.S. Open? He ranks 62nd in scrambling from inside 30 yards and 54th in overall scrambling, that's why. His game around the greens has always been his Achilles' heel and at the U.S. Open your short game better be "on like Donkey Kong" if you're going to contend.
T-6, 2009
17. Webb Simpson
Only three starts since May 1 include a solo fourth at Wells Fargo and two missed cuts. He had three missed cuts in all of 2011 so expect to see the grinder in Webb show up this week at the U.S. Open as he and caddie Paul Tesori get the Simpson train back on track.
T-14, 2011
18. Keegan Bradley
Yes he's coming off a missed cut at the Memorial, but that's just given him more time to rest up and get a few extra days at Olympic to prepare for what will be the longest week since his PGA Championship victory last year.
First appearance
19. Geoff Ogilvy
Even though in 2012 he's made 12 out of 13 cuts, this is the longest top-10 drought of Ogilvy's PGA Tour career (since 2001). I don't expect that streak to be broken this week at the U.S. Open, but I do expect him to make the cut and finish just inside the top 20.
Win, 2006
20. Steve Stricker
He's definitely in the conversation of best player to never win a major. It seems with age comes wisdom for Stricker. He realizes that the less he plays the better his results become and he's coming into the U.S. Open having played only nine times this year on the PGA Tour. That being said, as each year passes the likelihood that he'll win a major decreases. But this course and its length give him his best chance in a long time.
5th -- 1998, 1999
21. Bubba Watson
If there was one player in the field who could overpower a place like Olympic, it would be a guy who could curve it in a Herculean way and hit greens out of the rough. Bubba is ranked first in distance, 99th in accuracy, but second in GIRs. Now if he starts holing putts like he did at Augusta ... watch out.
T-5, 2007
22. Matt Kuchar
What matters most at the U.S. Open? Accuracy. Kuch is ranked 25th in driving accuracy and 10th in greens in regulation. He's 12-for-12 in cuts made and has nine top-25s including the win at The Players. And he's well-rested, coming off a two-week break.
T-6, 2010
23. Spencer Levin
Even after missing the cut at Memphis last week, he moved up into the top 60 in the Official World Golf Rankings. That meant the 36-hole U.S. Open qualifier he played in the day after the Memorial was just "extra practice." Expect Spencer to be playing on fumes this week with all the "playing a home game" stresses. The question is, are there enough fumes in the tank to get him a late tee time Sunday?
T-13, 2004
24. Michael Thompson
Three things to remember about Michael. First, he finished second here to Colt Knost in '07 at the U.S. Amateur so we know he loves this course and has played it well in the past. Second, he hits a natural fade but can hit a draw when he has to. And third, he ranks fifth in the most important stat on the PGA Tour this year -- strokes gained-putting.
T-29, 2008
25. Ryo Ishikawa
Want to know how important a caddie is? Ask Ryo after this week since he's got Steve Molinelli on his bag. He is Olympic's club champion and caddied for Colt Knost when he won the U.S. Amateur in '07.
T-30, 2011
Michael Collins covers golf for ESPN.com. He can be reached at ESPNcaddie@gmail.com.
Senior writer/video talent for ESPN.com
Worked for several players as PGA Tour caddie
Former stand-up comedian
2012 U.S. OPEN

Webb Simpson earned his U.S. Open championship trophy as the last man standing against the Olympic Club's stern test. Gene Wojciechowski
usopen.com leaderboard
Championship Central
Where:
San Francisco, Calif.
2012 course:
The Olympic Club
Yardage, par:
7,170 yards, par-70
2012 champion:
Webb Simpson
Past champions:
Complete list
Olympic Club hole flyovers:
Front 9
|
Back 9
Topics:
The U.S. Open
MONDAY
SUNDAY
SATURDAY
More U.S. Open
usopen.com
FANTASY GOLF
VIDEO FLASHBACKS
MOST SENT STORIES ON ESPN.COM