Commentary
Post-Tiger era lacks dominator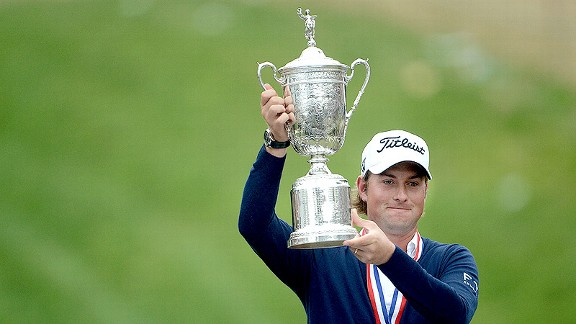 Stuart Franklin/Getty ImagesThe past 15 major championship trophies have been lifted by 15 different players.

SAN FRANCISCO -- At the Olympic Club on Sunday, Webb Simpson became the 15th straight different winner in a major and the ninth straight first-time major champion. Padraig Harrington was the last player to win two majors in a row, when in 2008 he captured both the British Open and PGA Championship.
Between 1999 and 2008, Tiger Woods won 13 of the 36 majors that were held over that period. His amazing record at the majors over that decade was a reflection of his dominance in the game. But Tiger's falloff in the sport over the past couple of years, due partly to leg injuries that kept him out of four majors since his last major win at the '08 U.S. Open at Torrey Pines, has ushered in a period of parity in the sport.
Simpson's win was emblematic of a kind of post-Tiger era in the game, where in the absence of a dominant player, a host of guys take turns filling the winner's circle. When it appeared after 36 holes that the 14-time major winner was going to take Olympic by the reins, a lot of us were gushing at the thought of his return to glory in one of the big four.
Instead we got a Tiger on the weekend who missed every opportunity to stay in the tournament. Olympic made him look average, just like it did everyone in the field. The 73-time PGA Tour winner wasn't so special after all.
SN: Webb Simpson Wins the U.S. Open

Webb Simpson won his first major championship at the U.S. Open, becoming the PGA Tour's 15th straight different major winner. How many will he win in his career?
• Comment and vote! »
The game yearns for rivalries. There is more of everything when there are a few really good players to galvanize interest in the sport. At the beginning of U.S. Open week, we had exciting pairings of Tiger,
Phil Mickelson
and
Bubba Watson
. The other marquee threesome was of the top three players in the world:
Luke Donald
,
Rory McIlroy
and
Lee Westwood
.
In the end, Westwood was the only player out of those two groups in contention on Sunday afternoon, but his dreams of winning his first major championship got dashed when his ball stayed in a tree at the fifth hole. He was passed on Sunday by a couple of kids named Michael Thompson and John Peterson.
Last Monday, no one would have given either one of them much of a chance of winning a regular tour event, much less one of the most coveted titles in golf.
Truth be told, even though they didn't have Simpson's great 2011 season in their résumé, it would not have been much a surprise if one of them had won. They live in a Post-Tiger era, when parity has displaced one man's domination. What happens next? One of these recent major champions has to soon win another one of the big four. Perhaps it could be a new winner who does what Harrington did in 2008 when he won both the British Open and the PGA Championship.
Ultimately, we need someone to emerge to distinguish himself from the pack. Over the years we could count on Tiger to represent that one seminal figure in the game that could be the narrative thread that ran through the majors. For three days at Olympic, he was that main character in the storyline.
A lot of players have those distinguishing marks to win multiple majors. Look down the Official World Golf Ranking and you will see a long roster of players with pedigree, consistency and world-class victories. We could ignore Webb Simpson at the start of the week, because there were a dozen players ranked ahead of him in the field. You could have randomly picked any one of those names ahead of Simpson on the ranking to win the U.S. Open.
Next month these players will convene on Royal Lytham and St. Annes for the British Open. The last time it was there in 2001, David Duval won by three strokes over three players, including Darren Clarke, who surprised the world last year at St. Georges to win the Open Championship at the age of 42. Clarke hasn't had a top 10 since that win and injuries kept him out of the U.S. Open.
With 15 straight different winners and nine straight first-timers, it's difficult to accurately pick favorites for Lytham. Most of us know whom we want to win. Many of us pick players who have played well in recent majors and the guys who have done well in tournaments leading up to the week of the event. But it's not an exact science. Simpson had missed the cut in the Players and the Memorial leading up to Olympic.
In less than a month, we'll know if we'll add another different winner to the list or if there is a player who puts a splinter in the parity at the majors. It's likely that it will be a new face, a great but not dominant player who was able enough to beat the best players in the world in one tournament.
Senior golf writer for ESPN.com
Wrote for Sports Illustrated/Golf Magazine for 9 years
Played college golf at Florida A&M
2012 U.S. OPEN

Webb Simpson earned his U.S. Open championship trophy as the last man standing against the Olympic Club's stern test. Gene Wojciechowski
usopen.com leaderboard
Championship Central
Where:
San Francisco, Calif.
2012 course:
The Olympic Club
Yardage, par:
7,170 yards, par-70
2012 champion:
Webb Simpson
Past champions:
Complete list
Olympic Club hole flyovers:
Front 9
|
Back 9
Topics:
The U.S. Open
MONDAY
SUNDAY
SATURDAY
More U.S. Open
usopen.com
FANTASY GOLF
VIDEO FLASHBACKS
MOST SENT STORIES ON ESPN.COM