USGA not changing for weather
Updated:
June 13, 2013, 11:07 AM ET
By
Bob Harig
| ESPN.com
ARMORE, Pa. -- More than 6 inches of rain has fallen on Merion Golf Club's East Course since Friday, and more poor weather is predicted for the start of the U.S. Open here on Thursday.
More from ESPN.com

If not for women's golf, the U.S. Open wouldn't be settling in at Merion this week. It took a U.S. Girls Junior Championship for the course to prove its championship-caliber worth again. Story
---

Matt Willis goes through the field and eliminates players until he finds the U.S. Open winner. Story
---
Ready for a week at Merion? Our experts' take on a few pressing questions as U.S. Open week kicks off. Story
---
The 113th U.S. Open gets underway Thursday at Merion Golf Club. Here are the top things to know this week. Story
•Azinger: What to expect


•USGA's Davis: Weather concerns

But no matter how poor the weather gets, or how difficult the course conditions become, the United States Golf Association will stick to its long-time policy of not allowing preferred lies.
The Rules of Golf allow for such exceptions, and it is a policy put in place often on the PGA Tour. If weather conditions dictate, players are allowed to "lift, clean and place'' their ball as long as it is in the fairway.
Not at the U.S. Open.
"If it was so bad, then the obvious response to that consequence would be we probably wouldn't be playing,'' said Tom O'Toole Jr., USGA vice president and championship committee chairman. "Don't look for the championship committee to adopt the preferred lies local rule that is under the appendix [to the] Rules of Golf.''
The question has come up due to the expected wet conditions at Merion, which had to be closed for parts of Monday to remove excess water from the course.
Two days of sunshine have helped, but the course is still wet and with rain expected again Thursday, the possibility again exists for some difficult conditions and mud on golf balls -- which can affect trajectory.
"I'm kind of split on the issue of ball in hand … lift, clean and place,'' said Graeme McDowell, who won the 2010 U.S. Open. "I think there's a need for it at times. I get the fact that the USGA, the Masters and the R&A, they don't like giving the golf ball in hand. Because you can use that rule to your advantage, you can change your angle, you can get yourself out of interesting scenarios at times.
SportsNation: U.S. Open

The U.S. Open tees off on Thursday after a week of rain. Who do you see winning it all?
• Cast your votes!
"But I think mud balls are a problem. I think they're unfair. I think golf is designed to be played from a closely mown fairway. If you hit it in that fairway, you deserve a great line and a great opportunity to attack the green surface. That's the reward you get for hitting the fairway… Mud balls affect you differently, and if it's a long shot it literally can cost you shots. So it's unfair.''
No matter, says the USGA.
"The Rules of Golf permit a player to get relief without penalty from balls that are (in) or an intended swing is in casual water,'' O'Toole said. "We have a walking referee with each group that will be well versed in the discussion of that.
"As to making any adjustments if there was mud adhering to the golf ball. .. there is a local rule to adopted preferred lies. That said, it's been a long-standing philosophical point of view from the USGA not to adopt that local rule in our national championships. And the current championship committee is consistent with that long-standing philosophical point of view.''
USGA officials are bracing for poor weather on Thursday, most likely to come in the afternoon.
"There could be some really high winds with us, potentially damaging winds, even some hail,'' said USGA executive director Mike Davis. "We're fairly certain we are going to have some type of weather (Thursday).''
SPONSORED HEADLINES
MORE GOLF HEADLINES
MOST SENT STORIES ON ESPN.COM
U.S. OPEN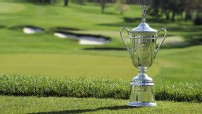 The U.S. Open, back at Merion Golf Club for the first time since 1981, will play short. But don't expect it to be easy.
EDITORS' PICKS
What played the lead role in Rory's season to forget?
Four-Ball »

Michael Collins shares 16 items he'd like to see for the holidays.
Gift Guide »

Farrell Evans shares five Web.com players to watch in 2014.
Story »