Commentary
Round 3 grades for the U.S. Open
Finish Round 2 and finish Round 3, that was the goal on Saturday at the U.S. Open, and we accomplished the goal. Here are my grades for the top five players in the world and a couple of miscellaneous ones just for good measure. Enjoy!
Tiger Woods World Ranking: No. 1 | Scores: 73-70-76 (+9)
He shot the worst third round of his U.S. Open career. And after a birdie on the first hole, his putter found a groundhog burrow and never came back out. While I agree there are times you have to try and fight through an injury and finish what you started, if Tiger hurt himself before the Memorial and played hurt there, then is he really doing what's best for "team Tiger?"




Rory McIlroy World Ranking: No. 2 | Scores: 73-70-75 (+8)
Guess you can stop with the "I'm close" answer, because the truth is you're not close to anything but an 80. You hit the same number of fairways as greens (11) for the third round yet you made seven bogeys? The good news is you played the last three holes at even par. The bad news is it doesn't matter because you ain't winning the Screen Door Open with the inconsistent golf you've been playing this year.




Adam Scott World Ranking: No. 3 | Scores: 72-75-73 (+10)
I'm giving a plus because you actually made four birdies. Of course you threw in five bogeys and a double just to make sure you couldn't contend in the second major of the year. Eight fairways? Seriously, Adam, you haven't hit double-digit fairways all week. Next time you wanna take some time off after the Players Championship, don't. Remember the Masters is the only major where hitting fairways doesn't matter. The other three you're gonna need some practice.




Matt Kuchar World Ranking: No. 4 | Scores: 74-73-72 (+9)
You're getting better at least. First and second rounds took your hope for getting your initial major off the table. Your saving grace is this: 10 fairways and 10 greens, yet you only made three bogeys. That's a pretty impressive feat around this track. I'd say if he shot even on Sunday "it would help build momentum for the Open Championship," but we all know that'd be wrong.




Justin Rose World Ranking: No. 5 | Scores: 71-69-71 (+1)
I wanted really badly to give him an A-, but finishing bogey-bogey on 17 and 18 kissed that goodbye. Thank goodness someone in the top five in the world has a chance to win a major this week, or I might have to rethink how I do these dang grades. Rose continues to hit greens and fairways in a way that gives him good chances at birdies. If he can find a way to finish stronger Sunday than he did Saturday, he may just be holding a pretty impressive trophy on the 18th green.




Rickie Fowler World Ranking: No. 32 | Scores: 70-76-67 (+3)
The kid is a fast learner, you better give him that. After only hitting 50 percent of his fairways for the second round, he hit 11-of-14 in Round 3. He only missed four greens all day en route to tying the low round of the tournament, 67. Did I mention that he shot 31 on the back nine and was bogey-free there as well? That's the "hard" nine. If he can score well on the front nine on Sunday … who knows?




Jason Day World Ranking: No. 26 | Scores: 70-74-68 (+2)
There were only five birdies total made at the 17th hole during the third round Saturday. Jason had one of them. That, along with the second-best score (68) shot on Saturday afternoon, now puts him in a position to one-up his best finish at the U.S. Open at Congressional two years ago. I won't make you look it up, he was runner-up. If he's going to win, he's going to have to shoot another round in the 60s to do it. Tall task, but it is doable.




Michael Kim World Ranking: Unranked | Scores: 73-70-71 (+4)
Oh, what could've been! The amateur birdies 12, 10, 13 and 15, which at the time had him a shot off the lead at even-par. But Merion gives … and Merion takes just as severely. The three-hole finish of bogey/double-bogey/bogey probably blew his chance for becoming the first amateur since Johnny Goodman (1933) to win the U.S. Open. Doesn't mean it can't happen: He's tied for 10th, has a 2:36 p.m. ET tee time and is paired with Rickie Fowler, which could be a great omen.



Senior writer/video talent for ESPN.com
Worked for several players as PGA Tour caddie
Former stand-up comedian
U.S. OPEN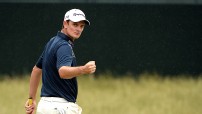 Merion proved to be quite the test for the world's best at the 113th U.S. Open. Justin Rose ultimately triumphed, finishing the tournament with a 2-stroke victory at 1-over.
DAY 4
DAY 3
DAY 2
EDITORS' PICKS
Baddeley's birdie at the Valero Texas Open included a penalty stroke.
Michael Collins »

What was Henrik Stenson so worked up about?
Bob Harig »

Recent progress gives Rory McIlroy confidence heading into Augusta.
Bob Harig »
MOST SENT STORIES ON ESPN.COM