Commentary
Round 4 grades for the U.S. Open
ARDMORE, PA. -- No one under par?! You think that means I'd give a bigger "curve" for my grades on Sunday night? Y'all know me better than that! Just because trigonometry is hard, doesn't make the teacher grade you any easier, which is why I never took trig in school. I ain't stupid! Hope you enjoy these as much as I did writing them, because I probably am going to have some of these guys mad at me and in my face next time I see them at a tournament. Hey, I didn't make you hit a bad shot, so don't be mad at me!
Tiger Woods World Ranking: No. 1 | Scores: 73-70-76-74 (+13)
Inside the top 20 in driving accuracy and inside the top 25 in greens-in-regulation. Made 20 bogeys and a triple; those 21 holes played over-par are the most ever in a major as a pro. Guess his elbow hurt the most when he was putting. Now that his major losing streak continues, any wins at regular Tour events will be hollow as the cry as to why he can't win a major will get almost deafening.




Rory McIlroy World Ranking: No. 2 | Scores: 73-70-75-76 (+14)
Sunday was even worse than Saturday for McIlroy. So bad he even bent his club on the 11th hole en route to a quadruple-bogey 8. Ask him now about his Nike deal and I bet you he says he wishes he would've stuck with Titleist. Not because the Nikes are bad clubs, but because it would be easier to get out of the slump he's in with clubs he knows than with new equipment.




Adam Scott World Ranking: No. 3 | Scores: 72-75-73-75 (+15)
Just like in Round 2, Adam could muster only one birdie, but this time he threw in a double-bogey on the final hole to guarantee his grade. He hit 57 percent of the fairways, and that was less than the field average of 62 percent. And for a guy who won the year's first major, that's not acceptable. Time to go back to the Bahamas to put his head in the sand for a little while. And yes, I am a little bit jealous that he can do that.




Matt Kuchar World Ranking: No. 4 | Scores: 74-73-72-73 (+12)
Why a C, you ask? Because on the toughest day in the toughest conditions, he grinded out a 73 and that was after closing with three bogeys on the last four holes. Even though his greens-in-regulation were below the field average, he got around Merion in 121 putts, which was better than the field average. I don't know if he has the game to win a major, but I appreciate the way he held himself here and finished tied for 28th.




Justin Rose World Ranking: No. 5 | Scores: 71-69-71-70 (+1)
I had him finishing second in my top 25 list to start the week. He had 15 birdies and 120 putts on this golf course in four days. That's amazing. Having the courage to know the crowd and most of the U.S. was rooting for Phil Mickelson to break his U.S. Open curse says a lot about his character and inner strength. Justin Rose, U.S. Open champion. That sounds OK to me.




Phil Mickelson World Ranking: No. 10 | Scores: 67-72-70-74 (+3)
No driver in the bag, same old Phil. Missing fairways and missing putts inside 7 feet. I gave him the plus because, after the hole-out eagle (from the rough mind you) on the 10th, he still had a chance, but zero birdies from the 11th thru the 14th when he had to have one is why he gets to wear the same bridesmaid's dress he had worn five times previously.




Jason Dufner World Ranking: No. 20 | Scores: 71-74-73-67 (+5)
He almost made the whole country start "Dufnering" again if not for the horror of the 15th hole. A bounce-back birdie at the 16th and good looks at birdie on 17 and 18, he played what was the closest to perfect we saw all day on Sunday. While a fourth-place finish is something he'll draw on in majors to come, a bogey-free 64 on Sunday would have given him a status up there with Jonny Miller. I'm going to go do the Dufner right now and just think about what could've been.




Merion Golf Club
Remember this: The golf course did not set itself up, the USGA did. So even though guys were moaning about the 266-yard par-3 third hole Sunday, they can blame the USGA. Merion proved for four days that length meant diddly-squat if you wanted an amazing test of golf. Just like my grandfather Harlan, who turns 95 this August, spend enough time with a classic and you'll realize just how cool they still can be. Merion might not be iPad shiny or fiber-optic speed fast, and getting around here was a nightmare for players, media and fans, but all of that was forgotten when we saw what this course was: a true test of golf. Time to start looking to our past, because that's where we can find an amazing future with U.S. Opens to come.



Senior writer/video talent for ESPN.com
Worked for several players as PGA Tour caddie
Former stand-up comedian
SPONSORED HEADLINES
MORE GOLF HEADLINES
MOST SENT STORIES ON ESPN.COM
U.S. OPEN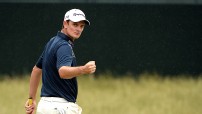 Merion proved to be quite the test for the world's best at the 113th U.S. Open. Justin Rose ultimately triumphed, finishing the tournament with a 2-stroke victory at 1-over.
DAY 4
DAY 3
DAY 2
EDITORS' PICKS
Tiger's week went from bad to career-worst in Phoenix.
Harig »

Rory McIlroy rode a bogey-free 66 to a 4-shot lead in Dubai.
Leaderboard »

Lydia Ko could make golf history with a win Saturday.
Story »