Commentary
U.S. Open Round 1 grades
PINEHURST, N.C. -- Pinehurst No. 2 was hard for everybody on Thursday. At times, it was difficult to tell the seasoned major champions from the teenaged competitors. But for the most part, these top-15 players in the official world ranking played some very solid golf.
These grades reflect the difficulty of the course and the grit these players demonstrated throughout their rounds.
None of them produced A work, but neither did any of them earn an F. Pinehurst No. 2 was a tough test, and these players have plenty of work to do on Friday and the weekend to improve their grades.
With a packed leaderboard and the margin for error so slim, any of them could easily be A students by the end of the week and perhaps even the 2014 U.S. Open champion.
Adam Scott World ranking: No. 1 | Score: 73

The 33-year-old Australian has never had a top 10 in a U.S. Open in 12 appearances. HIs best finish in the championship was a tie for 15th in 2012 at the Olympic Club. On Thursday, after a birdie at the par-5 fifth hole to get to 1-under, Scott had four bogeys to finish with a 3-over 73. Still, he's far from being out of the tournament.




Henrik Stenson World ranking: No. 2 | Score: 69

With a 1-under 69 on Thursday, the 38-year-old Swede had the best U.S. Open first round of his career. His ballstriking was superb. He hit 78 percent of his greens (14 of 18) and missed only four fairways. Certainly he would like to make more putts over the next few days, but it's a strong start for a player trying to win his first major.




Bubba Watson World ranking: No. 3 | Score: 76

Bubba's chances of completing the Grand Slam in one calendar year might have ended on Thursday with a 6-over-par 76. The two-time Masters champion had five bogeys, a double-bogey at the par-5 10th hole and one birdie. Pinehurst No. 2 is no Augusta National. Donald Ross' baby punishes mavericks like Bubba and rewards those who play in a more controlled, disciplined style. It's not over yet for Bubba this week. He could shoot a great round on Friday and get right back into the tournament, but he can't shoot another 76 if he wants to even make the cut.




Matt Kuchar World ranking: No. 5 | Score: 69

Perhaps the game's most consistent player looked the part on Thursday with an opening 1-under-par 69. Kuchar had a flawless front nine with a 3-under 32 but stumbled late with bogeys at 16 and 17. He won't play timid, but don't look for him to risk unnecessary trouble by playing too aggressively.




Rory McIlroy World ranking: No. 6 | Score: 71

A 1-over 71 on Pinehurst No. 2 is not a bad score, particularly when you hit 13 of 14 fairways and 14 of 18 greens. McIlroy had too many putts (33) and he failed to birdie either of the two par-5s. In the first round, the par-5 No. 5 was the easiest hole on the course. McIlroy said his goal for the week was to make about 15 birdies. If he wants to come close to that number, he's going to have to average more than the two he had on Thursday.




Jason Day World ranking: No. 7 | Score: 73

Twice a runner-up in the U.S. Open -- including at Merion in 2013 -- the 26-year-old Australian had five bogeys and two birdies in his 3-over-par 73. His was the classic U.S. Open round, in which it could have been much worse with a less experienced player. Day hit only eight of 18 greens on Thursday.




Sergio Garcia World ranking: No. 8 | Score: 73

The sometimes-controversial Spaniard is fighting a nagging knee injury, and he looked rusty at times on Thursday due to a few weeks off to rest his knee. But he kept his composure for a scrappy 3-over-par 73. Garcia's only birdie came at the par-4 No. 3 hole.




Justin Rose World ranking: No. 9 | Score: 72

The reigning U.S. Open champion's Thursday was a tale of two nines. Starting his round on the back nine, he bogeyed four of his last six holes for a 4-over 39. Then, on the front nine, he had three birdies and bogeys to finish with a 2-over 72. His strong finish showed the kind of resiliency it takes to win this championship -- an experience that is very fresh in his memory.




Jordan Spieth World ranking: No. 10 | Score: 69

It's no surprise that the 20-year-old Texan is getting off to a solid start in a major. On Thursday, he hit 11 of 14 fairways and 13 of 18 greens. With bogeys almost a certainty at Pinehurst No. 2, his four birdies against three bogeys was a very solid performance.



Phil Mickelson World ranking: No. 11 | Score: 70

The five-time major champion struggled on the greens with 31 putts, but he drove the ball well, hitting nine of 14 fairways on his way to an even-par 70. By his own admission, he could have shot a much lower score if he had converted a few of the makeable putts he had on Thursday. Still, it was good first round on a very difficult golf course.




Dustin Johnson World ranking: No. 15 | Score: 70

The long-hitting eight-time PGA Tour winner played very solid on Thursday with a 1-under-par 69. He hit only half of his fairways, but he never got into serious trouble. Not surprisingly, two of his four birdies came at the par-5s, which he should dominate this week.



Senior golf writer for ESPN.com
Wrote for Sports Illustrated/Golf Magazine for 9 years
Played college golf at Florida A&M
THE 2014 U.S. OPEN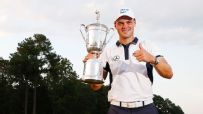 Anyone who thought Martin Kaymer's U.S. Open was forgettable doesn't appreciate a star in a worker bee's body. Gene Wojciechowski »
EDITORS' PICKS
Can Adam Scott keep the flat stick grooving in Round 2?
Scores »

Rory's day at Doral didn't quite go as he had hoped.
Bob Harig »

Before Bubba's Masters wins, he lost Doral by 1. Coincidence?
Harig »
MOST SENT STORIES ON ESPN.COM