Commentary
Matzek stakes claim as top prep pitcher
Updated:
June 9, 2009, 11:48 AM ET
By
Jon Mahoney
| ESPN RISE Magazine
For one frustrating week last season, Tyler Matzek had to watch from the stands as the Capistrano Valley (Mission Viejo, Calif.) baseball team took the field without him. Accepting that he couldn't help his teammates while feeling less than 100 percent was one thing, but not being able to even join them in the dugout was like pouring salt on the wound.
Click here to read more about Tyler Matzek's senior season.
What turned Matzek from a standout left-handed pitcher into an observer was a virus that forced him to miss six games. In the early stages, his fever reached 104 degrees and he struggled to keep food down.
After about a week, he felt strong enough to watch the Cougars. But he couldn't sit with his teammates and risk any of them catching the remnants of his virus.
"The team needed me," says Matzek. "I needed to get back out there and help them."
After a couple weeks away, Matzek finally began practicing, though he was a shell of his former self at 170 pounds -- 20 pounds less than when he started the season. Rather than ease back into action, however, Matzek mustered all the strength he could to return to the mound in April against Mission Viejo. In three innings of relief work, he allowed only one hit, fanned four and recorded a save to help the Cougars to victory.
"He's one of the most competitive kids on the team," says senior catcher Nolan Clark. "He came right back after being sick and went back to winning games for us."
Now a senior, Matzek is back to full strength. The 6-foot-4, 210-pounder is rated the nation's No. 1 overall prospect in the ESPNU player rankings. He has signed with Oregon but could be the first prep pitcher selected in the MLB first-year player draft. Yet as recently as last spring, Matzek's name was little more than a blip on the national radar. Part of the reason for that is he didn't suit up for the Capistrano Valley varsity until he was a junior. Due to the glut of standout hurlers on the varsity staff, including 2007 MLB second-round pick Michael Watt, Cougars head coach Bob Zamora placed Matzek on the JV squad his sophomore season so he could get experience instead of riding the pine on varsity.
Matzek dominated at the JV level and appeared poised for a breakout junior campaign. Despite the illness, he finished the season a solid 4-2 with 33 strikeouts in 47.2 innings, highlighted by a complete-game victory against league rival Tesoro.
"He keeps getting better and better, which isn't fair because he's really good to begin with," says Tesoro head coach Rick Brail. "That's a sign of a good pitcher. I think he's got a great future and he'll go on to pitch at the next level."
[+] Enlarge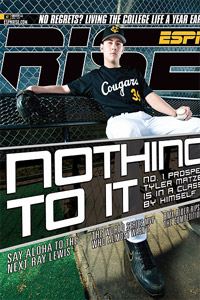 ESPN RISE MagazineTyler Matzek was dominant in leading Capistrano Valley to the CIF Southern Section Div. I title.
Matzek's dominance didn't really come through consistently last year because of his illness and struggle to get back to full strength. And missing so much time certainly didn't help him in his quest to be considered among the nation's top hurlers. Once Capistrano Valley lost to Mater Dei in the second round of the Southern Section Division I playoffs, Matzek had a month to get in prime physical condition for June's Perfect Game National Showcase in Minneapolis. That's where things began to change for the better.
Flashing a fastball in the low 90s to go with a filthy curve, slider and change, Matzek established himself as a legitimate first-round draft prospect.
"Nobody knew me," Matzek says. "It was definitely a proving ground. I wanted to prove who I was. I heard of all of these guys' names, and I knew I was better than them. I wondered why I wasn't getting as much attention as them."
The attention stuck with Matzek after the showcase and continued to pile up after his performance at the Aflac All-American High School Baseball Game in Los Angeles, where he punched out two batters and set down the side in order in one inning of work. He also displayed some pop at the plate by reaching the finals of the home run derby.
"He's on everybody's radar now," says Zamora, who's in his 32nd year as head coach.
Matzek prepped for his senior season with a special training routine in which he built arm tendon strength by working with elastic bands, using wrist weights and tossing a shot put with a pitching motion. When not working out, he had bullpen sessions with his longtime personal pitching coach, Lon Fullmer, who Matzek credits with making him the player he is today.
Fullmer's biggest influence on Matzek has been teaching him the importance of control. When they're practicing, Fullmer holds up a radar gun and will tell Matzek how fast a pitch was only if it was a strike. Matzek can now control all six of his pitches -- a fastball that touches 95 mph, a cutter that breaks in on righties, a tailing fastball that breaks in on lefties, a slider, a curve and a circle change.
"Hitters never know what's coming next," Matzek says.
While Matzek is busy keeping batters guessing, he also has to deal with the mega-watt spotlight of being the a top prospect and having hordes of scouts at all his starts. But that's still a welcome alternative to the way his junior season played out.
"There's no pressure," Matzek says. "I'm going to go out there, play baseball and have fun."
Jon Mahoney covers high school sports for ESPN RISE Magazine.
ESPNHS.com
BASEBALL RANKINGS

Rank
School (City, State)
Rec
1
American Heritage
Plantation, FL
27-4
2
Columbus
Columbus, GA
33-4
3
Pensacola Catholic
Pensacola, FL
27-3
4
Jesuit
Tampa, FL
28-2
5
Bishop Gorman
Las Vegas, NV
39-3
See the full baseball rankings »