Commentary
High school pitchers lead early draft rounds
Updated:
June 10, 2009, 9:28 PM ET
By
Chris Lawlor
| ESPNRISE.com
Tyler Skaggs
had a surreal experience Tuesday. At the intersection of dream and reality it finally hit home following a phone call from the Los Angeles Angels.
Skaggs, a tall, lean, left-handed pitcher from Santa Monica High in California, became property of the Angels when they selected him with the 40th overall pick, the eighth pick in compensation round A, of the Rule 4 draft.
"It's [the Angels] my favorite team and my dream to play for them," Skaggs said. "I have to seize the opportunity."
That's the mantra for hundreds of budding pro baseball players from high school, college and independent pro teams.
The Rule 4 draft opened Tuesday with the first three rounds and two compensation rounds and continued Wednesday with rounds 4-30. The selection process finishes Thursday with rounds 31-50.
Sixteen of the 32 players selected in the first round were high schoolers, while four went in the compensation A, 18 went in the second round and 10 in the third round.
Jerry Ford, a veteran scout with five decades of experience and the founder of Perfect Game, from Cedar Rapids, Iowa, knew high school pitching would dominate.
"Six of the seven pitchers taken [in the first round] were the cream of the crop," he said. "Players dropped because of issues of signability; that's what happens when word gets out."
Jorge Posada Sr. -- yes, his son is the Yankees catcher -- who scouts for the Colorado Rockies and runs Puerto Rico's premier showcase tournament, rationalized seven high school hurlers in the first round means there's a "tremendous pitching shortage, particularly left-handers."
ESPN Scouts Inc.'s Keith Law said the proliferation of high school pitchers is "reflective of how bad the crop of position players was, both high school and college."
[+] Enlarge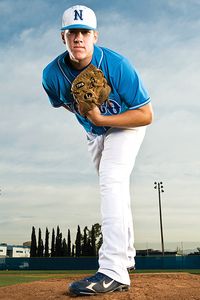 Dustin Snipes/ESPNRISEThe Orioles took Matt Hobgood with the No. 5 overall pick.
Seven high school pitchers were selected among the first 20 of the first round, three of them left-handers.
Law said 10 high school pitchers selected among the top 30 constitutes a record number not seen in the past 20 years.
"It's what I expect," he said. "It just shows the strength of the draft this year was in high school pitching."
Whether this class of pitchers will sign with MLB clubs or opt for college and a second chance at the draft remains to be seen. Posada believes that four years of college is a huge risk for pitchers and doesn't necessarily prepare them for the big leagues.
"There are exceptions," he said, mentioning 2001 second overall draft pick Mark Prior and this year's top pick, Stephen Strasburg. "But a lot of these guys come out of school they are 21 or 22 and they have already thrown their best and that's the most you're going to get out of them. It is smarter to try to work with the high school pitchers."
Skaggs, who signed a letter of intent to attend powerhouse Cal State-Fullerton, may never set foot on the Orange County campus.
"They [the Angels] said they wanted to take me at 25th or 26th picks, but when that did not happen they called and asked if I would sign at 40 and I said, yes. I'm going to keep working out and get ready for rookie ball."
At 6-foot-5, 180 pounds, Skaggs has a major league frame, sans bulk. He may have dropped from a late first-round selection when his velocity dropped as the season progressed.
"He went right about where we figured," Ford said of Skaggs' draft position.
The same might not be said for three players -- outfielders Randal Grichuk (Angels) and Slade Heathcott (New York Yankees) and shortstop Nick Franklin (Seattle Mariners) -- taken in the latter part of the first round, and Steven Baron of Ferguson (Miami) High School, the first prep catcher selected, with the initial pick of the compensation round A by Seattle.
"It was a huge surprise," Baron said. "It was unexpected that I was the first high school catcher but not that I was taken by Seattle. The Mariners had their area scout [at] every one of my games; they expressed a ton of interest."
Baron's decision became more difficult Monday when Duke University upped his scholarship offer from partial to full. His parents continue to push the college route while Baron wants to sign professionally.
Baron's advisor, Francis Marquez of the Miami-based All Star Group, was pleasantly surprised that his client was taken before name catchers such as Max Stassi, of Yuba City (Calif.), and Wil Myers, of Wesleyan Christian (High Point, N.C.), who dropped to the third round before he was taken by the Kansas City Royals.
"Players in this draft dropped because of the economy," Marquez said. "From our point of view you have to be realistic and reasonable. They were probably passed over for players who would sign for less money."
Posada, considered conservative in his recommendations, said "whether or not a pitcher or position player signs an MLB contract depends upon whether his agent is pro-baseball."
Reymond Fuentes, an outfielder from Puerto Rico and second cousin of Mets center fielder Carlos Beltran, is the island's first player in nine years taken in the first round (Fuentes was selected by the Red Sox). Puerto Rico averages about 25 players per year in the draft.
[+] Enlarge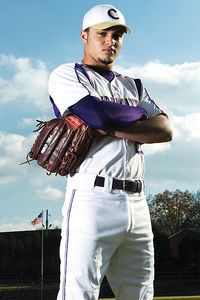 Jason Braverman for ESPNRISE.comDonavan Tate was drafted No. 3 overall by the Padres, but has also signed to play football at UNC.
"I spoke with his mom and dad last night and they are ecstatic. He [Reymond] was in tears," said Posada of the 6-0, 160-pound center fielder, who played American Legion ball. "He's fast and looks good as a leadoff hitter but once he grows into his body, and I see him with 20 more pounds, he will have home run potential."
Ford thinks the steal of the draft is Heathcott, an outfielder from Texas High in Texarkana, Texas. Healthcott, who signed with LSU, is the main reason why his high school team has advanced to the Texas Class 4A state tournament this week.
"He's a tough kid who has tools," he said of the Yankees prospect. "From the standpoint of a position player he's the steal of the draft."
Donavan Tate, an athletic outfielder from Cartersville (Ga.) High, was the first high school player taken Tuesday when the San Diego Padres selected him with the third overall pick. Tate might be difficult to sign because he's a two-sport star headed to the University of North Carolina as a quarterback.
No surprise that Stephen Strasburg, a fireballing right-handed pitcher from San Diego State, was the overall No. 1 selection by the Washington Nationals. Like his fellow first rounders, money demands are expected to play a huge role in his new team's budget.
"It's pitching-rich this year," said MLB Network analyst John Hart, who is a senior advisor for the Texas Rangers and a former general manager with the Rangers and Cleveland Indians.
Pitchers are especially scrutinized by teams paying attention to four pitches -- fastball, slider, changeup and curve -- and control.
It might explain why seven prep pitchers were gobbled up in the first round.
Here's a thumbnail of the high school players tabbed in the first round and compensation round A.
First Round
No. 3, San Diego Padres, OF, Donavan Tate, Cartersville (Ga.) High
Tate comes from great bloodlines; his father, Lars, was a standout running back at the University of Georgia and played in the NFL. He might be tough to sign with football looming but recently helped Cartersville win its second consecutive Georgia Class 3A championship.
No. 5, Baltimore Orioles, RHP, Matt Hobgood, Norco (Calif.) High
It's been a whirlwind 24 hours for Hobgood (6-4, 250) who was named Gatorade's National High School Player of the Year on Monday.
The right-hander, who committed to Cal State-Fullerton, went 11-1 with a 0.92 ERA and 101 strikeouts in 68 2/3 innings. More amazing he smacked 21 home runs, drove in 55 runs, and batted .475 with a 1.880 slugging percentage in 30 games.
No. 6, San Francisco Giants, RHP, Zack Wheeler, East Paulding High, Dallas, Ga.
Wheeler, who committed to Kennesaw State in Georgia, has been clocked at 98. He needs to add weight (he's 6-4, 185) but is solid mechanically, possessing a strong curveball. This season he went 9-0 as with a 0.54 ERA, striking out a school-record 149 in 76 innings. He also threw a no-hitter in the second round of the Class 5A playoffs as East Paulding advanced to the state semifinals.
No. 9, Detroit Tigers, RHP, Jacob Turner, Westminster Academy, St. Louis, Mo.
He might be headed to the University of North Carolina, but if the Tigers throw Rick Porcello (from the 2007 draft) money at him, it becomes a no-brainer.
This season Turner went 7-2 with a 0.60 ERA but mostly he challenges hitters with heat. That's why he whiffed 118 batters in 58 1/3 innings, averaging 14 per start. He also spun six complete games with four shutouts. His high school coach was Todd Worrell, formerly of the Cardinals.
[+] Enlarge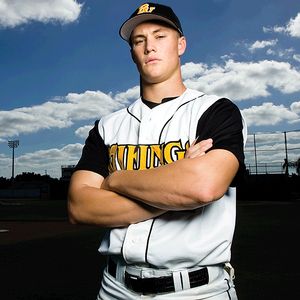 ESPNRISEThe Diamondbacks grabbed Florida prospect Bobby Borchering with the No. 16 pick.
No. 11, Colorado Rockies, LHP, Tyler Matzek, Capistrano Valley High, Mission Viejo, Calif.
Matzek authored a storybook ending to his prep career. Saturday he slugged a solo homer to account for the lone run in a victory over Edison (Huntington Beach) in the CIF Southern Section, Division I final. He also won the game going 1 1/3 innings, striking out the final two batters with the bases loaded in the seventh game to clinch the title.
In the playoffs, he did not yield a run in 18 innings and won all four decisions. He's been clocked at 97 mph and has indicated he likes the pitching coaches at the University of Oregon.
No. 14, Texas Rangers, LHP, Matt Purke, Klein (Texas) High
At 6-3, 175 pounds, Purke is a flamethrower, striking out 238 in nearly 124 innings over the past two seasons. This year he allowed only 18 hits, with 91 strikeouts in 47 innings.
Purke, who signed with Texas Christian, is the first Houston-area high school pitcher to be drafted in the first round since 2006. Rangers president Nolan Ryan has made pitching a priority for this organization.
No. 16, Arizona Diamondbacks, Bobby Borchering, 3B, Bishop Verot High, Fort Myers, Fla.
Borchering has been dubbed the best pure high school hitter in the draft and evokes comparison to fellow switch hitter and Floridian, Chipper Jones.
Arizona must have been surprised he slid this low but it will take at least $2 million to lure him from University of Florida. This season he hit 13 homers and batted .494 as Verot won a district championship.
No. 18, Florida Marlins, LHP, Chad James, Yukon (Okla.) High
The Marlins have long believed in young arms, so James' selection is no surprise. The Oklahoma State-bound left-hander consistently hits between 90-93 mph and can bring it up to 94. This season he finished 8-2 with a 1.28 ERA, striking out 100 in 63 1/3 innings. He was Oklahoma City's player of the year.
No. 19, St. Louis Cardinals, Shelby Miller, RHP, Brownwood (Texas) High
Miller has a power pitcher's arsenal, and he will likely be a mid- to front-of-the-rotation starter. His fastball explodes at 96 mph, while his changeup clocks in at 85 mph and his sweeping curve at 80. He's pitched well down the stretch for Brownwood, recording 17 strikeouts in a playoff game.
No. 21, Houston Astros, Jiovanni Mier, SS, Bonita High, La Verne, Calif.
Another player with good genes, Mier's brother plays in the Dodgers' organization. Mier can thank his glove for his draft selection. At 6-2, 170 pounds, he's wiry but has good range. USC was his college choice but he may be headed the pro route. As a senior, he batted .394 with five home runs and 18 RBIs in only 71 at-bats.
No. 24, Los Angeles Angels of Anaheim, Randal Grichuk, OF, Lamar Consolidated High, Rosenberg, Texas
Some feel this is a bit of a stretch but not the Angels, who are known for player development. His size (6-0, 185) belies his innate power as he slugged 36 homers in his final two high school seasons, including 19 this spring.
No. 25, Angels, Mike Trout, OF, Millville (N.J.) High
Trout told ESPNRISE.com before the draft he wants to sign a pro contract. Oddly, the Angels took high school outfielders with back-to-back selections. His father played in the Twins' organization. Trout (6-1, 190) has speed and a potent bat. He was named New Jersey's Gatorade Player of the Year after batting .531 with 18 homers and 45 RBIs. He slugged 1.296.
No. 27, Seattle Mariners, Nick Franklin, SS, Lake Brantley High, Altamonte Springs, Fla.
Not a lot of flash here but a solid player who will grind. At 6-1, 170 pounds, pro scouts love that he's a switch hitter. His blue-collar approach and defensive skills were the reason Auburn University offered him a scholarship.
No. 28, Boston Red Sox, Reymond Fuentes, Fernando Callejo High, Puerto Rico
Fuentes is a prototypical leadoff hitter with ultra-exceptional speed. He covers gap to gap unlike anyone else on the board.
No. 29, New York Yankees, OF, Slade Heathcott, Texas High, Texarkana, Texas
Heathcott has five tools. He also possesses a smooth, compact, left-handed swing and is a natural for the short right-field porch at the new Yankee Stadium.
Last weekend he helped Texas High reach the Class 4A state tournament, going 4-for-7 with three homers -- including a grand slam -- and eight RBIs in two wins over McKinney North in the regional series final.
No. 30, Tampa Bay Rays, 2B, LeVon Washington, Buchholz High, Gainesville, Fla.
Here's another player destined for the top of the order with a lefty bat. Washington's calling card is speed. Last summer Washington (6-0, 170) was clocked in 6.2 seconds in the 60-yard dash, tops at a showcase in Minnesota. He's a middle infielder who may be switched to the outfield.
Compensation Round A
No. 33, Seattle Mariners, C, Steven Baron, Ferguson High, Miami, Fla.
Baron's known for his outstanding leadership skills. He didn't receive as much pre-draft publicity as some prep catchers but was taken with the first pick of compensation round A. The Duke-bound Baron (6-0, 195) was the first high school receiver taken. For the season he hit .350 with two homers and 16 RBIs.
No. 35, Arizona Diamondbacks, 3B, Matthew Davidson, Yucaipa (Calif.) High
Davidson was a surefire first-round pick who slipped down. He's known as a power hitter, with a good glove.
Davidson batted .553 with 11 homers, 18 doubles and 45 RBIs this season. His patience at the plate was magnified with 27 walks this season in 125 plate appearances.
No. 40, Los Angeles Angels, LHP, Tyler Skaggs, Santa Monica (Calif.) High
Here's another southern California area prospect which was ticketed for the first round. Scouts like his above-average to plus pitches. Scouts loved his 6-5, 180-pound frame, which could use some bulk.
No. 41, Arizona Diamondbacks, Chris Owings, SS, Gilbert (S.C.) High
Owings (5-11, 170) was a shortstop for his high school program but he may be shifted to second base. Scouts say he's a project that a team needs to stick with. Owings, a South Carolina recruit, solidified his draft status playing on the summer circuit and hitting well at wood bat events.
Christopher Lawlor has covered high school sports for more than 20 years, most recently with USA Today, where he was the head preps writer responsible for national high school rankings in football, baseball, and boys' and girls' basketball. He also worked for Scholastic Coach magazine, for which he ran the Gatorade national Player of the Year program for nine years. Lawlor, a New Jersey resident, grew up in Rochester, N.Y., and is a graduate of St. Bonaventure University.
Andrew Drennen and Mark Tennis contributed to this report.
SPONSORED HEADLINES
ESPN TOP HEADLINES
MOST SENT STORIES ON ESPN.COM
BASEBALL RANKINGS

Rank
School (City, State)
Rec
1
American Heritage
Plantation, FL
27-4
2
Columbus
Columbus, GA
33-4
3
Pensacola Catholic
Pensacola, FL
27-3
4
Jesuit
Tampa, FL
28-2
5
Bishop Gorman
Las Vegas, NV
39-3
See the full baseball rankings »