Commentary
Weatherford workout shows depth
Originally Published:
June 15, 2011
By
Andrew Drennen
| ESPNHS.com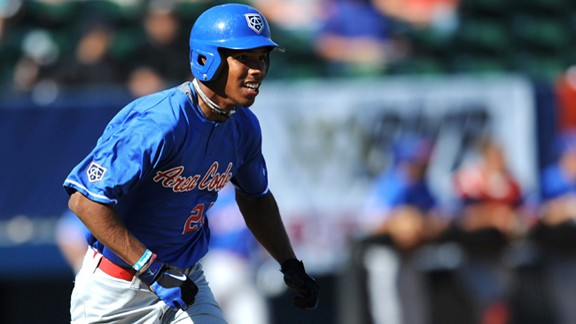 Scott Kurtz/ESPNHSNick Williams played in the 2010 Area Code Games for the Rangers. He was at the workout in Weatherford trying out for a spot in Long Beach in 2011.
WEATHERFORD, TEXAS The Texas Rangers kicked off the first of their two tryouts for the 2011 Area Code Baseball Games at Weatherford College. By the looks of this tryout and the Houston tryout looming on the horizon, look for another strong Texas Rangers team. Pitching has always been a re-occurring theme for past Rangers' teams and this year looks to follow suit.
The tryout for the Rangers team is usually one of the largest of all the Area Code Tryouts, with both tryouts averaging 140 players both. Only the White Sox will rival the Rangers in numbers.
Last year, the Rangers hosted over 300 of Texas and Louisiana's finest for what turned out to be the smallest roster of the 2010 Area Code Games. The final roster count was 22 players.
Nick Williams of Ball (Galveston, Texas) did play on the Rangers team in 2010 and in fact was one of a few players from the 2012 class to play in the event. Overall, Williams is a good player, he threw the ball well and has good tools.
Other outfielders who stood out on Monday were Courtney Hawkins, Austin Aune and JB Moss.
Hawkins, out of Mary Carroll (Corpus Christi, Texas) and Aune, out of Argyle (Argyle, Texas) have good overall tools, like Williams. Moss, out of Galveston Ball (Galveston, Texas) is a good all around athlete, he can throw and showed promise with the bat.
Moving to the infield there were six players who had themselves good days. Two of the six, are two way guys, taking to the mound as well.
Gavin Cecchini is a shortstop out of Barbe (Lake Charles, La.) and did everything well. He is a good all around ball player and can hit.
Behind the dish Steve Bean and Stryker Trahan had a solid day. Bean is (6-foot-2, 190 pounds) out of Rockwall (Rockwall, Texas) and Trahan measures in at (6-foot-1, 220 pounds) and hails from Acadiana (Lafayette, La.). Bean received the ball well, while Trahan threw well and showed some potential with the bat.
Willie Schwanke is a 3B out of Frisco Wakeland (Frisco, Texas) and actually came to the tryout last summer, when he made the afternoon cut and had chance to play in the afternoon scrimmage. He did so again this year, but he improved his skills since then and got stronger. He had some time on the mound and was up to 91.
Jake Thompson out of Rockwall-Heath (Rockwall, Texas) was one of the standout dual players as well. He was up to 91 on the gun and showed some ability on the mound. He may profile as a first baseman, he is what a first baseman should look like.
Three more righties threw the ball well. Teddy Stankiewicz out of Southwest Christian (Fort Worth, Texas), Dalton Brown out of Ponder (Ponder, Texas) and Chad Hollingsworth out of Robinson (Robinson, Texas) all had nice days on toeing the rubber.
The Rangers are looking forward to the workout in Houston and are expecting big numbers and good players. Not surprising, should be another strong crop of players heading West to Long Beach.
Follow us on Twitter @ACBaseballGames
SPONSORED HEADLINES
ESPN TOP HEADLINES
MOST SENT STORIES ON ESPN.COM
BASEBALL RANKINGS

Rank
School (City, State)
Rec
1
American Heritage
Plantation, FL
27-4
2
Columbus
Columbus, GA
33-4
3
Pensacola Catholic
Pensacola, FL
27-3
4
Jesuit
Tampa, FL
28-2
5
Bishop Gorman
Las Vegas, NV
39-3
See the full baseball rankings »