Commentary
Strake Jesuit climbs to top of state rankings
Updated:
January 12, 2009, 9:08 AM ET
By
Jeff Miller
| Special to ESPNRISE.com
It seems everyone at Strake Jesuit (Houston), starting with the school president, has tempered their excitement over the Crusaders being ranked No. 1 in Texas' largest classification, Class 5A, in boys' basketball in the latest weekly poll released by the Texas Association of Basketball Coaches (TABC) on Monday.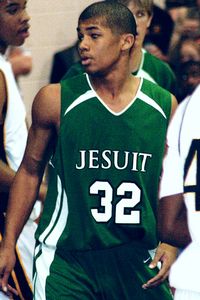 Strake Jesuit College PrepatoryBig man Joey Brooks has committed to Notre Dame.
They say it's much more important to be ranked on top at the end of the season. But the achievement shouldn't pass without proper recognition.
Strake Jesuit and Dallas Jesuit are the only private schools that compete in Texas' University Interscholastic League (UIL), and this marks the first time that one of them has stood atop the rankings in basketball or football since joining in 2003. (Strake Jesuit is 13th in the ESPN RISE FAB 50; Dallas Jesuit's soccer team, which hasn't begun its season, is first in the ESPN RISE boys' rankings.)
"We started back to school this semester on Wednesday with everyone gathering in the school auditorium for a prayer," said Fr. Daniel Lahart, Strake Jesuit's president. "Afterward during the announcements, the student council president mentioned the basketball ranking. Not that it was news to anyone."
It has been a long, hard journey for the two Jesuit schools since they found themselves without a league following the 1999-2000 academic year. The Texas Christian Interscholastic League folded, and the schools were too large to join the state's other organization of private schools, the Texas Association of Private and Parochial Schools. They struggled to compete as independents, then fought to gain admittance to the UIL.
Strake Jesuit sought entry through the Texas legislature, and Dallas Jesuit filed a lawsuit that was dismissed. In 2003, the UIL made a special exception to allow only those two to join since they had been excluded from TAPPS. The two schools agreed to be placed in Class 5A though their all-male enrollments wouldn't have qualified for that classification even if doubled.
Charles Breithaupt, the UIL's athletic director, acknowledged many public schools were concerned back then that the Jesuit schools would recruit top athletes away from existing UIL members and build dynasties.
"There were fears they would dominate," Breithaupt said. "They haven't dominated, but they've done well. They've been members in good standing, and there have been no allegations against them."
UIL rules prohibit the recruiting of athletes or changing of schools for athletic purposes. Fr. Lahart pointed out that, technically speaking, all of his students are recruited.
"No one is assigned to us," he said. "The tuition is substantial. All of our aid is need-based, and there are no athletic scholarships. We look for excellent students who believe in our mission from across the Houston metropolitan area."
Boys' basketball coach Wayne Jones arrived at the southwest Houston school in May 2003, only a few months before the Crusaders began UIL play in a district with teams from the nearby Katy school district.
"There was no animosity," Jones said. "Every coach was helpful."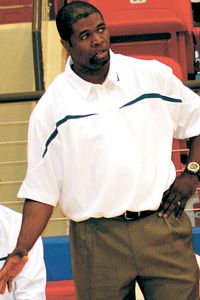 Strake Jesuit College PrepatoryWayne Jones has coached Strake Jesuit since the Crusaders joined the UIL in 2003.
Last season's Crusaders reached the second round of the playoffs, then lost three starters who are now playing college ball (Trent Rogers at Tulane, Austin Claunch at Emory, James Wiseman at St. Edward's in Austin). This season's team has all senior starters and is led by two NCAA Division I signees: 6-foot-5 Joey Brooks (Notre Dame) and 6-foot-2 Tim Frazier (Penn State).
Jones referred to this team as versatile. "There's not a lot that they haven't seen," he said. "On offense, we play the style that dictates success. If we have to play half court, we can. Up-tempo? We're capable of doing that. More so, I think our identity is playing defense."
TABC executive director Rick Sherley, who works out of the Houston suburb of Sugar Land, said of Strake Jesuit: "It's not a case of watching them come out for warm-ups and thinking, 'Golly, where'd they get that all-star team?' They're just fundamentally sound."
Strake Jesuit has won 17 games by double digits, but its closest call probably turned the most heads locally. The Crusaders won the Houston ISD holiday tournament with an 82-78 victory over Houston Wheatley, a Class 4A semifinalist last season and an apparent title contender again this season with size and speed. But Jones said winning a three-round Jesuit tournament in California in early December delivered wins as good as the Wheatley game.
The Crusaders have 12 regular-season games remaining in District 18-5A, which features no other team with fewer than seven losses.
"Our guys have worked extremely hard," Jones said. "We're glad to be recognized by the coaches … at least for this week."
Jeff Miller is a freelance writer in Texas and can be reached at miller.jeff55@gmail.com.
BOYS' BASKETBALL RANKINGS

Rank
School (City, State)
Rec
1
Oak Hill Academy
Mouth of Wilson, VA
44-0
2
Findlay Prep
Henderson, NV
32-1
3
St. Anthony
Jersey City, NJ
32-0
4
Chester
Chester, PA
32-0
5
Marcus
Flower Mound, TX
39-2
See the full boys' basketball rankings »