Top team completes undefeated regular season
Updated:
February 17, 2009, 1:48 PM ET
ESPNRISE.com
Editor's note: The ESPN RISE FAB 50 boys' basketball rankings are compiled by Christopher Lawlor, Ronnie Flores, Ryan Canner-O'Mealy and Doug Huff. They will be released each Tuesday throughout the season.
Click here for regional rankings.
[+] Enlarge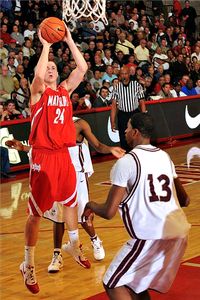 Scott Kurtz Travis Wear leads undefeated Mater Dei.
It was relatively quiet week in the ESPN RISE FAB 50 boys' basketball rankings. No. 1 Mater Dei (Santa Ana, Calif.) completed a perfect regular season and No. 2 Oak Hill Academy (Mouth of Wilson, Va.) knocked off previous-No. 3 St. Patrick (Elizabeth, N.J.), 73-64, in a showdown of heavyweights.
Three teams join the rankings, making the biggest splash is No. 32 Bearden (Knoxville, Tenn.), Tennessee's top-ranked Class AAA team. The Bulldogs are experienced team, with a veteran coach, Mark Blevins, at the helm. He's about a year away from his 700th win. Top 'Dogs include Demonte Simpson, Nathan Parker, Dustin Craig (headed to the Air Force Academy), Dion Fair, Benji Ware and Jaeland Lawson.
This week's team in the spotlight is No. 14 DeMatha (Hyattsville, Md.) who plays conference foes No. 13 Gonzaga Friday and regionally-ranked Bishop O'Connell (Arlington, Va.) on Tuesday. The O'Connell game pits coaches and former high school teammates at DeMatha, Joe Wootten (O'Connell) and Mike Jones (DeMatha), in a battle on ESPNU (9 p.m. ET). If DeMatha, a winner of seven straight, sweeps the games, it would win the Washington Catholic Athletic Conference title and bag the top seed for the conference tournament. All three teams are still alive for the WCAC regular season title.
Recent teams in the spotlight, No. 4 St. Patrick went 1-1 and No. 8 St. Benedict's (Newark, N.J.) lost twice.
The Southwest and West regions were steady; no teams were dropped.
Three-point play

[+] Enlarge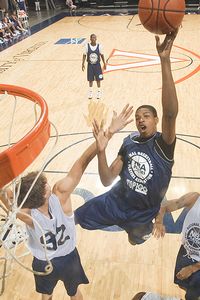 Jason O. Watson for ESPN.comFindlay Prep's Cory Joseph and Tristan Thompson (pictured) will have a grueling week if their team gets invited to the NHSI.
Game Ball
: Wally Judge of Arlington Country Day (Jacksonville, Fla.) was instrumental in two postseason games, earning him player of the week honors. The 6-foot-10 Judge, No. 17 in the ESPNU 100, totaled 38 points, 32 rebounds and blocked eight shots as the Apaches won the District 6-2A championship for the fifth consecutive year. Judge, who signed with Kansas State, had 12 points, 19 boards and four blocks as ACD beat Providence School (Jacksonville), 62-58, for the first time in three tries this year. The two teams are expected to meet Feb. 24 in the Region 2 semifinals. Judge will play in both the McDonald's All-American Game and Jordan Brand Classic in April.
Game of the week: The midwest is the place to be Saturday night when No. 15 Detroit Country Day (Beverly Hills, Mich.) travels to No. 19 Bloomington (Ind.) South. Both teams are firing on all cylinders as the regular season winds down. The South Panthers feature four players who score in double figures, Jordan Hulls (15.6 points per game), Dee Davis (13.6), Spencer Turner (12.1) and Erik Fromm (10.5). Hull, the No. 31-rated point guard according to ESPNU, is headed to hometown Indiana University. DCD (17-0), an overwhelming favorite to win Michigan's Class B title next month, features 6-foot-11 DaShonte Riley, 6-8 Donnovan Kirk (signed with Miami) and 6-5 Jordan Dumars (South Florida), Bennie Sowler (Michigan State for football) and 6-1 junior Ray McCallum.
700 Club: Charles Smith of Peabody (Alexandria, La.) goes for his 700th coaching win Tuesday against Leesville at the Emerald Palace. Smith, 699-144, is an accomplished coach having captured four state championships (most recently in 2007) and 22 district titles (16 straight) since 1985-86. The Warhorses, who will return four starters in 2010, are back in the Class 4A mix this year with a 23-2 record. Smith's top youngsters include 6-5 junior Markel Brown (25 ppg) and 6-7 freshman Troy Jones (10 ppg, 10 rpg).
Records are through Feb. 15.
Rankings: Preseason / Week 1 / 2 / 3 / 4 / 5 / 6 / 7 / 8 / 9 / 10 / 11 / 12 / 13 / 14 / 15 / 14 / 16 / 17 / 18 / 19 / 20 / 21 / Final
ESPN RISE FAB 50 BOYS' BASKETBALL RANKINGS: WEEK 15
Rank
Team
Record
Previous
Note
1
Mater Dei (Santa Ana, Calif.)
26-0
1
The Monarchs closed out the regular season with two Trinity League victories and will open the CIF Southern Section Div. I-A playoffs against wild-card entry San Clemente. In a 81-49 victory over St. John Bosco (Bellflower), junior Gary Franklin (16 points), Travis Wear (15) and UCLA-bound Tyler Lamb (11) all hit in double figures. Wear then turned in a 34-point, eight-rebound performance in a 97-71 regular season-ending victory over Orange Lutheran.
2
Oak Hill Academy (Mouth of Wilson, Va.)
34-0
2
The Warriors knocked off a pair of New Jersey powerhouses in their backyards. Glenn Bryant scored 13 points to pace a balanced attack in an impressive 73-64 win over previous-No. 3 St. Patrick (Elizabeth, N.J.) at the Prime Time Shootout in Trenton. With the score tied at 53 with 3:47 left, Bryant scored five straight points for a 56-53 edge. The Warriors also defeated Linden, 74-37. Oklahoma-bound center Keith "Tiny" Gallon dropped in 16 points and Bryon Allen added 14.
3
Findlay Prep (Henderson, Nev.)
28-0
4
The Pilots won four times last week, but the biggest victory is scoring the transfer of Texas-bound 6-9 junior Tristan Thompson. The Pilots topped the week beating Stoneridge Prep (Montclair, Calif.), 83-58 and 111-70. Next up is powerful Duncanville (Texas) Friday at SMU's Moody Coliseum (9:30 p.m. ET) in Dallas.
4
St. Patrick (Elizabeth, N.J.)
20-3
3
The Celtics split two games against heavyweight competition. North Carolina-bound Dexter Strickland popped in 16 points (on 6-of-6 shooting) and grabbed five rebounds in a 63-58 win over Lincoln (Brooklyn, N.Y.) at the Nike Super Six Showdown. Sophomore forward Michael Gilchrist netted a game-high 30 points but it wasn't enough in a 73-54 loss to No. 2 Oak Hill Academy at the Prime Time Shootout in Trenton, N.J. The Celtics open their title defense at the Union County Tournament Tuesday.
5
Madison (San Antonio)
32-1
5
The Mavericks defeated San Antonio District 26-5A rivals Lee, 82-63, and Roosevelt, 86-53. Stephen Baird led five double-digit scorers with 25 points against Lee.
6
LeFlore (Mobile, Ala.)
27-2
6
DeMarcus Cousins had a monster week, scoring 54 points in a pair of postseason wins. Cousins, a 6-10 forward, had 33 points as the Rattlers beat Faith Academy (Mobile, Ala.), 114-59, in the Class 5A, Area 1 final. Cousins had 21 points, 13 boards and seven blocked shots in an 87-42 thrashing of Spanish Fort in the sub-states. Next up is Wilcox Central Tuesday (2:20 p.m. ET) in the South Regional semifinal in Troy. The winner plays Eufaula or Vigor (Mobile) Friday in the final.
7
Strake Jesuit (Houston)
31-0
7
The Crusaders need one win to complete a perfect regular season and District 18-5A mark. They'll play Stratford (Houston) Tuesday. In district play, Notre Dame-bound guard Joey Brooks totaled 42 points in wins over Hastings, 49-39, and Spring Woods, 62-48. Wes Williams contributed 14 points against Spring Woods when Strake broke away from a 25-25 tie at halftime.
8
St. Benedict's (Newark, N.J.)
21-2
8
The Gray Bees won twice but lost a top player, junior center Tristan Thompson, to transfer. Junior Aaron Brown scored 16 points as the Gray Bees beat regionally-ranked Mountain State Academy (Beckley, W.Va.), 75-61, at the Prime Time Shootout. Coach Dan Hurley improved to 200-19 in eight seasons. The Texas-bound Thompson, who was booted from the team last week, has enrolled at Findlay Prep (Henderson, Nev.).
9
Montrose Christian (Rockville, Md.)
18-1
9
Villanova-bound center Mouphtaou Yarou pumped in 27 points as the Mustangs held off Shabazz (Newark, N.J.), 57-48, at the Prime Time Shootout. They also beat St. John's Catholic (Frederick), 75-41, with Terrence Ross (20) and Justin Anderson (11) combining to score 31 points. The Mustangs have three games this week, capped by Saturday's contest at Takoma School (Takoma Park, Md.).
10
De La Salle (Concord, Calif.)
23-1
10
The Spartans won two East Bay Athletic League games, staying sharp for the upcoming CIF-North Coast Section playoffs. They stopped Amador Valley (Pleasanton), 58-27, and Monte Vista (Danville), 60-52. Junior post John McArthur, a Danville resident, returned home and led DLS with 17 points and six rebounds. Jefferson Powers added 14 points.
11
Westchester (Los Angeles)
26-2
12
The Comets had a great week on and off the court, wrapping up a share of the Western League title with two easy victories and bagging the top seed in the upcoming CIF-City Section championships. What that means is they will avoid meeting with No. 12 Fairfax (Los Angeles) or Taft (Woodland Hills) until the March 6 final. The good news on the court came when coach Ed Azzam's club closed out the regular season at the Prime Time Shootout with its second victory of the season over Lincoln (Brooklyn, N.Y.), 85-78. Junior guard Jordin Mayes led the way with 31 points while senior Dominique O'Connor netted 24, including 10 three throws in the final period to help ice it.
12
Fairfax (Los Angeles)
23-3
13
Coach Harvey Kitani's club rattled off four more wins and clinched a ties for the Western League title with rivals No. 12 Westchester (Los Angeles). Center Renardo Sidney, the front-runner for city and state player of the year honors, netted 31 points in a 76-58 victory over University (Los Angeles). The Lions closed out the regular season with a 59-56 victory over Venice. Sidney (finger injury) sat out the game, but Solomon Hill, a USC recruit, picked up the slack with a double-double, 23 points and 12 rebounds.
13
Gonzaga (Washington, D.C.)
23-3
14
The Purple Eagles escaped, toppling Archbishop Carroll (Washington D.C.), 66-57. Cedrick Lindsay scored 15 points and Ian Hummer added 10 in a 49-44 win over Paul VI (Fairfax, Va.). The Eagles needed a 17-9 fourth-quarter showing to rally. They also stopped Bishop McNamara (Forestville, Md.), 61-55, as the Princeton-bound Hummer netted 16 points.
14
DeMatha (Hyattsville, Md.)
22-3
17
The Stags capped the week, edging Bishop McNamara (Forestville, Md.), 52-46. They also stopped Archbishop Carroll (Washington, D.C.), 65-39, and Bishop Ireton (Alexandria, Va.), 71-48. Friday Coach Mike Jones' team hosts No. 13 Gonzaga (Washington) in a pivotal conference game but Tuesday they're off to Bishop O'Connell (Arlington, Va.) for a game on ESPNU.
15
Detroit Country Day (Beverly Hills, Mich.)
17-0
15
The Yellowjackets beat Romulus, 79-46, in their only action. They play Flint Northern Tuesday before traveling to No. 19 Bloomington South, Indiana's top-ranked Class 4A team.
16
Hopkins (Minnetonka, Minn.)
19-0
19
Minnesota's top-ranked Class 4A team scored a victory last week in New York, stopping Jefferson (Brooklyn), 79-65, at the Nike Super Six Showdown. Raymond Cowels scored 25 points and Royce White added 22. The Royals also topped Wayzata (Plymouth), 89-62.
17
Rice (Manhattan, N.Y.)
16-3
16
Three games in as many days finally caught up to the Raiders. Durand Scott was the Game MVP of the Nike Super Six but Kadeem Jack saved the Raiders in a 67-63 win over Paterson (N.J.) Catholic. Scott tallied 16 of his 19 points after halftime and had six rebounds and three steals but Jack converted an offensive rebound with 2.5 seconds left to break a 63-63 tie. Shane Southwell had 10 points, 10 rebounds and 10 assists during a 74-63 victory over Archbishop Molloy (Briarwood). The Raider also stopped Rancocas Valley (Mount Holly, N.J.), 61-35, as Scott had 19 points, earning game MVP at the Prime Time Shootout but lost to Xaverian (Brooklyn), 59-53, in league play.
18
Christ the King (Middle Village, N.Y.)
21-3
20
The Royals concluded the regular season, beating Elizabeth (N.J.), 76-73, at the Prime Time Shootout as guard Sean Johnson struck for 38 points, nailing five 3-pointers. They also beat Bishop Ford (Brooklyn), 61-52, and Holy Cross (Flushing), 64-50. The Royals drew a bye in the opening round of the CHSAA AA Brooklyn-Queens Diocesan Tournament and play in Feb. 25 in the semifinals. The final is Feb. 25 at CTK's Savage Gymnasium.
19
Bloomington South (Bloomington, Ind.)
17-0
21
The Panthers continue to dominate in-state opponents after routing Warren Central (Indianapolis), 77-44, and Brownsburg, 79-49. South has winning margins of at least 25 points in its last eight games and its closest was 16 points.
20
Christ School (Arden, N.C.)
30-2
23
Mason Plumlee's shot beat the buzzer and previous-No. 22 Centennial (Roswell, Ga.), 75-73. The Greenies allowed a 20-point lead slip away in the fourth quarter but prevailed on Plumlee's heroics and 32 points from Lakeem Jackson. They also pounded Greensboro Day, 50-33. Dee Giger scored 13 points and Jackson added 12. Coach David Gaines' club ends the regular season Tuesday at Asheville School and then participates in the CAA Tournament on Friday and Saturday.
21
Boyd Anderson (Lauderdale Lakes, Fla.)
25-2
11
The Cobras were upended by rival Ely (Pompano Beach), 68-64, in the District 11-6A final. Bryan Bynes scored 20 points as BA trailed, 40-34, at the break. Next up is Miramar in the Class 6A, Region 3 quarterfinals on Thursday.
22
Neumann-Goretti (Philadelphia)
21-2
28
The Saints re-enter the Top 25 of the rankings after dispatching Archbishop Wood (Warminster, Pa.), 64-46, in the quarterfinals of the Philadelphia Catholic League Tournament. The Saints play North Catholic (Philadelphia) Wednesday at 7 p.m. ET in the semifinals at the Palestra. The winner plays Roman Catholic (Philadelphia) or Archbishop Carroll (Radnor) for the championship on Saturday.
23
Norcross (Ga.)
24-1
30
The Blue Devils improved to 18-0 in Region 7-AAAAA play, beating South Forsyth (Cumming), 69-43.
24
Thornton (Harvey, Ill.)
22-1
24
The Wildcats returned from a 12-day break, beating rival Thornton Fractional South (Lansing), 56-35, and Bloom (Chicago Heights), 42-40.
25
Northland (Columbus, Ohio)
18-1
29
The Vikings topped Northland Beechcroft (Columbus), 79-67, to wrap up the City League North Division title. The Vikings will face Eastmoor (Columbus) in the City League title game Saturday. J. D. Weatherspoon and Trey Burke each scored 16 points. They also topped Columbus Mifflin, 91-39.
ESPN RISE FAB 50 BOYS' BASKETBALL RANKINGS: WEEK 15
Rank
Team
Record
Previous
26
McClymonds (Oakland, Calif.)
22-1
31
27
Dominguez (Compton, Calif.)
22-5
32
28
South Atlanta (Atlanta)
22-3
33
29
Plano West (Plano, Texas)
27-2
34
30
Petersburg (Va.)
22-0
36
31
Lawrence North (Indianapolis)
17-2
37
32
Bearden (Knoxville, Tenn.)
27-2
NR
33
Pershing (Detroit)
15-1
38
34
Centennial (Roswell, Ga.)
22-3
22
35
Fayetteville (Ark.)
23-0
39
36
Lake Clifton (Baltimore)
21-0
40
37
Atlantic Shores Christian (Chesapeake, Va.)
26-1
41
38
Provo (Utah)
19-0
42
39
Princeton (Cincinnati)
16-1
44
40
Franklin (Seattle)
19-1
45
41
Holmes (Covington, Ky.)
25-2
27
42
Bellevue (Wash.)
19-1
43
43
Butler (Huntsville, Ala.)
29-3
48
44
Dr. Phillips (Orlando, Fla.)
26-2
NR
45
Yates (Houston)
25-1
49
46
Olympia (Orlando, Fla.)
23-4
18
47
Rock Bridge (Columbia, Mo.)
22-1
25
48
St. Frances Academy (Baltimore)
26-3
NR
49
St. Anthony (Jersey City, N.J.)
19-4
46
50
Jamesville-Dewitt (Dewitt, N.Y.)
19-1
26
Dropped out: No. 35 Wheeler (Marietta, Ga,); No. 47 Providence School (Jacksonville, Fla.); and No. 50 McEachern (Powder Springs, Ga.).
SPONSORED HEADLINES
ESPN TOP HEADLINES
MOST SENT STORIES ON ESPN.COM
BOYS' BASKETBALL RANKINGS

Rank
School (City, State)
Rec
1
Oak Hill Academy
Mouth of Wilson, VA
44-0
2
Findlay Prep
Henderson, NV
32-1
3
St. Anthony
Jersey City, NJ
32-0
4
Chester
Chester, PA
32-0
5
Marcus
Flower Mound, TX
39-2
See the full boys' basketball rankings »