Commentary
Prep rivals become allies in college
Updated:
July 7, 2009, 11:52 AM ET
By
Jason Jordan
| Special to ESPNRISE.com
It's not that Ryan Kelly is OK with what happened, and he's not content with being second, but at this point he's learned to let it go.
[+] Enlarge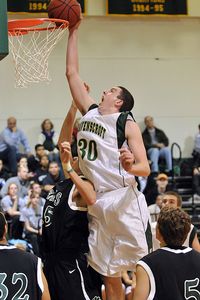 Courtesy of Ravenscroft High SchoolRyan Kelly was an All-American at Ravenscroft before heading to Duke.
Still, Kelly, an incoming freshman forward at Duke, will admit this much, when he glances across his dorm room to catch his former high school nemesis turned teammate/roommate, Mason Plumlee, also an incoming freshman forward, wearing a cunning grin -- it brings up memories that Kelly would rather forget.
The infamous grin is typically preceded by a reminiscing conversation about their high school hardwood battles, most notably the NCISAA 3-A state title on Feb. 28 when Kelly and Ravenscroft High (Raleigh, N.C.) fell 62-54 to Plumlee and Christ School (Arden, N.C.).
"It's all in good fun now," Kelly said. "But yeah, the victory smile is a little annoying sometimes, but what can you do. It was in the past, but it hurt at the time because that was for it all."
The first time the pair faced off was on Dec. 21 at the Chick-fil-A Classic in South Carolina.
Plumlee, who stands 6-foot-11, and the Greenies handed the 6-foot-9 Kelly and the Ravens a 76-45 spanking.
It was the first time they had dueled as Duke commits, and what made it sting a bit more was that Plumlee was stellar -- 23 points, eight rebounds and three blocks -- while Kelly, who came into that game averaging 30 points per game, managed only 15 points (plus eight rebounds and two blocks).
"It was pretty bad," Kelly said. "We took a lot from it, though. I think, in some ways, it helped us for the rest of the season."
Two months later, when they met again, the hype had grown immensely.
Both had recently been named to the McDonald's All-American Game and had jumped up in nearly every recruiting ranking imaginable. On top of that, Plumlee's Greenies were the top seed while Kelly's Ravens were No. 2.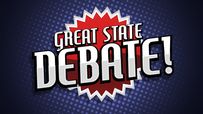 The Great State Debate of Pop Culture is out to settle the score once and for all. Which state is the coolest and most pop-culturally relevant? You decide. Here are the finalists:
• No. 1 seed California
• No. 2 seed Texas
• No. 3 seed North Carolina
• No. 4 seed New Mexico

Agree? Disagree? Join the debate.

Blog about what makes your state cool.
Still, the state tournament schedule -- three games in three days -- didn't allow Kelly to work the revenge angle mentally. There were no friendly jabs via text, no phone calls and no conversation.
Kelly said that his tunnel vision was a big reason he managed to get to the title game.
"I couldn't even think about playing against Mason or anybody other than who we were playing [at the time]," Kelly said. "We had to focus on who we had in front of us. But I knew that if we took care of business, there would be a good chance that we could play them."
Call it overlooking the competition, or perhaps it's just foresight, but Mason's younger brother Marshall, a rising junior at Christ School, talked with his brother in the days leading up to the big showdown about "not falling for Ryan's shot fakes" and how "shutting Ryan down would give us a better chance since the offense runs through him."
"That was our main focus when we actually did play them," Marshall said. "Ryan's a great player, and I know that Mason just wanted to win, regardless of who we were playing against. It was probably just icing on the cake that it was against Ryan."
Added Mason: "Even when we watched film from the Chick-fil-A game, the morning of the state title, coach didn't have to tell us because we already knew … it was gonna be a whole new game."
It looked like more of the same early. Ravenscroft found itself down 10-0, but regrouped to trail 22-17 at halftime. Kelly caught fire in the third quarter, scoring seven points to give the Ravens their first lead of the game, 29-28, with just over three minutes left in the third.
But down the stretch, Plumlee (game-high 19 points) was too much for the Ravens. The win gave Christ School its third straight state title, while Kelly led the Ravens with 14 points.
Just after the game, Plumlee maneuvered his way through the chest bumps and cheers to Kelly, who was obviously disappointed.
[+] Enlarge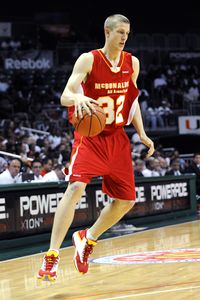 Doug Murray/Icon SMINow at Duke, Mason Plumlee will team with his former high school rival.
"I stopped celebrating and told him that I looked forward to playing with him for a change," Plumlee said. "I know they wanted it as bad as we did, so I just wanted him to know that I respected him."
Added Kelly: "It was definitely tough, but when you put it into perspective it was easier to get through. You've just got to look ahead at the opportunities in front of you. I knew we would meet again."
That happened in March, when Kelly faced Plumlee again in the McDonald's All-American game in Miami, then at the Jordan Brand Classic in New York, where they were presented with rings for making the roster.
"I looked over at Ryan and said, 'Yeah, I've got a few of these now,'" Plumlee said. "I pick my spots to tease him a little bit about the state championship. I thought that was a good time."
Kelly's comeback was equally potent.
"In both all-star games my team won, so I'm undefeated there," he said. "That's usually my response and it's worked out pretty well. But now we're teaming up and the goal is to win our rings together."
Jason Jordan writes for ESPNRISE.com and ESPN The Magazine.
BOYS' BASKETBALL RANKINGS

Rank
School (City, State)
Rec
1
Oak Hill Academy
Mouth of Wilson, VA
44-0
2
Findlay Prep
Henderson, NV
32-1
3
St. Anthony
Jersey City, NJ
32-0
4
Chester
Chester, PA
32-0
5
Marcus
Flower Mound, TX
39-2
See the full boys' basketball rankings »