Commentary
Bidding for Clarkson's services heats up in summer session
Updated:
July 24, 2009, 11:03 AM ET
By
Jeff Miller
| Special to ESPNRISE.com
DENTON, Texas -- Like a belated firecracker, the cell phone of Sam Lowe began to explode July 6.
[+] Enlarge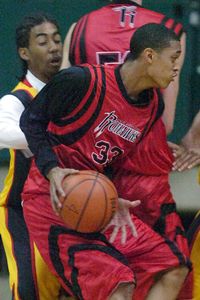 Courtesy Al KeyJordan Clarkson impressed at the Reebok's All-American Camp in Philadelphia.
Lowe is the one of the top evaluators of high school basketball talent in Texas. The calls were coming from major college coaches attending Reebok's All-American Camp in Philadelphia.
They had just watched Jordan Clarkson of Wagner (San Antonio), and they wanted to know more. The week or so since the end of the camp has been anything but restful for the 6-foot-4 shooting guard who will be a senior in the fall.
"It's crazy right now," Clarkson said with a smile during this past week's Denton Reebok Great American Shoot-Out, based at the University of North Texas. "That's good."
In only a few months, Clarkson has gone from a mid-major prospect to being heavily scrutinized by the majors. His ascent began in March, when he and the Wagner Thunderbirds knocked off Madison (San Antonio), then the No. 5 team in the ESPN RISE FAB 50, in the second round of Texas' Class 5A playoffs. This offseason, Clarkson and the San Antonio RoHawks 17 MC team already won Mike Kunstadt's Dallas/IAD Great American Shoot-Out during Memorial Day weekend and just added a runner-up finish in the top-ranked NBA Blue Division at UNT. The RoHawks, down to seven healthy players, lost 62-55 to the same Dallas Showtyme Elite squad that they had beaten in the Memorial Day final.
Michael Clarkson, Jordan's father and summer league coach, said the sudden increase in attention from coaches has been almost overwhelming.
"To say it's chaotic would be an understatement," Michael said. "It's very good for him, and it's very good for his teammates. This is the most critical time, the exposure time, when players really have to go out and perform with all eyes wanting to see them."
The RoHawks also feature two other Wagner starters who will be senior forwards this season -- 6-6 Andre Roberson and 6-2 Jordan Jones. Roberson is considered a low- to mid-major prospect, while Jones doubles as a 215-pound linebacker and probably will play major college football.
The three T-birds have been joined in recent summers by 6-1 point guard Jamal Johnson from Madison. They gig Johnson about last year's playoff matchup; he gets on them about Madison's playoff win over Wagner two years ago.
High school teammates plus a rival who has joined in for a few summers have made for a well-tuned unit.
"We've played together for so long, we know what we can do," Johnson said. "And we're different. Our posts can spread the floor. Everybody can dribble it, 1 through 5."
Said Michael Clarkson, "You can replace talent, but chemistry is something you work to maintain."
Jordan Clarkson is named for Michael Jordan because his father admired MJ's work ethic. Dad told him, "I'll be Michael; you be Jordan. Maybe we can put it together and make something happen."
Yet Jordan has been playing organized basketball since only junior high. Michael Clarkson grew up around Washington, D.C., said he tried to walk on at UNLV during the 1980s and was out of college after two years because of academic difficulties. He joined the Air Force, which brought him to San Antonio in 1992. (The RoHawks' nickname is borrowed from the 2A high school located on Randolph Air Force Base in San Antonio.)
Michael started Jordan in track instead of basketball and coached him while Jordan was in elementary school. As a 9-year-old, Jordan was setting age-group records in the 400 meters.
As Jordan got older, he told his father that he was tired of running, that he wanted to be play competitive basketball.
"My heart was hurt: 'You've got all this potential.' But I can't be an overbearing parent," Michael said. "I had a lot of things to tell him about basketball. Maybe he chose what was best for him."
Jordan owns a collection of his namesake's basketball shoes and tries to pattern his shot after Michael Jordan's.
Wagner was in only its third varsity season in 2008-09 when the Thunderbirds reached the 5A state tournament and faced Cedar Hill (Texas) in the semifinals. Wagner chipped away at an eight-point deficit early in the fourth quarter to tie the score with 15 seconds left. Cedar Hill came down the court, and junior guard Tanner Milson sank a 3-pointer -- his only points of the second half -- with two seconds left for the win.
"That's been in my head ever since," Jordan said.
Added Roberson, "That dagger shot. Heartbreaking. We headed right home. It was a quiet bus, I'll tell you that."
Ironically, the RoHawks' only pool-play loss at UNT came against Milson and the Dallas Heroes 2010. The teams met again in the semifinals, where the RoHawks won by one point on a running layin by Johnson with 1.5 seconds to go.
The sudden rise in Clarkson's stock leads to the question of whether he'll sign during the early period. Slow down, Dad said.
"We have so much information coming in now. Like I told the coaches, we're going to wait until his summer season's over, then take a real good look at what's on the table," Michael Clarkson said. "If it looks like something is a good fit, we'll commit. If we have to wait to find something to fit him, we can do that."
Jeff Miller is a freelance writer and can be reached at miller.jeff55@gmail.com.
SPONSORED HEADLINES
ESPN TOP HEADLINES
MOST SENT STORIES ON ESPN.COM
BOYS' BASKETBALL RANKINGS

Rank
School (City, State)
Rec
1
Oak Hill Academy
Mouth of Wilson, VA
44-0
2
Findlay Prep
Henderson, NV
32-1
3
St. Anthony
Jersey City, NJ
32-0
4
Chester
Chester, PA
32-0
5
Marcus
Flower Mound, TX
39-2
See the full boys' basketball rankings »