Commentary
North Carolina recruit used to the attention
Updated:
October 6, 2009, 10:27 AM ET
By
Ryan Canner-O'Mealy
| ESPN RISE Magazine
Kendall Marshall shouldn't be at the top. He should be a cautionary tale, the poster child for too much, too soon.
If the critics were right, Marshall would have quit basketball by now, burned out by the unreal expectations the star-making machine puts on hoop prodigies in the 21st century.
[+] Enlarge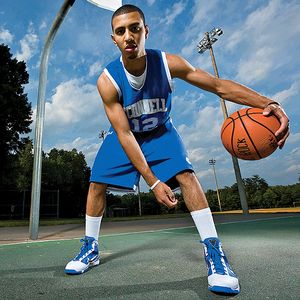 Ned Dishman\ESPN RISEKendall Marshall is ranked No. 19 in the ESPNU 100 and is headed to North Carolina.
By the time Marshall was 12, he had accumulated a lifetime's worth of accolades. It all started when he was pegged as the nation's No. 1 fifth-grade basketball player after a dominant showing on the AAU circuit. That came as news to Marshall and his family, who had no idea anyone ranked fifth-graders.
"That was a long time ago," Marshall says. "I remember enjoying it but not really thinking too much of it. It was a lot of publicity that I wasn't expecting."
Along the way, he picked up a flashy nickname, Butter, for the way he smoothly distributed the ball. The Washington Post and Sports Illustrated wrote profiles on Marshall. He rubbed elbows with NBA royalty after being selected for the Jr. NBA All-Star team.
It wasn't all fun and games, though.
While no one blamed Marshall, his ranking became a lightning rod for criticism. The Post quoted a national recruiting analyst who called ranking players so young "a very subtle form of child abuse." Rick Reilly, then with SI, said such rankings made him "want to puke."
Regardless of the wisdom (or lack thereof) in ranking 10-year-olds, skeptics would be pleasantly surprised with how Marshall has turned out. The 6-foot-4, 185-pound point guard is still a superstar who's the nation's No. 19 senior in the ESPNU 100 and has committed to North Carolina. Most important, he's remarkably well adjusted. He loves basketball more than ever, is a good student at academically challenging Bishop O'Connell (Arlington, Va.) and doesn't get in trouble off the court.
Marshall's ability to stay grounded can be traced to his values, both on and off the court.
On the hardwood, he's a natural facilitator who has always loved assists more than points. With a true point guard's mentality, there was no chance the hype would turn Marshall into a me-first player.
"Most kids want to shoot and score, but he just wanted to pass," Marshall's father, Dennis, says. "I didn't understand it, but that's what he got enjoyment out of."
"The thing I take the most pride in is making my teammates look good," Marshall adds. "If they look good then I look good."
Off the court, Dennis and his wife, Kim, made sure their son never got a big head. They kept him humble by telling him about all the so-called prodigies who never made it because they stopped working hard. They still made him clean his room and take out the garbage like any other kid.
"They thought my ranking was fun but didn't really think too much of it," Marshall says. "I still had to do my chores every day."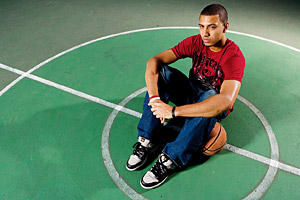 Ned Dishman\ESPN RISEKendall Marshall has been scouted and ranked since he was in the fifth grade.
Marshall's rise to the top was quicker than his crossover. He started playing at age 7, on a 10-and-under team coached by his dad. For three years, he was the star of the Prince William Pacers, which became a top AAU team in its age group. To Marshall, this meant traveling the country, blasting Jay-Z on the car stereo and doing cannonballs into hotel pools.
To others, it meant Marshall was ready to be evaluated. He earned the No. 1 ranking and by the sixth grade was starting for the varsity at Evangel Christian, a K-12 private school. It wasn't top-notch athletic competition, but playing against older players -- a theme throughout Marshall's career -- aided his development.
"It's made me the player I am today," Marshall says. "I was never the biggest or strongest kid, so a lot of my game is mental."
That same year, he was chosen as a Jr. NBA All-Star, earning a trip to the 2003 All-Star Game. Marshall spent the weekend with the league's best, gawking at Shaq and Kobe in the hotel lobby, getting coached by Bill Walton and catching Michael Jordan's final All-Star appearance up close.
After a year in public school, Marshall went to The Potomac School, where he reclassified and repeated the eighth grade. He then headed to Bishop O'Connell in the powerful WCAC.
Two games from his freshman year remain burned in Marshall's memory. The first gave him a sense of how tough his new league would be. The second gave him a sense of how good he could be.
During the summer leading into Marshall's ninth-grade year, he beat Chris Wright, now a junior at Georgetown but then a rising senior at St. John's (Washington, D.C.), in a game of H-O-R-S-E. Wright promised to get his future WCAC rival back when their teams played. "I'm gonna give you guys 40 this year," Marshall remembers him saying.
Wright didn't get 40, but he did drop 35 points on O'Connell despite missing most of the third quarter with an injury.
"I was blown away," Marshall says. "I was like, 'This is the real deal.'"
But so is Marshall.
Later in the year, the Knights took on Benedictine (Richmond, Va,), led by current UNC star Ed Davis. Marshall was feeling it from the tip, pouring in 15 points in the opening half and talking trash to Davis.
"That's when I knew I could play on that level," Marshall says.
There was never really any doubt about that. Marshall continued his accelerated pace by committing to North Carolina early in his sophomore year. Since then, he's been running the show at O'Connell. He averaged 16 points and eight assists per game last year as the Knights went 22-8.
Marshall will realize one longtime dream when he suits up for the Tar Heels next year. It's the second-to-last step in a long journey he hopes will end in the NBA. The stakes are high, but the prodigy isn't fazed.
"When you've been on the front page of The Washington Post -- not the sports section, but the front page of the actual paper -- at age 11," Dennis Marshall says, "you're not going to get nervous during big games. There's not much more pressure after that."
Ryan Canner-O'Mealy covers high school sports for ESPN RISE Magazine.
SPONSORED HEADLINES
ESPN TOP HEADLINES
MOST SENT STORIES ON ESPN.COM
BOYS' BASKETBALL RANKINGS

Rank
School (City, State)
Rec
1
Oak Hill Academy
Mouth of Wilson, VA
44-0
2
Findlay Prep
Henderson, NV
32-1
3
St. Anthony
Jersey City, NJ
32-0
4
Chester
Chester, PA
32-0
5
Marcus
Flower Mound, TX
39-2
See the full boys' basketball rankings »