Commentary
RISE Above Flashback: Conner Kempe
Updated:
October 29, 2009, 10:19 AM ET
By
Jon Mahoney
| ESPN RISE Magazine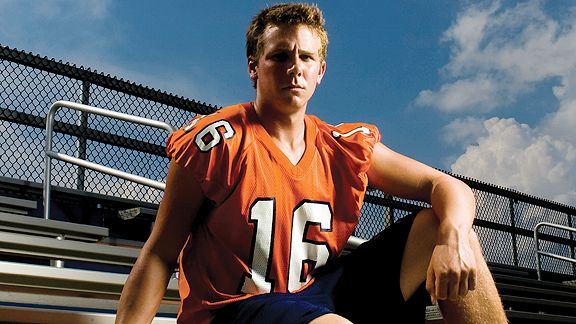 Ren Dittfield for ESPNRISE MagazineNow a quarterback at Dartmouth, Conner Kempe has thrown five touchdown passes this season.
Conner Kempe feels like himself again. A sophomore backup quarterback at Dartmouth College, he's enjoying Division I football, earning an Ivy League education and simply treasuring each day he wakes up.
Three years ago, the latter wasn't exactly a certainty. In November 2006, Conner -- then a junior at the Benjamin School (Palm Beach Gardens, Fla.) -- went out kitesurfing, a favorite hobby of his. He ignored the high winds that day and ended up paying the price as he got caught up in a 40 mph squall.
Conner lost his board during the ordeal but was helplessly attached to his kite as it dragged him toward the shore and imminent danger. He was knocked unconscious during the nightmarish ride in which he smashed into the side of a condo building, knocked down a rail fence and hit a parked car before his kite got caught in mangroves.
Conner was airlifted to the hospital, where he was given his last rites because the trauma he sustained was thought to be so severe. He ended up being OK, as the injuries he sustained were hairline fractures of his left ankle and right kneecap as well as multiple facial fractures and a concussion. And 24 hours after his arrival at the hospital, he was looking to get out of bed.
Just two months after the injury, Conner began working out daily with his high school offensive coordinator and quarterbacks coach Ryan Smith. His comeback was complete when he suited up for his school's spring game in May 2007 and eventually broke Smith's school record for career passing yards during the fall of his senior year.
Conner has no memory of the incident since he was knocked out while in the air. He has since gone back to kitesurfing but said he's much more mindful of looking at the forecast before he heads to the beach. And knowing what he went through, he's thankful he even has the chance.
"You have to live your life like tomorrow is your last," said Conner, who has dreams of one day playing in the NFL. "Somebody up there has something planned. I'm lucky to be alive, walking and not be hurt worse than I was."
Jon Mahoney writes about high school sports for ESPN RISE Magazine.
ESPNHS.com
SPONSORED HEADLINES
ESPN TOP HEADLINES
MOST SENT STORIES ON ESPN.COM
BOYS' BASKETBALL RANKINGS

Rank
School (City, State)
Rec
1
Oak Hill Academy
Mouth of Wilson, VA
44-0
2
Findlay Prep
Henderson, NV
32-1
3
St. Anthony
Jersey City, NJ
32-0
4
Chester
Chester, PA
32-0
5
Marcus
Flower Mound, TX
39-2
See the full boys' basketball rankings »