The all-time great from each state
Updated:
November 3, 2009, 12:56 PM ET
ESPNRISE.com
As part of ESPN RISE's boys' basketball preview, we're taking a look at the best player from each state.
[+] Enlarge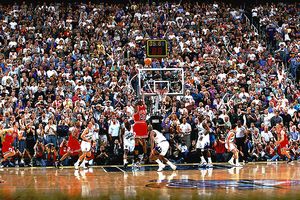 Fernando Medina/NBAE/Getty ImagesWith MJ being from Wilmington, was there ever a doubt about the greatest from North Carolina.
ALABAMA
Charles Barkley, Leeds, PF
ALASKA
Carlos Boozer, Juneau-Douglas (Juneau), PF
ARIZONA
Lafayette "Fat" Lever, Pueblo (Tucson), CG
ARKANSAS
Scottie Pippen, Hamburg (Hamburg), SF
CALIFORNIA
Bill Russell, McClymonds (Oakland), C
COLORADO
Micheal Ray Richardson, Manual (Denver) PG
CONNECTICUT
Calvin Murphy, Norwalk, PG
DELAWARE
A.J. English, Howard Career Center (Wilmington, Del.), SG
DISTRICT OF COLUMBIA (D.C.)
Elgin Baylor, Spingarn, F
FLORIDA
Vince Carter, Mainland (Daytona Beach), SF
GEORGIA
Walt Frazier, David T. Howard (Atlanta), PG
HAWAII
Red Rocha, Hilo, C
IDAHO
Steve Hayes, Aberdeen, C
ILLINOIS
Isiah Thomas, St. Joseph (Westchester), PG
INDIANA
Oscar Robertson, Crispus Attucks (Indianapolis), G
IOWA
Kirk Hinrich, Sioux City West (Sioux City), G
KANSAS
Lucius Allen, Wyandotte (Kansas City), G
KENTUCKY
Wes Unseld, Seneca (Louisville), C
LOUISIANA
Karl Malone, Summerfield, PF
MAINE
Caron Butler, Maine Central Institute (Pittsfield), SF
Boys' Basketball Preview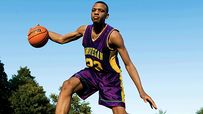 High school basketball is back and ESPN RISE is getting you ready for boys' basketball season with a week's worth of previews, including the release of the Preseason ESPN RISE FAB 50 rankings.
Nov. 3
• FAB 50 Nos. 26 -- 50
• Best Players Ever By State
Nov. 4
• FAB 50 Nos. 11 -- 25
• Top Current Players By State
• Highest Ranked Team Since 1988
Nov. 5
• FAB 50 No. 1 -- 10
• Preseason No. 1 By State
• Regional Rankings
• Five Burning Questions
MARYLAND
Adrian Dantley, DeMatha (Hyattsville), F
MASSACHUSETTS
Patrick Ewing, Cambridge Rindge & Latin (Cambridge), C
MICHIGAN
Earvin "Magic" Johnson, Everett (Lansing), PG
MINNESOTA
Kevin McHale, Hibbing, PF
MISSISSIPPI
Antonio McDyess, Quitman, PF
MISSOURI
Bill Bradley, Crystal City, SF
MONTANA
Mike Lewis, Missoula (Missoula), PF
NEBRASKA
Bob Boozer, Omaha Tech (Omaha), PF
NEVADA
Lionel Hollins, Rancho (Las Vegas), G
NEW HAMPSHIRE
Rashad McCants, New Hampton School (New Hampton) SF
NEW JERSEY
Rick Barry, Roselle Park, SF
NEW MEXICO
Bill Bridges, Hobbs (Hobbs), PF
NEW YORK
Kareem Abdul-Jabbar, Power Memorial (New York), C
NORTH CAROLINA
Michael Jordan, Laney (Wilmington), SG
NORTH DAKOTA
Phil Jackson, Williston, PF
OHIO
John Havlicek, Bridgeport, SF
OKLAHOMA
Alvan Adams, Putnam City (Warr Acres), PF
OREGON
Danny Ainge, North Eugene (Eugene), CG
PENNSYLVANIA
Wilt Chamberlain, Overbrook (Philadelphia), C
RHODE ISLAND
Marvin Barnes, Central (Providence), PF
SOUTH CAROLINA
Alex English, Dreher (Columbia), SF
SOUTH DAKOTA
Mike Miller, Mitchell, SF
TENNESSEE
Bailey Howell, Middleton, F
TEXAS
Shaquille O'Neal, Cole (San Antonio), C
UTAH
Shawn Bradley, Emery County (Castle Dale), C
VERMONT
Bruce Dalrymple, St. Johnsbury Academy (St. Johnsbury), CG
VIRGINIA
Moses Malone, Petersburg, C
WEST VIRGINIA
Jerry West, East Bank, G
WASHINGTON
John Stockton, Gonzaga Prep (Spokane), PG
WISCONSIN
Latrell Sprewell, Washington (Milwaukee), SG
WYOMING
Kenny Sailors, Laramie (Laramie), SG
Editor's note: This list keeps high school success into consideration but is also based on what each player accomplished later on in college and the NBA.
SPONSORED HEADLINES
ESPN TOP HEADLINES
MOST SENT STORIES ON ESPN.COM
BOYS' BASKETBALL RANKINGS

Rank
School (City, State)
Rec
1
Oak Hill Academy
Mouth of Wilson, VA
44-0
2
Findlay Prep
Henderson, NV
32-1
3
St. Anthony
Jersey City, NJ
32-0
4
Chester
Chester, PA
32-0
5
Marcus
Flower Mound, TX
39-2
See the full boys' basketball rankings »