Commentary
Why do they choose the schools they do?
Updated:
November 13, 2009, 4:33 PM ET
By
Ronnie Flores
| ESPN RISE
With the early signing period upon us, the big news nationally is the recruitment of Harrison Barnes, the No. 1 player in the ESPNU 100. But while rabid fans want to know where the nation's top recruits will end up, why players choose a particular school is as or more important to the student-athletes, potential recruits and their parents.We spoke to seven D-I recruits about their recruiting experiences:
[+] Enlarge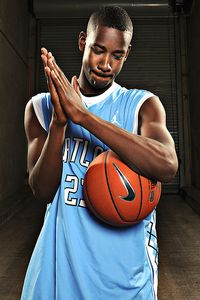 Dustin Snipes/Icon SMI Terrence Ross chose Maryland because the campus in College Park is "like its own town. There are a bunch of people I can get along with. It's a basketball school."
Why did you choose your school?
"Because it's a great place to get an education, has great alumni support and I like the coaching staff." -- USC recruit Bryce Jones, Taft (Woodland Hills, Calif.)
"I chose Memphis because of its good environment. Playing with my brother (Antonio Barton) was another thing." -- Memphis recruit Will Barton, Brewster Academy (Wolfeboro, N.J.)
"Atmosphere, style of basketball and the recruiting class that's coming in." -- Maryland recruit Terrence Ross, Montrose Christian (Rockville, Md.)
What other factors played a role in your decision?
"Education ... it's surprising, you don't see a lot of coaches that strive to achieve graduation for their players. Coach (Jim) Boylen and coach (Stan) Johnson ... all we talked about was education and how things were going to be if I went there. Then we talked about basketball." -- Utah recruit Dominique Lee, St. Mary's (Berkeley, Calif.)
"Definitely distance. I wanted to be close enough for my parents to visit, but not close enough for them to just show up!" North Carolina recruit Kendall Marshall, Bishop O'Connell (Arlington, Va.)
"I did some research on coach (Mike Montgomery) and he excels at developing people at my position." -- Cal recruit Richard Solomon, Price (Los Angeles, Calif.)
What one thing really stuck with you or made you realize this was the school for you?
[+] Enlarge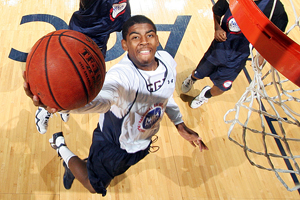 Andrew Shurtleff for ESPN.comKyrie Irving, No. 6 in the ESPNU 100, says he was sold on Duke from jump. "A week before my decision, I could see myself playing for Coach K. It was just the way he made me feel. We already had a bond."
"A week before my decision on ESPNU, I could see myself playing for Coach K. It was just the way he made me feel. We already had a bond." -- Duke recruit Kyrie Irving, St. Patrick (Elizabeth, N.J.)
"Looking around, coach (Kevin) O'Neill and his coaching staff were always around at all my games." -- Jones
"When I went on my visit: Midnight Madness weekend. Just to see how much they care about Carolina basketball." -- Marshall
Who played a role in your decision other than your parents?
"My mom, my brother and my two godfathers. We planned everything out. Nothing goes on without talking to them." -- Barton
"Just my mom, Marcine!" -- Ross
"Not really anyone, I had to see it with my own eyes." -- Irving
What aspect of the lifestyle at your school most appealed to you?
"Probably have to say the environment. Utah is a big sport state and the fans come out to support each sport. It's like a big ol' family." -- Lee
"The good alumni base. Felt that would be useful to me if, for whatever reason, basketball didn't work out." -- Jones
"People there are so welcoming. I met a few people (not part of the basketball program) and they were just so open and accepting." -- Solomon
BOYS' BASKETBALL RANKINGS

Rank
School (City, State)
Rec
1
Oak Hill Academy
Mouth of Wilson, VA
44-0
2
Findlay Prep
Henderson, NV
32-1
3
St. Anthony
Jersey City, NJ
32-0
4
Chester
Chester, PA
32-0
5
Marcus
Flower Mound, TX
39-2
See the full boys' basketball rankings »