Commentary
RISE Above: Marquis Barnett
Updated:
November 25, 2009, 3:07 PM ET
By
Ryan Canner-O'Mealy
| ESPN RISE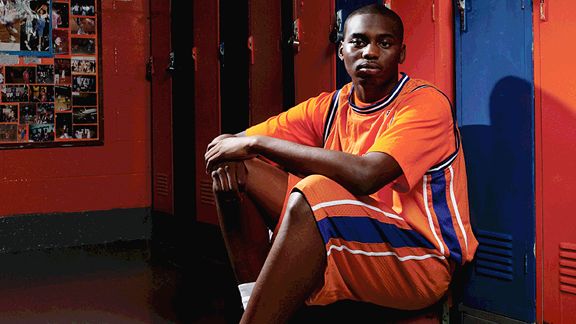 Kelly Kline/ESPN RISE MagazineMarquis Barnett has gone from an up-and-down player to one whose Division I stock is on the rise.
This story appeared in the Winter 2009 edition of ESPN RISE HARDWOOD.
All Marquis Barnett wanted to do was keep his mom safe.
Francine Baker was trapped in an abusive relationship, and there was little her son could do about it.
"I thought I was hiding it well, but my kids knew," Francine says. "My daughter came to me one day and said, 'Mom, if we don't leave him, I'm gonna see you in a coffin.'"
Shortly thereafter, in October 2008, Marquis came home to his Bronx, N.Y., apartment to hear his mother screaming in her bedroom. This time, he was going to do something about it. So he burst into the room and found his mom's boyfriend choking her. The 6-foot-5 Marquis was able to fight the boyfriend off and chase him out of the apartment.
"I was just thinking about saving her," says Marquis, now a junior forward at Cardozo (Bayside, N.Y.).
At that point, Francine realized she needed to save herself and her children. So she told a doctor about the abuse and the family was checked into a shelter for victims of domestic violence. After a brief stay at that shelter in the Bronx (where Francine's boyfriend tracked them down), they moved to a shelter in Far Rockaway, N.Y., more than two hours away.
Marquis, his two younger siblings and Francine were crammed into a small two-bedroom apartment, but they weren't complaining.
"Anything compared to where we were was going to be beautiful," Francine says. "It was like paradise to us."
But there were still plenty of obstacles for Marquis.
A sophomore on the St. Raymond (Bronx, N.Y.) JV basketball team at the time, he didn't feel like transferring in the middle of the year. So he endured a three-hour commute each way on the train to and from school. He'd wake at 4 in the morning and leave home by 5 in order to make his 8 a.m. class. Add in games and practices after school, and he usually wouldn't get home until 11 p.m., leaving little time for sleep.
As a result, his game suffered. Often operating on only 2-4 hours of rest, he became maddeningly inconsistent on the court. One night, he'd put up 20 points and 20 rebounds against a storied program like Mount Vernon (Mount Vernon, N.Y.) or Xaverian (Brooklyn, N.Y.). The next, he'd sleepwalk through a poor performance.
"He definitely had flashes of being a star," St. Ray's JV coach Danny Basile says.
For the final two months of last school year, Francine moved her family to a shelter in Harlem, cutting Marquis' commute down to about an hour each way. And as the school year ended, the family was able to move out of shelter life completely, finding a three-bedroom apartment back in Far Rockaway.
But Marquis couldn't handle that long train trip anymore. So after the school year he transferred from St. Raymond to Cardozo, which is an hour from his new place. With peace of mind (and a little extra sleep), his game flourished over the summer. He helped lead the New Heights AAU squad to the 16-and-under title at the Hoops in the Sun tourney in New York City, and Cardozo coach Ron Naclerio expects Marquis to be a big part of the team's varsity squad this winter. His former coach also sees him playing at the next level.
"He's definitely a good mid-major player," Basile says.
There's no doubt Marquis is excited about the prospect of playing Division I ball, but he has loftier goals in mind.
"I can be the first person in my family to graduate from college," he says.
And for Francine, finally safe in her new apartment, that would be the best gift of all.
BOYS' BASKETBALL RANKINGS

Rank
School (City, State)
Rec
1
Oak Hill Academy
Mouth of Wilson, VA
44-0
2
Findlay Prep
Henderson, NV
32-1
3
St. Anthony
Jersey City, NJ
32-0
4
Chester
Chester, PA
32-0
5
Marcus
Flower Mound, TX
39-2
See the full boys' basketball rankings »