Players of the week
Updated:
January 20, 2010, 1:34 PM ET
ESPN RISE
The ESPN RISE boys' basketball players of the week:
East: Josh Selby
Lake Clifton (Baltimore, Md.)
One of the most dynamic players at last summer's Elite 24 in New York City, Selby rampaged for 46 points and had 16 assists and 12 rebounds to lead Lake Clifton to a 110-44 win over Connexions Leadership Academy (Baltimore, Md.) at the IABBO Holiday Mixer. Selby, a 6-foot-3 guard, is the eighth-ranked player in the ESPNU 100.
Southeast: Adam Smith
Fayette County (Fayetteville, Ga.)
The 6-foot junior guard could be climbing the charts of top players in his class in the Southeast. He is averaging 28.3 points per game and can play the point and shoot from the perimeter. Smith had one of his best games last week in an 89-86 win against Hillgrove (Powder Springs, Ga.), as he scored 39 points and had four assists and four steals.
[+] Enlarge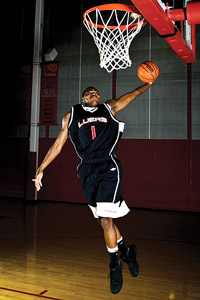 Brian Spurlock for ESPN RISEDeshaun Thomas is known for his versatility and scoring ability.
Midwest: Deshaun Thomas
Bishop Leurs (Fort Wayne, Ind.)
The 6-foot-7 small forward had 52 points, 19 rebounds, nine assists and five blocked shots in a 110-94 victory Saturday over Southside (Muncie, Ind.). His previous outing wasn't bad, either, as he led Bishop Luers past Harding (Fort Wayne, Ind.) 69-58 in the championship of the Summit Athletic Conference holiday tournament with 36 points and 19 rebounds. Thomas, No. 12 in the ESPNU 100, is averaging 36.1 points a game.
Southwest: Joseph Young
Yates (Houston, Texas)
Young, one of the ringleaders for Yates' high-flying circus this season, led the team to the championship at the T-Mobile Invitational in Birmingham, Ala. Young had 43 points in the title game, a 108-77 win over Butler (Huntsville, Ala.). He made six 3-pointers and had seven rebounds and five assists. The 6-foot-2 senior guard, who has given a verbal commitment to sign with Providence, averaged 32 points per game at the T-Mobile event.
West: Jordan Burris
Stockdale (Bakersfield, Calif.)
Burris made his final performance of 2009 a memorable one, scoring a school-record 52 points in a 78-75 double-overtime victory against Norte Dame (Sherman Oaks, Calif.) in the Clovis Elks Invitational quarterfinals. The total earned him a spot with three others for the fourth-best single-game total in CIF Central Section history. The 6-foot-6 senior forward averaged 23 points and eight rebounds as a junior while showing he can shoot from the outside, making 51 percent of his 3-point attempts.
SPONSORED HEADLINES
ESPN TOP HEADLINES
MOST SENT STORIES ON ESPN.COM
BOYS' BASKETBALL RANKINGS

Rank
School (City, State)
Rec
1
Oak Hill Academy
Mouth of Wilson, VA
44-0
2
Findlay Prep
Henderson, NV
32-1
3
St. Anthony
Jersey City, NJ
32-0
4
Chester
Chester, PA
32-0
5
Marcus
Flower Mound, TX
39-2
See the full boys' basketball rankings »