Commentary
Hoops: Five Burning Questions
Updated:
January 20, 2010, 6:58 PM ET
By
Ronnie Flores
| ESPN RISE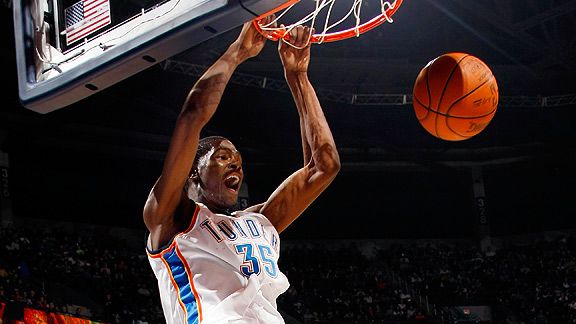 Layne Murdoch/NBAE/Getty ImagesProponents of the NBA's age limit say at last college fans got to enjoy studs like Kevin Durant for a year.
What was the most impactful moment of the 2000s in high school hoops?
In 2005, the NBA and the Players Association agreed to a new age rule, requiring players to be 19 years old and one year removed from high school, as part of the Collective Bargaining Agreement. The rule ended a lot more than just high school players jumping straight to the NBA. It put an end to NBA scouts appearing in high school gyms and evaluating potential draftees who play levels below professional ranks, dealing with high school and AAU coaches. The ruling created excitement among college teams due to the talented wave of freshman standouts that otherwise would have went straight to the NBA. It also left some programs vulnerable to NCAA sanctions by recruiting some of those same players. Brandon Jennings' journey to Europe would have never happened, and Jeremy Tyler leaving high school early would have been unthinkable, without the 19-year-old limit. There is growing momentum to repeal the rule and we'd be surprised if its not amended in some fashion in the next 10 years.
What's the one thing we'd like to see happen in the next decade?
Besides an amendment to the age rule, we'd like to see the expansion of the USA Basketball program. After the United States won gold at the 2000 Summer Olympics, the enthusiasm and pride in the program eroded until the Redeem Team won it again in Beijing two years ago. The inaugural FIBA Americas U-16 Championship in 2009 was a successful event and well received, especially on the boys' side. We'd like to see developmental national teams for younger age groups, possibly down to 13-year-olds. That could spur a downsizing of the saturated AAU scene and build momentum towards the return of amateur players on FIBA World Championship and Olympic teams with a true tryout system for their selections.
What could be the fallback of expanding USA Basketball?
Late-developing players might have little chance to represent the United States in international competition. Picking U-16 teams basically means picking future Olympians, especially on the women's side, because players with international experience have a tremendous advantage. Picking national teams even younger would only make this problem more glaring. One solution could be to expand on the boys' side only. The programs should operate differently, anyway, especially since making an Olympic team is more of a career pinnacle for girls players.
What's the one misconception we hope is left behind in the 2000s?
Many believe if kids don't play summertime ball, they won't have scholarship opportunities. This is another issue that has gender differences and the misconception is more prevalent in the girls' game. In fact, with 15 scholarships per program, there are actually more scholarships available each year than there are high-level girls players. Parents and guardians spend a lot of money for kids to participate in events outside the traditional high school setting. If a student-athlete has the talent to play college basketball, colleges will find out.
Why isn't Morgan Wootten in the NFHS Hall of Fame?
With the Hoophall Classic just completed, let's examine the case of the only individual in the Naismith Memorial Basketball Hall of Fame strictly based on the accomplishments of his high school coaching career. The former DeMatha Catholic (Hyattsville, Md.) coach, who won 1,274 games between 1957 and 2002, is not in the National Federation of State High School Association Hall of Fame for a simple reason: The Indianapolis-based organization does not enshrine individuals that coached at non-NFHS member schools. That means deserving coaches, such as Oak Hill Academy (Mouth of Wilson, Va.) coach Steve Smith, will never get in the that Hall unless the rules are relaxed. That opens up questions of what other prep coaches should join Wootten in the Naismith HOF and what deserving coaches should be in the NFHS HOF. We'll have more on this topic later.
SPONSORED HEADLINES
ESPN TOP HEADLINES
MOST SENT STORIES ON ESPN.COM
BOYS' BASKETBALL RANKINGS

Rank
School (City, State)
Rec
1
Oak Hill Academy
Mouth of Wilson, VA
44-0
2
Findlay Prep
Henderson, NV
32-1
3
St. Anthony
Jersey City, NJ
32-0
4
Chester
Chester, PA
32-0
5
Marcus
Flower Mound, TX
39-2
See the full boys' basketball rankings »