Commentary
Mr. Basketball USA Tracker Crystal Ball
Updated:
February 26, 2010, 5:39 PM ET
By
Ronnie Flores
| ESPNRISE.com
TRACKER: 1 | 2 | 3 | 4 | 5 | 6 | 7 | 8 | 9 | 10
There have been only thee underclass players to win Mr. Basketball USA in the five decades that our panel has collectively been evaluating prep talent.
Lucas. Alcindor. LeBron.
The way this season has progressed, it's unlikely any underclassman is going to join that select company of high school legends.
Michael Gilchrist, a sinewy 6-foot-6 junior at St. Patrick (Elizabeth, N.J.), was the top underclass candidate at the beginning of the season. Gilchrist had even more momentum because top-notch junior Tony Wroten Jr. from Garfield (Seattle, Wash.), who garnered some votes last year as a sophomore, was lost to injury before the season even started.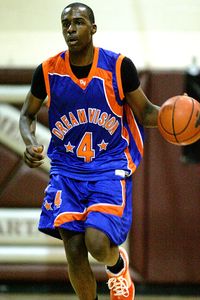 Liam Foley/Icon SMISophomore Shabazz Muhammad (Bishop Gorman, Las Vegas. Nev.) should be a strong Mr. Basketball USA candidate the next two seasons.
In the preseason, three balloters labeled Gilchrist their top candidate and he climbed to as high as No. 3 with 62 points in the third balloting of the season, but his candidacy steadily slowed in recent weeks.
The reason?
Seniors on strong teams, such as Tobias Harris from FAB 50 ranked Half Hollow Hills West (Dix Hills, N.Y) and Terrence Jones of FAB 50 ranked Jefferson (Portland, Ore.), have made a late-season surge, not to mention his own senior teammate (Kyrie Irving) holding steady in the top five.
Precedent may be also holding Gilchrist back somewhat, as he's inevitably going to be judged against those who won before him. For an underclassman to capture national player of the year honors, his play has to be so spectacular that there's no question he's better than all the senior candidates.
Junior Austin Rivers (Winter Park, Fla.) has been considered a top candidate, too, but one player who's surpassed both Gilchrist and Rivers this week is 6-foot-10 Quincy Miller from Quality Education Academy (Winston-Salem, N. C.) He's been steadily appearing as the No. 2 player on at least one ballot, but this week he's up to No. 7 overall with 30 points on four ballots. He's still a
Mr. Basketball USA long shot, but Miller's inside-outside skill level at his height puts him on the short list of players that will challenge Gilchrist for the Class of 2011 No. 1 rating and the pole position in next year's Mr. Basketball USA race.
Miller's Quality Education Academy club is a contender for the ESPN RISE National High School Invitational (NHSI) at the conclusion of this season, while Myck Kabongo's team at St. Benedict's Prep (Newark, N.J.) is a virtual shoo-in. The NHSI is part of the season's overall evaluation, so the second annual event is a special opportunity for the top players on the eight teams that will eventually be selected for the event. Kabongo's candidacy could get a real boost if the one-loss Gray Bees win the NHSI title.
Other underclassmen that have made a splash so far this year are guards Bradley Beal (Chaminade, St. Louis, Mo.), Marquis Teague (Pike, Indianapolis, Ind.), Quinn Cook (DeMatha, Hyattsville, Md.) and Adam Smith (Fayette County, Fayetteville, Ga.), plus wings Timmy Knipp (Eliott County, Sandy Hook, Ky.) and LeBryan Nash (Lincoln, Dallas, Texas).
Special mention goes out to Melrose (Memphis, Tenn.) teammates Chris Jones and Adonis Thomas, who should keep that city's tradition of churning out top-flight talent alive next year, and sophomores Perry Ellis (Heights, Wichita, Kan.) and Shabazz Muhammad, the latter who appeared on a ballot for the first time this season. After a slow start due to injury, the son of former USC basketball player Ron Holmes and former Cal-St. Long Beach hoops and track standout Faye Paige has led two-loss Bishop Gorman of Las Vegas, Nev. to the No. 17 ranking in the latest ESPN RISE FAB 50.
Read below to see the voting results of the tenth 2009-10 ESPN RISE Mr. Basketball Tracker. Stay logged into ESPNRISE.com to track the progress of the top individual players -- as well as the top teams -- in the ESPN RISE FAB 50.
Click here to check out the high school games on TV this season.
ESPN RISE Mr. Basketball USA Tracker
Rank
Prev.
Name
Pos
High School
1st
2nd
3rd
4th
5th
Total
1
1
Jared Sullinger (9)
PF
Northland
5
2
1
1
0
83
2
2
Harrison Barnes (8)
W
Ames
3
4
0
1
0
73
3
3
Brandon Knight (8)
PG
Pine Crest
1
0
3
2
2
60
4
4
Kyrie Irving (6)
PG
St. Patrick
0
1
1
2
2
43
5
7
Tobias Harris (7)
PF
Half Hollow Hills
0
0
2
1
0
41
6
5
Terrence Jones (6)
W
Jefferson
0
0
2
1
1
38
7
NR
Quincy Miller (4)
W
Quality Education
0
2
0
0
2
30
Others Receiving Votes:
Cory Joseph (Findlay Prep, Henderson, Nev.) 27 pts. (5)
Michael Gilchrist (St. Patrick, Elizabeth, N.J.) 18 pts. (3)
J.T. Terrell (West Charlotte, Charlotte, N.C.) 15 pts. (2)
Corey Hawkins (Estrella Foothills, Goodyear, Ariz.) 13 pts. (2)
Reggie Bullock (Kinston, N.C.) 9 pts. (2)
Jayvaughn Pinkston (Bishop Loughlin, Brooklyn, N.Y.) 7 pts. (1)
Joe Jackson (White Station, Memphis, Tenn.) 6 pts. (1)
Doron Lamb (Oak Hill Academy, Mouth of Wilson, Va.) 6 pts. (1)
DeAndre Daniels (Taft, Woodland Hills, Calif.) 5 pts. (1)
Perry Jones (Duncanville, Texas) 4 pts. (1)
Shabazz Muhammad (Bishop Gorman, Las Vegas, Nev.) 4 pts. (1)
Austin Rivers (Winter Park, Fla.) 4 pts. (1)
Joseph Young (Yates, Houston, Texas) 4 pts. (1)

SPONSORED HEADLINES
ESPN TOP HEADLINES
MOST SENT STORIES ON ESPN.COM
BOYS' BASKETBALL RANKINGS

Rank
School (City, State)
Rec
1
Oak Hill Academy
Mouth of Wilson, VA
44-0
2
Findlay Prep
Henderson, NV
32-1
3
St. Anthony
Jersey City, NJ
32-0
4
Chester
Chester, PA
32-0
5
Marcus
Flower Mound, TX
39-2
See the full boys' basketball rankings »