Commentary
Tobias' Blog: Closing time
Updated:
March 1, 2010, 2:01 PM ET
By
Tobias Harrias
| Special to ESPNRISE.COM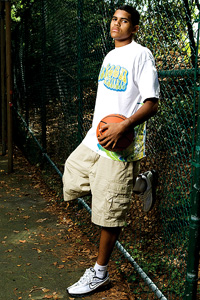 Kelly Kline for ESPN RISETobias Harris of undefeated Half Hollow Hills West (Dix Hills, N.Y.) blogs for ESPNRISE.com.
We're just coming off our semifinal playoff win last night and the score didn't really tell the game. The first two quarters were kind of close, but we played real well as a team to win the game by so much -- final score was 96-48.
I think we are unbeatable when we have our starting five all playing well and contributing big. Last night, we got big efforts from my younger brother Tyler, who finished with 23 [points]; forward Emile Blackman, who had 16; and Tavon Sledge, who had 21.
It's hard for teams to guard all five of our players and we have become so unselfish that no one cares about individual stats.
I think this year has been great. I think we're 22-0 and I, personally, am all about winning. This is my last go round for high school and I tell that to everyone on the team. You only get one shot at this, so we always have to give it our all, especially since its playoff time.
Our coach is doing a great job keeping us focused and having us keep going hard in practices and in the extra workouts that we do.
Our next game is Wednesday vs. Longwood (Middle Island, N.Y.), the No. 2 seed whom everyone has expected us to play. So this will be a battle, but we are just looking to play Hills West basketball and come out with the win!
SPONSORED HEADLINES
ESPN TOP HEADLINES
MOST SENT STORIES ON ESPN.COM
BOYS' BASKETBALL RANKINGS

Rank
School (City, State)
Rec
1
Oak Hill Academy
Mouth of Wilson, VA
44-0
2
Findlay Prep
Henderson, NV
32-1
3
St. Anthony
Jersey City, NJ
32-0
4
Chester
Chester, PA
32-0
5
Marcus
Flower Mound, TX
39-2
See the full boys' basketball rankings »