Commentary
McDonald's announces its 35 greatest
Updated:
March 26, 2012, 10:33 PM ET
By
Jason Jordan
| ESPNHS.com
Even as the top-ranked point guard in the ESPNU 100, Marcus Paige knows that if he's fortunate enough to make the McDonald's All-American Game on March 28 (9:30 p.m. ET on ESPN) he's got an even longer way to go if he wants to go down as one of that game's greatest players.
On Tuesday, in celebration of the 35th anniversary of the premier high school all-star hoops event, the McDonald's All-American Games unveiled its list of the 35 greatest McDonald's All-Americans.

"I can only hope to make that list one day in the future," said Paige, a senior at Linn-Mar (Marion, Iowa) who is signed to North Carolina. "It's pretty impressive, to say the least. I'd take those guys on any kind of all-time greats list."

All 35 players were selected by members of the McDonald's All-American Games selection committee, led by Hall of Fame coach and committee chairman Morgan Wooten. This year's team will be announced on February 9 (5 p.m. ET on ESPNU).

"For 35 years, the McDonald's All-American Games have showcased the top high school basketball players nationwide," Wootten said. "These 35 players included on this list embody the McDonald's All-American Games and celebrate all the elite athletes that have participated in the games over the years."

The players were chosen based on their high school career and performance in the McDonald's All-American Games, success at the collegiate and professional level, and post-career accomplishments.

"These players are a veritable 'who's who' of basketball's modern era," said Douglas Freeland, the event's director.

35 of the greatest McDonald's All-Americans
Earvin "Magic" Johnson (1977)
Clark Kellogg (1979)
Ralph Sampson (1979)
Isiah Thomas (1979)
Dominique Wilkins (1979)
James Worthy (1979)
Sam Perkins (1980)
Glenn "Doc" Rivers (1980)
Patrick Ewing (1981)
Michael Jordan (1981)
Chris Mullin (1981)
Kenny Smith (1983)
Danny Manning (1984)
Larry Johnson (1987)
Christian Laettner (1988)
Alonzo Mourning (1988)
Bobby Hurley (1989)
Shaquille O'Neal (1989)
Grant Hill (1990)
Glenn Robinson (1991)
Jason Kidd (1992)
Jerry Stackhouse (1993)
Vince Carter (1995)
Kevin Garnett (1995)
Paul Pierce (1995)
Kobe Bryant (1996)
Jay Williams (1999)
Carmelo Anthony (2002)
Amare Stoudemire (2002)
LeBron James (2003)
Chris Paul (2003)
Dwight Howard (2004)
Tyler Hansbrough (2005)
Kevin Durant (2006)
Derrick Rose (2007)


Jason Jordan is a basketball editor for ESPNHS. He can be reached at jason.x.jordan.-ND@espn.com. Follow him on Twitter: @JayJayESPN
2012 McDonald's All-American Games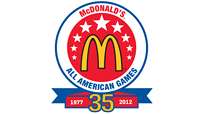 The McDonald's All-American Games feature four dozen of the nation's best high school basketball players.
GIRLS' GAME
BOYS' GAME
35th ANNIVERSARY
Join the discussion on Twitter: @ESPNHS.
BOYS' BASKETBALL RANKINGS

Rank
School (City, State)
Rec
1
Oak Hill Academy
Mouth of Wilson, VA
44-0
2
Findlay Prep
Henderson, NV
32-1
3
St. Anthony
Jersey City, NJ
32-0
4
Chester
Chester, PA
32-0
5
Marcus
Flower Mound, TX
39-2
See the full boys' basketball rankings »