Shabazz Muhammad is McDonald's POY
Updated:
March 13, 2012, 2:22 PM ET
By
Michael Grimala
| ESPNHS.com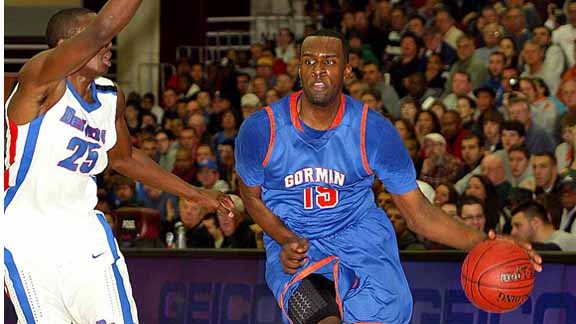 J. Anthony Roberts/ESPNHSShabazz Muhammad, the No. 2 player in the ESPNU 100, has not yet committed to a college.
Shabazz Muhammad has been named the Morgan Wootten Player of the Year, an award given to the nation's top basketball player by the McDonald's All-American Game committee.
The 6-foot-6 senior forward averaged more than 30 points and 10 rebounds per game this season while leading Bishop Gorman (Las Vegas) to a state championship, giving Muhammad three titles in his high school career.
2012 McDONALD'S BOYS' GAME
The 2012 McDonald's All-American boys' game is March 28 (9:30 p.m. ET on ESPN) at the United Center in Chicago.
• 2012 McDonald's rosters
• Meet the 2012 All-Americans


• Muhammad named Player of the Year
• N.C. State's McDonald's trio
• Video: Kyle Anderson profile


• Muhammad wins dunk contest
• Day 2 notebook: The wild west • Muhammad wins MVP honors • McDonald's game notebook

"It's an unbelievable feeling to be recognized as the Morgan Wootten Player of the Year," Muhammad said. "When you look at the long list of guys who've been honored with this award -- LeBron James, Dwight Howard, Shane Battier -- it's nice to know I'm at a similar phase in my basketball career and I hope to continue with that success."
Rated the No. 2 player in the ESPNU 100, Muhammad has not yet decided where he will play in college. Kentucky, Duke, Kansas, UNLV and UCLA are all trying to sign the explosive scorer.
Muhammad went for 40-plus points on four occasions this season, and he topped 30 in 10 games. He saved his best performance for last; in the Nevada 4A championship game, he scored 30 points in the first half, eventually finishing with 36 on 15-of-17 shooting in a 96-51 win over Hug (Reno).
Muhammad was one of six finalists for the Wootten award. Kyle Anderson of St. Anthony's (Jersey City, N.J.), Brandon Ashley of Findlay Prep (Henderson, Nev.), Isaiah Austin of Grace Prep (Arlington, Texas), Marcus Paige of Linn-Mar (Marion, Iowa) and Marcus Smart of Marcus (Flower Mound, Texas) were the other finalists.
Last year's Wootten winner was Austin Rivers, a freshman at Duke.
Muhammad isn't finished with his high school career just yet. He'll be playing in the McDonald's All-American Game on March 28 in Chicago (ESPN, 9:30 p.m. ET).
BOYS' BASKETBALL RANKINGS

Rank
School (City, State)
Rec
1
Oak Hill Academy
Mouth of Wilson, VA
44-0
2
Findlay Prep
Henderson, NV
32-1
3
St. Anthony
Jersey City, NJ
32-0
4
Chester
Chester, PA
32-0
5
Marcus
Flower Mound, TX
39-2
See the full boys' basketball rankings »