Commentary
Brock among nation's toughest attackers
Updated:
October 24, 2008, 12:31 PM ET
By
Mike Grimala
| ESPNRISE.com
Right about the time when Hayley Brock beats the last defender, that's when her mind goes blank.
[+] Enlarge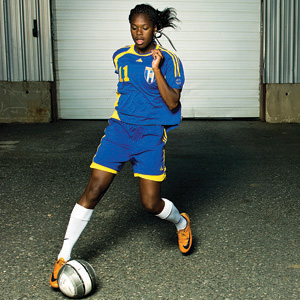 Laura Barisonzi for ESPNRISEHayley Brock is the best girls' soccer player in Greater Boston.
All the analysis and preparation that's gone into creating a scoring chance is overtaken by instinct, and Brock is alone with the ball and the net. The game is broken down to its basic elements. Thinking would be a distraction. So Brock just does what comes so naturally to her.
She scores.
The Acton-Boxboro (Mass.) junior is the most feared soccer player in the state, with the speed, athleticism and skill to dominate every game. But despite being a prolific scorer - 24 goals in 24 games last year - Brock doesn't remember most of her tallies.
"It's kind of a shock to me," Brock says. "I never expect to get that many goals. I don't know how it happened."
The 5-foot-10 forward gets so locked in the moment, she can't put her finger on more than a handful of her goals from last season. Which is a shame, because Brock scored some huge ones. Acton-Boxboro entered the season as the favorite in the Dual County League and a logical pick to contend for the Division 1 crown, but Brock's emergence took the Colonials to another level. After spending her freshman season as a substitute, Brock became a starter last year and played in every game.
With Brock leading the way, the Colonials went undefeated (23-0-1) and won the state championship for the first time in school history. And no one played a bigger role than Brock. She was downright unconscious in the second season, scoring five goals in five postseason games, including two in a 2-0 win over Winchester in the Division 1 North finals and the overtime winner in a 2-1 victory over Weymouth in the state semifinals. All told, she had three game-winners in five playoff contests.
"Her performance in the tournament was incredible," says A-B coach Ruari Sweeney. "It would be a phenomenal story if a senior had done something like that, but for a sophomore to do it, that just made it even more unbelievable."
The postseason tear was good enough to earn her Gatorade State Girls' Soccer Player of the Year honors, as well as selections to The Boston Globe and Boston Herald All-Scholastic teams and the NSCAA/adidas All-New England squad.
"I felt like I elevated my game in the playoffs," Brock says. "We had a lot of easy games during the regular season, and I think the excitement of all the big games got me playing better. "As we kept advancing, I felt more pressure to live up to the game before. I felt like people expected me to get the winner in the next game, and the next game after that. But we had such a good team that the pressure never really got to me."
After fronting a well-balanced Acton-Boxboro team as a sophomore, Brock knows things won't be the same this season. She expects a lot more defensive attention, akin to what she faced in the playoffs. Postseason opponents were double-teaming and man-marking her, and she says she didn't always handle it well. And for a player who stalks the offensive end, shark-like, with one purpose in mind, that kind of stifling defense can get frustrating.
Scoring is what drew Brock to soccer as a 9-year-old, when she learned the game by following her older brother. Her speed and aggressiveness made her a natural fit at forward, and her coaches at every level have delighted in setting her free and letting her challenge the defense.
"She's a predator when it comes to scoring," says Sweeney. "If she gets the smallest opening, she's going to do everything she can to put the ball in the net any way she can."
When she's able to slip free for that split-second, Brock forgets the bracket coverage, the big-game pressure and anything else that may be going through her mind.
"I don't really think," she says. "Before you receive the ball, you take a look back to see where the space is. When you beat that last defender, you can feel you're going to score. From there, your instincts really are guiding you."
Brock's pet moves are an inside-outside cut or a spin move that allows her to receive a pass after she's gotten behind the defense. Once she has the ball she likes to dribble in close, passing up long strikes in favor of point-blank shots that she feels comfortable sliding into the corners.
It's a formula that has so far proven virtually unstoppable. Lincoln-Sudbury coach Alicia Carrillo can attest to the fact that once Brock enters the zone, there's little hope for the opposition.
"She has an absolute determination to score," says Carrillo. "Just devastating. If she gets behind you, you've got no chance. I tell my girls, 'If you see the number on her back, it's over.'"
One of Brock's challenges this year will be honing her all-around game and impacting matches in different ways. While scoring has always come naturally to her, Brock understands there is more to the game.
"Right now I feel like I've only worked on half of my game," she says. "I hope to play Division I college, so I'm going to have to learn to play a more defensive type of forward. That's something I'm working on with my club team and in the offseason."
Brock also hopes to assume more of a leadership role with the Colonials this season. Mostly a lead-by-example type in previous years, a more vocal Brock will help an Acton-Boxboro team that graduated some key seniors after last year's state title run. With talented players like senior forwards Ceci Jensen and Cassie Wagner and sophomore goalie Jessie Wiggins returning, Acton-Boxboro could be looking at another deep playoff run this season. Even another championship wouldn't surprise Brock.
Winning, like scoring, is something that comes naturally to her.
Mike Grimala covers high school sports for ESPNRISE.com.
SPONSORED HEADLINES
MORE BOYS' SOCCER HEADLINES
MOST SENT STORIES ON ESPN.COM
SPRING BOYS' SOCCER RANKINGS