Commentary
Messer brings fearless attitude to defense
Updated:
October 24, 2008, 12:33 PM ET
By
Ryan Canner-O'Mealy
| ESPNRISE.com
When Scott Messer found out he was one of only two juniors to earn Division 1 All-State honors last fall, his reaction was surprisingly muted. Rather than get excited by the honor, the Clarkston goalkeeper viewed it as a challenge to step up his play even more as a senior.
[+] Enlarge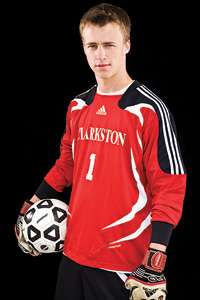 Scott Stewart for ESPNRISEMesser is a rising senior goalie and was first team All-State as a junior last fall.
"He was happy for about one second," says third-year Clarkston coach Adam Bican. "Then he went back to work."
By playing elite-level club soccer, lifting weights every other day and eating healthy, Messer pushed himself to the brink in order to prep for a senior year that has the potential to be a dream season. And now that his final high school campaign has arrived, Messer is hoping all the hard work in the offseason will pay off.
"Winning state is our goal," Messer says. "And we know we can make it there."
That mindset took hold following a disappointing conclusion to Clarkston's 2007 season. The Wolves advanced all the way to the Division 1 state finals but lost to East Kentwood, 2-0. Clarkston graduated its top offensive threat in Dream Team member Oliver Kupe, but 16 players return from last year's runner-up squad. That's a lot of experienced talent, but Bican believes the Wolves' fortunes rest largely on Messer's shoulders.
"Scott's the heart and soul of our team," the coach says. Messer has earned that designation in large part because of the aggressive way in which he challenges opposing players. The 6-foot-2, 170-pounder says the most important trait in a great goalie is a fearless attitude, and he's never hesitant to take on an offensive player heading toward the net. "I like to challenge them no matter what," Messer says. "Even if they're bigger than me, I'm going to get that ball."
That attitude has resulted in a broken leg, a broken nose, a partially torn ACL and at least one concussion over the years. But it hasn't changed the way Messer plays the game. Of course, a hard-nosed mentality isn't worth much if you're constantly getting beat for easy goals. But Messer rarely gets beat. He makes all the saves he's supposed to and has amassed a collection of highlight-reel stops as well.
"Scott makes extraordinary saves look routine," Bican says. "Stops from point-blank range, on breakaways, he stops them all."
Great physical tools and a thorough understanding of the game allow Messer to stonewall opponents during the normal run of play. But he credits his ability to make so many remarkable saves to something more innate.
"It's more of a natural thing," Messer says.
"You can obviously train for it and work on your reactions. But when it comes to reflexes, it's hard to teach that."
Attributing Messer's success to instincts and natural talent alone leaves out a third major factor for the senior's success: preparation. Bican has coached Messer for four years - at the JV level when Messer was a freshman and for the past three seasons on varsity - and he's seen first-hand how much time and effort his star keeper puts in. So while Messer often makes things look easy during games, it's the result of countless hours of work behind the scenes.
"He'd be a very good goalie regardless, but it's his work ethic that makes him a great goalie," Bican says. "Whether it's coming in early or staying late, he's constantly focused on getting better."
The bar has been set extremely high for Messer after he recorded sensational seasons in 2006 and '07. He went 14-2 as a sophomore with a 0.92 goals-against average and nine shutouts. He posted nine more clean sheets last year to go with an 18-2-2 record and a 0.77 GAA. And he's always at his best when the stakes are highest, clamping down against the state's toughest competition.
In the state semifinals against Eisenhower last fall, Messer stopped all 10 shots he faced, keeping his team in the game as the two squads were locked in a scoreless battle for most of the opening half. A goal right before halftime gave Clarkston a 1-0 lead going into the break, and Kupe exploded for three tallies in the second half to put the game away. By the time the Wolves went up 4-0, Messer was replaced and the team cruised to a 4-1 victory.
Kupe earned most of the headlines following that game, but it was the play of Messer in the early going that allowed the prolific scorer a chance to seal the victory.
"Like all great goalkeepers, he wants the pressure on him," Bican says. "He wants to be able to make the big save. He thrives under that pressure."
Messer and his Clarkston teammates weren't able to finish the job last year, and that stuck with them throughout the offseason. Whether it was during a conditioning run or a weight room session, mentioning the East Kentwood game was enough to get everyone through a grueling workout.
And that starts with Messer. He's had as much individual success as any returning player, but the chance to win a state championship is what drives him. And considering Messer has played with many of his teammates since elementary school, the chance to go out together as champions would be a storybook ending.
Give Messer a choice between another All-State selection or a state title and it isn't even close.
"Scott is grateful for the personal accolades," Bican says. "But he's more interested in winning."
Expect a lot of both this year.
Ryan Canner-O'Mealy covers high school sports for ESPNRISE.com.
SPRING BOYS' SOCCER RANKINGS