Commentary
Portillos-Grant has feel for the game
Originally Published:
September 5, 2008
By
Matt Remsberg
| ESPNRISE.com
In his first opportunity to make an impression on the Grandview (Colo.) coaching staff, Zac Portillos-Grant almost took the easy way out.
[+] Enlarge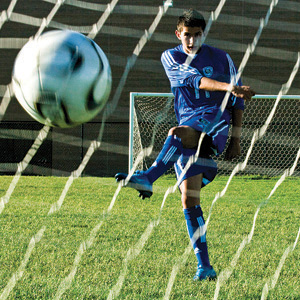 Eric Bellamy for ESPNRISEZac Portillos-Grant is a junior forward who scored 17 goals last year.
Every prospective member of the boys' soccer program had gathered for the first day of practice when they were told to pick which team they wanted to try out for. Portillos-Grant had yet to sit through his first day of high school classes, but he was already facing his first test.
Not wanting to seem like an arrogant freshman, Portillos-Grant headed for the JV contingent. He didn't get too far before making an impulse decision to turn around and join the players trying out for varsity.
"The whole time the coach was talking, I was thinking I would get up and go to the JV area," Portillos-Grant says. "A little part of me wanted to take a shot at varsity, but I was settled on the decision to start off at JV. Literally, as I was walking over there, something happened and I just went for it."
Portillos-Grant's instincts were dead on, as he made Grandview's top squad and became a starting forward by the end of the year. He took home the team's Rookie of the Year award after the season and came back as a sophomore to produce 17 goals and six assists to help guide the Wolves to the Class 5A state finals.
Now a 5-foot-10, 140-pound junior, Portillos-Grant has emerged as one of the nation's premier offensive talents. He was the only sophomore named to the 2007 NSCAA/adidas high school All-American team, and he is a rising star within U.S. Soccer. Though it's his skill and composure on the field that have gotten Portillos-Grant noticed, it's his instincts that always seem to put him in the perfect position to succeed.
"He's a very natural player," says Grandview first-year head coach Brian Wood. "He makes great runs and has a quick first touch. He makes other guys better. He's a great teammate, and you can tell he loves playing high school soccer."
For many elite soccer players of high school age, representing their school and playing alongside their friends is an afterthought. But it's priority No. 1 for Portillos-Grant. So when trouble befell the Grandview boys' soccer team last fall, Portillos-Grant took it upon himself to lead the team through the adversity.
The Wolves entered the playoffs riding high as the top seed in Class 5A. Fortunes quickly changed during the team's first-round victory over Dakota Ridge, however, when coach Bruce Brown was assessed a red card - his third in 18 months - and was suspended for the remainder of the playoffs.
With neither of the varsity assistants available for the team's second-round game, a coach from one of the sub-varsity teams took the helm. Really, though, the players were in charge. For the typically reserved Portillos-Grant, instinct told him it was time to step up his leadership.
"I wanted to do everything I could to help the team stay together,"
Portillos-Grant says. "We just relied on each other and stayed positive. We probably played as a team better in that game than ever before."
Of course, Portillos-Grant also produced on the field, notching a goal in Grandview's 3-0 victory over Lakewood. Wood, a varsity assistant at the time, took over as interim coach following the game and watched first-hand as Portillos-Grant raised his play to a new level over the team's final three games.
Against a talented Lewis-Palmer team in the state quarterfinals, Portillos-Grant scored twice, including a momentum-building goal just 90 seconds into the contest. The Wolves rolled to a 4-1 victory, then blanked Rocky Mountain, 1-0, in the state semifinals.
[+] Enlarge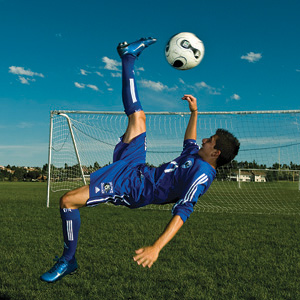 Eric Bellamy for ESPNRISEPortillos-Grant led Grandview High School to the Class 5A state championship match in 2007.
Grandview went up against state juggernaut Smoky Hill in the title game and played the Buffaloes tough before losing, 3-1, with Portillos-Grant scoring the team's lone goal. It was a disappointing end for a team that had responded to a difficult situation, but Portillos-Grant sees good things in store for this year's squad and is intent on continuing his development as a leader.
"We're going to have a lot of new players, and I want us to form a bond as a team quickly," he says. "I just want to set a good example by working hard and getting everyone involved."
Portillos-Grant not only returned to the Wolves as more of a leader this season, but also a more experienced player overall. Just three months after the high school season ended last fall, Portillos-Grant was back in action for Real Colorado, a club team that plays in the elite U.S. Soccer Development Academy.
After winning its conference during regular-season play - which included home and road games against teams from Washington, Oregon and Northern California - Real placed fourth at nationals in Los Angeles in July.
Portillos-Grant played midfield for Real, yet he still managed to notch 11 goals and earn a spot on his conference's All-Star team, known as the Starting XI. Portillos-Grant has also attended a few Youth National Team training camps over the past year and is a member of the player pool for the U-18 Men's National Team.
"My expectations for myself have gone up a lot since [the end of the last high school season]," Portillos-Grant says. "My ultimate dream is to make the pros. That's what I've always wanted. If I keep working hard, I think I can make it to that level."
Given his rapid rise though the junior soccer ranks, Portillos-Grant is clearly doing something to stand out. And it may be his style of play. American soccer players have historically struggled in the one-on-one aspects of the game due to a lack of creativity. But that's where Portillos-Grant excels. He is at his best when he has the ball and is running at a defender. That's when his instincts take over.
"He's got a unique flair to his game," says Real Colorado coach Neil Payne. "He's got some of those skills you can't teach."
You can't teach it, but you sure can see it when Portillos-Grant takes the field.
Matt Remsberg covers high school sports for ESPNRISE.com.
ESPNHS
Matt Remsberg is a senior editor for ESPNHS.
E-mail him
here
.
SPRING BOYS' SOCCER RANKINGS