Commentary
Soccer is Crystal clear for Dunn
Updated:
August 25, 2008, 5:54 PM ET
By
Ryan Canner-O'Mealy
| ESPNRISE.com
As good as Crystal Dunn is, you'll have to forgive the people of Massapequa if they never want to see her on a soccer field again.
[+] Enlarge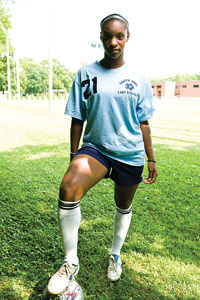 Ben Kulo for ESPNRISECrystal Dunn is arguably the state's top soccer player even though she'll just be a junior in the fall.
Ever since the South Side junior burst onto the scene two years ago, she's been making life difficult for the town that's used to seeing state champions at both the high school and club level.
Dunn's Cyclones were already a Class A power when she came aboard in 2006, having won state titles in 2004 and 2005, but Massapequa was nearly as strong in what is typically the more competitive AA classification.
The South Side-Massapequa game draws a huge crowd every year, and at the season-opener in 2006, nearly 2,000 people were on hand to watch two of the state's best battle it out. Over the next two years, Dunn would establish herself as one of New York's best players -- a two-time All-State selection who made the U-17 Women's National Team. But back then, she was still a freshman trying to prove (mostly to herself) she belonged.
"I knew how good of a team South Side had, and I wasn't sure if I'd be good enough to hold up that tradition," Dunn admits.
Dunn erased any self-doubts with a gorgeous game-winning header in the second overtime against Massapequa to provide a signature moment in a season that saw South Side win a third consecutive state title and finish the year ranked No. 7 in the country.
The crowd erupted and engulfed Dunn at midfield. "They were treating her like a rock star," says Dunn's father, Vincent. It wasn't the last time she would make a big first impression on a team from Massapequa. At the end of her freshman school year, Dunn joined the Albertson Fury 91s, a top New York club team. Its first opponent? The Massapequa Power, a squad that always gave Albertson trouble. Dunn scored the game's first goal, assisted on another one and helped leaded the Fury to a 3-1 victory.
"That really set the tone for what was ahead for the team with the addition of Crystal," Fury coach Phil Casella says. More than anything, those two games illustrate what makes Dunn a great player. Sure, her athleticism and creativity make her an unstoppable force in the open field. But it's her mentality to do whatever it takes to thrive under pressure that makes Dunn impossible to defend.
So what if she's only 5-foot-1? If the ball's in the air, she'll go up in traffic and head it in. Who cares if it's her first game with a new club team that plays a different style than she's used to? She'll adapt and find a way to get the job done. Winning is something the South Side girls' soccer program has grown accustomed to, and that wasn't going to change with Dunn in the fold.
In the Nassau County finals against New Hyde Park her freshman year, Dunn netted a hat trick, leading the Cyclones to a 6-0 win and their 19th county title in 21 years. As a result, Dunn was named MVP of the county playoffs. From there, she went on to the Class A state semifinals, where she scored twice more in a 3-0 win over Somers. One game later, South Side had another state championship and a star was born.
"She loves to be on the field in big games, and that's when she wants to shine," seventh-year South Side coach Judi Croutier says.
Things were about to get even better. Along with the likes of All-Americans Alaina Beyar (now playing at Boston College) and Katie Starsia (now playing at Virginia), Dunn led the Cyclones to a perfect season in 2007. The team went 22-0-0, captured another Class A title and finished the year ranked No. 1 in the NSCAA/adidas national fall rankings.
Once again, Dunn proved to be a big-game player, scoring a goal in the team's 2-0 state semifinal win over Burnt Hills before Gatorade State Player of the Year Beyar (three goals, one assist) took over in a 4-2 state final win over Pittsford Mendon.
Recording 12 goals and 13 assists on the season, Dunn earned All-State first team honors for the second consecutive year and made it clear that South Side's tradition-rich program would be in good hands following the graduation of Beyar and Starsia.
As a junior captain this year, Dunn will have to be a leader off the field, but her most obvious contributions come between the lines. And South Side's up-tempo style is one that allows her to thrive.
"She knows what to do when she has a defender one-on-one," Casella says. "With her speed, all she needs is an opportunity with the defender in between her and the goal. One move and she's off and running."
More often than not, the ball is flying past the goalie seconds later. This summer, however, Dunn's job was to prevent the ball from finding the net. As one of the youngest players trying to make the ultra-competitive U-17 Women's National Team, Dunn needed something that would put her over the top.
"Everyone is just as good, if not better, than you are," Dunn says. "It was a little overwhelming."
In this case, it was her versatility. After a career of playing forward for South Side and attacking midfielder for her club team, Dunn was switched to defense with the National Team. It took some getting used to, but before long she had the position down pat.
"I think I see the game really well, so coaches can put me anywhere," Dunn says.
As a result, Dunn has been everywhere with Team USA. In February, she traveled to New Zealand - site of this fall's U-17 Women's World Cup - and later spent two weeks of her summer at the World Cup qualifier in Trinidad and Tobago. If all goes well, Dunn could find herself back in New Zealand later this fall for the World Cup.
"It's always really cool to represent the United States," Dunn says. "I'm a little nervous, but more excited than anything."
Given her ability to make a great first impression on a big stage, it would be wise for other teams to keep an eye on Dunn. And this time, the fans from Massapequa can actually cheer her on.
SPONSORED HEADLINES
MORE BOYS' SOCCER HEADLINES
MOST SENT STORIES ON ESPN.COM
SPRING BOYS' SOCCER RANKINGS