Commentary
Forgue is on the brink of greatness
Updated:
August 25, 2008, 5:54 PM ET
By
Christopher Parish
| ESPNRISE.com
When Downingtown West senior boys' soccer player Brian Forgue graduates, he wants to study law. Which is fitting, because right now he's the star member of one of Pennsylvania's best defense teams.
[+] Enlarge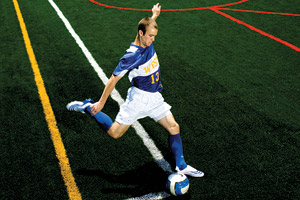 Steve Boyle for ESPNRISEBrian Forgue is an NSCAA/adidas All-American and All-Southeastern Pennsylvania first team selection.
Need some evidence? Downingtown West surrendered just eight goals in 28 games last season, and Forgue was a big reason why. In his junior season, the 6-foot-1, 180-pounder was named an NSCAA/adidas All-American for his defensive efforts. Forgue was one of only two non-senior defenders in the nation to earn the honor and was one of only three players from Pennsylvania at any position.
At a young age, Forgue laced up his cleats and took to the pitch. Some of his earliest memories are of standing on the sidelines at his older brother's games. By the time he was 6 years old, he was already playing club soccer. It was then that Forgue caught the eye of John Hatt, one of the local club coaches and the man who would eventually be his varsity coach at Downingtown West.
"Even at 6 years old, you could see his work ethic," Hatt says. "He was a good young player."
Forgue auditioned to play for the Spirit United/FC Delco Strikers but decided to try out for one of the club's older teams. Surprising even himself, he made the squad. For much of his young club career, he played with and against older and more advanced players.
As a seventh-grader, Forgue made the FC Delco Hammerheads squad, eventually captaining the team for four seasons. His coaches and teammates were clearly a good judge of talent. His teams won three Region I championships and seven EPYSA State Cup championships, in addition to finishing as national runners-up in 2006.
Meanwhile, Forgue was also earning playing time for Downingtown West. He made the varsity team as a freshman but spent much of the season on the bench. But as a sophomore, Forgue earned a starting job and the results spoke for themselves. The team won the Ches-Mont League in 2006, then repeated in 2007, advancing to the state tournament.
Forgue's tenacious defense helped lead his team to the PIAA Class AAA state championship game against Peters Township last season. But an overtime loss shattered West's hopes for a title. Peters Township's Shane Pruitt, now a freshman at Lafayette, scored the clincher in the extra period, deflating fellow All-American Forgue and the Whippets, 2-1.
"It was tough to come that far and not finish the job," Forgue says. "Up to that point last year, we had surpassed every obstacle that we had met. But it kind of hurts to be crushed at the last moment. A lot of guys won't voice it, but it's all inside of us. We need to avenge that loss."
Rebounding from such a loss won't be easy, especially when the defeat is still on the minds of so many returning players this season. Hatt tries to stress a mentality of one game at a time, urging players to do the little things first before working their way up to the ultimate goal. This year, that might be tough.
[+] Enlarge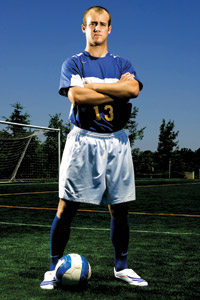 Steve Boyle for ESPNRISEBrian Forgue played in the USA Soccer Nike Friendlies for FC Delco; one of the nation's top club teams.
But when asked how he intends to keep everyone focused, Hatt barely hesitates. "That's Brian's job," he says. "That's my captain's job." Forgue isn't particularly concerned with the captain title he earned as a junior - just the responsibility that accompanies it.
"It's not even about wearing the arm band during the game," he says. "Leadership is an action, not a position. You're a family out there, and you have each other's backs. To be viewed as their leader means the world to me."
Forgue takes a lot of pride in his ability to help his team win. He couldn't care less about his goal-scoring totals or the number of assists he tallies. "I'm not that concerned with statistics," says Forgue, who recorded four goals and eight assists last year. "The greatest accolade that I can win next year is a state championship."
With Forgue leading the defensive effort this season, the team will benefit in other areas of play. Forgue's very presence affords Hatt strategic versatility. "We're able to take a lot more chances," Hatt says. "We can significantly change formations, and that makes it tough for other teams to prepare for us. We build our team from Brian out."
Preparation is what often separates good lawyers from great lawyers, so it's no surprise that preparation and a willingness to work hard have always been among Forgue's strengths. "He had that work ethic when he was 6 years old, and he never lost it," Hatt says. "He is vocal but he leads by example."
For his part, Forgue is constantly driven by a desire to win.
"I love the competitiveness of soccer," he says. "I have a strong competitive nature, whether it's just pickup games with friends or anything. Every time I step onto the field I like to win, and I just want to be the best that I can, whether it's a night game under the lights against a cross-town rival or a day game against a no-name team. That's my mentality."
Forgue has made a verbal commitment to play soccer for Penn State, relishing the opportunity to compete in the Big Ten. But for now, Forgue's mind is on that elusive state championship.
Until he's met that goal, the defense won't rest.
SPRING BOYS' SOCCER RANKINGS