Commentary
Johnson grows into top player
Updated:
October 31, 2008, 1:06 PM ET
By
Scott Lieber
| ESPNRISE.com
As recently as three years ago, little Kendall Johnson would have to zig-zag through her opponents, dribble around and past them, and generally out-finesse them if she wanted to score a goal.
The smallest player on the field, Johnson had to rely on developing her skills to keep up with bigger girls.
[+] Enlarge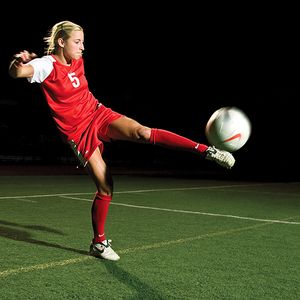 Michael SchmittKendall Johnson took home The Oregonian Class 6A Player of the Year award last season.
"I got pushed over a lot because people would see me and knew I was small and [they] could knock me over easily," Johnson says. "People would get mad because I'd get a lot of fouls called on them."
Now a 5-foot-8 senior midfielder at Lincoln (Portland, Ore.), Johnson is no longer the diminutive striker she once was. These days, she's physically able to hold her own while still possessing all the skills she built up as an undersized tyke. As a result, Johnson, who committed to Portland earlier this year, has emerged as one of the top soccer talents in the Northwest.
"She's a finesse player that keeps getting stronger," says Brian Gant, Johnson's coach with the FC Portland soccer club. "You could knock her around, but she'll dish it right back. She's such a competitor."
Last year, Johnson scored 12 goals and recorded 15 assists in leading Lincoln to an 18-0 record and the Class 6A state crown. Entering this season, she had tallied 20 goals and 22 assists for her career.
Things weren't always so easy for Johnson. As a kid, she competed in soccer, basketball and track. Even as she split time between three sports, her dedication to soccer never waned. Despite being so small, or perhaps because of it, Johnson dedicated hours to training -- the behind-the-scenes element of sports so many young athletes loathe.
There's a soccer field adjacent to Johnson's house, and many days she'd bring a soccer ball out and just work on drills, dribbling or juggling the ball. The Multnomah Athletic Club is also just a few miles from Johnson's house. If she wasn't at the field, she brought a ball to the MAC and loitered in the racquetball courts, kicking the ball against the wall.
Kendall's Favorites
TV Show: "The Office"
Movie: "Love and Basketball"
Musical Artist: Kanye West
Athlete: Chris Paul
The work helped Johnson develop the skills to stay competitive with a class of girls widely considered one of the best in Portland-area history. Gant, who has coached for more than two decades, compares his current FC Portland team to one he had in the late 1990s, when 13 of his 18 players went on to compete at the Division I college level.
Johnson held her own, even as others knocked her down. "I still get pushed down now and then," Johnson says, "but not as much."
Last season, Johnson propelled Lincoln to an undefeated record and the state championship. She also converted Lincoln's second penalty kick shot in the title game win after a teammate missed the first shot.
"I just kept telling myself I was gonna make it," Johnson says of the shot, "and that I've done it every time before in practice and to aim for the corner. I knew exactly where I was gonna hit it, and I just hit it there."
[+] Enlarge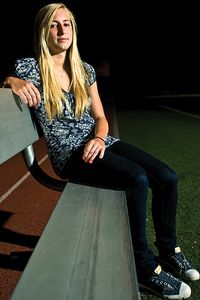 Michael SchmittJohnson is looking to lead her team to back-to-back titles.
Johnson also captured the Class 6A Player of the Year award over Tualatin foe and FC teammate Courtney Verloo. The Timberwolves' senior, an experienced competitor for the U.S. Youth National Teams and the 2006 Player of the Year, is the metric by which local soccer talent is measured. The late-blooming Johnson is catching up.
"It was definitely a goal of mine [to win the award]," Johnson says, "but I was like, I know Courtney's a really good player. I was just really honored to get that award because she is obviously a really good athlete."
Playing alongside Verloo on the club team has also paid off.
"We've played both Kendall and Courtney side by side, and they work so well together because they seem to know what the other one wants to do,"
Gant says. "If one wants to take a defender one-on-one, the other gets out of the way. If one gets hemmed in, the other comes and looks for a pass. They have instinctive things. All great players have that."
Johnson also benefits from a unique physical gift -- her left foot. Unlike most players, Johnson offers defenders a different look and approach, like a left-handed reliever in baseball. Except, in Johnson's case, she's a Cy Young-caliber starter.
The left foot especially helps open the field. With most right-handers, the ball tends to travel to the left side of the field, given the trajectory of a right-footed kick. But Johnson can change fields quick enough to offer her team more space and impromptu scoring chances, making her an even more sought-after and prized soccer commodity.
The midfielder is by no means a finished product, either. Against weaker competition, Johnson and FC Portland overmatch the opposition without exerting excessive energy. Against elite competition, Gant has challenged Johnson to be more aggressive in decision-making, identifying an opponent's weak spot and crafting an in-game strategy that exploits that weakness.
"You can't play every game the same way," Gant says. "Some games she might have to defend a little more, other days she might have to go one-on-one. But they have to be able to recognize that as the game unfolds. All those learning strategies [are] the things players get with experience."
Johnson has adapted her game over the years and has become stronger because of each new challenge.
"When people were bigger than me, they could rely on their physical abilities and I had to work on my skills," Johnson says. "I couldn't just knock people over or run by people. I had to work harder to be able to run by people."
Nobody's bullying Johnson anymore.
Scott Lieber covers high school sports for ESPNRISE.com.
SPONSORED HEADLINES
MORE BOYS' SOCCER HEADLINES
MOST SENT STORIES ON ESPN.COM
SPRING BOYS' SOCCER RANKINGS