Commentary
Student ref makes the call
Updated:
December 3, 2008, 7:17 PM ET
By
Natalia de Cuba Romero
| Special To ESPNRISE.com
Finding any job when you are 13 years old is hard, so finding your dream job at that young age might seem impossible. But Sean Goralski, a soccer-mad teen from Massapequa Park, N.Y., has figured out how to have it all -- a job in "the beautiful game," a paycheck and even the right to bounce adults and kids out of his territory.
[+] Enlarge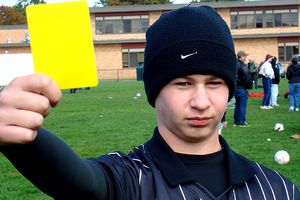 Natalia de Cuba RomeroSean Goralski holds all of the cards.
Goralski, who has played soccer since he was 3, is a youth ref in the Massapequa (N.Y.) Soccer Club referee program. Every weekend of the spring, fall and winter indoor seasons, he and 115 other kids aged 12 to 17 don their referee jerseys with the Long Island Junior Soccer League patch, pack up their whistles and flags and ref a couple of games for the Massapequa Soccer Club's intramural league. He gets paid from $10 to $17 per game to keep under-7 to under-16 girls and boys (and their coaches) in line during the match.
Goralski was merely a defensive player on a Massapequa travel team until last year, when he heard that kids his age could ref games.
"I thought it was a really cool idea, plus you get paid," Goralski says. He's in the eighth grade and a straight-A student and National Junior Honor Society member at the St. Rose of Lima school. He swims and practices archery when he's not on the pitch.
Goralski signed up for a nine-hour training course with the Long Island Soccer Referee Association to get his Grade 9 license to be the central ref for up to U-19 intramurals and an assistant referee for travel teams once he turns 14.
"I started during the winter indoor league," Goralski recalls. "In my first game I wasn't intimidated by the players -- they were 7-year-old girls -- but I was a little worried about the parents. Only the best teams play winter ball, and some of the parents can be a little crazy, so I didn't want to make any wrong moves."
Fortunately, he did just fine and has been reffing ever since. So far, he's handed out only one card, a yellow to an 8-year-old who handled the ball on the goal line. But it's not always smooth sailing when you're a teenager and adult coaches get hot under the collar.
"They are adults, and you have to give them a certain amount of respect," Goralski said. "When they get to be too much, you have to say in a firm voice, 'Coach, that's enough' and just walk away. Sometimes you have to say, 'Coach, if I hear anymore, I will card you,' but you really don't say any more than that. You don't raise your voice and you can't get angry; that would be unprofessional. You have to maintain professional composure throughout the game."
The Massapequa organization stands behind its youth refs, according to Richard Baroniunas, head coordinator of the program.
"We have probably four or five incidents a season," he said. "We have zero tolerance for that; refs are allowed to send off a coach, which terminates the game. Then the ref sends a report, and we decide what action to take against the coach."
Goralski said that being a ref has brought up his game as a player.
"I know the rules better, especially the offsides rule, which can be confusing," he said. "I also know the boundaries. As a defender, I now know better how to tackle legally."
Speaking of legal wrangling, Goralski has a message for players who think they can change a ref's call by swarming him or her and shouting.
"Saying anything to the ref really won't get you anything but trouble," he said. "No matter what you say, you can't change the ref's opinion. He's going to stick by his call, even if it's wrong. It's not going to help you to say anything."
For now, Goralski is happy to ref in the intramural league, but he's looking forward to being old enough to preside over more travel games. Who knows? Maybe one day we'll see him blowing the whistle at the nationals or even higher-level tournaments. Being a player is not the only way to be on the pitch at a World Cup.
Natalia de Cuba Romero is a freelance writer in New York.
SPRING BOYS' SOCCER RANKINGS