Commentary
O'Gorman makes run to S.D. state title
Updated:
October 29, 2008, 12:47 PM ET
By
Sheldon Shealer
| ESPNRISE.com
A team hit hard by graduation, then by injuries, by all accounts, this was not going to be a good year for O'Gorman (Sioux Falls, SD).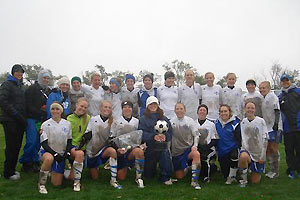 O'Gorman High SchoolO'Gorman has won consecutive South Dakota state girls' soccer championships.
Then, the Knights surprised the South Dakota soccer scene by upsetting then undefeated Sioux Falls Washington in the Class AA state semifinals before handling Pierre 4-1 in the final for its second straight title.
"Last year, going undefeated, there was a lot of pressure," O'Gorman coach Ryan Beier said. "This year, we went in with nothing to lose. …I wouldn't want to rank the titles because both were equally special."
O'Gorman graduated nine starters from last year's 15-0-1 state championship squad, and began the 2008 season with a pair of losses. Beier said four starters missed matches becuase of injuries through the first half of the season. Meanwhile, O'Gorman found itself at 4-3-2 following a loss to Washington on Sept. 18.
O'Gorman's fortunes soon changed.
"By the fourth week, we hit our rhythm and had quite a few wins in a row," he said.
Wins aside, Beier said it was a late-season tie that proved pivotal.
"We went to Spearfish…that's a seven-hour bus trip…and we tied the game," he said. "It was the wake-up call we needed right before the playoffs."
In the postseason, O'Gorman emerged from a difficult draw, beating Roosevelt in overtime in the quarterfinals, before defeating Washington on penalty kicks.
Junior Afton Keiser (16 goals) and freshman Alissa Brazil (13 goals) were the team's leading scorers. Senior keeper Amanda Wagner allowed a state-classification-low 10 goals in 13 regular-season matches. Senior midfielder Sheila Grogan, along with Keiser, earned first-team all-state honors.
State Championships

Class AA: O'Gorman def. Pierre, 4-1
Class A: St. Thomas More def. Harrisburg, 4-3
Final Team Rankings

1. O'Gorman (10-3-3)
2. SF Washington (14-1-0)
3. Pierre (9-5-2)
Player of the Year

Jenny Teslow scored a state-best 31 goals for Sioux Falls Washington. She led the team to a 14-0-0 season until a shootout loss to O'Gorman in the state semifinals.
Looking Ahead

With eight returning starters, O'Gorman projects to top the 2009 preseason rankings. Washington also returns most of its lineup, as well.
Sheldon Shealer covers high school sports for ESPN RISE.
SPONSORED HEADLINES
MORE BOYS' SOCCER HEADLINES
MOST SENT STORIES ON ESPN.COM
SPRING BOYS' SOCCER RANKINGS