Commentary
Burchenal lifts St. Ursula to title repeat
Updated:
November 10, 2008, 11:50 AM ET
By
Sheldon Shealer
| ESPNRISE.com
It took only one breathtaking strike by Elizabeth Burchenal to lift St. Ursula (Cincinnati) to an Ohio state title -- and a possible preseason No. 1 ranking in 2009.
A junior North Carolina recruit, Burchenal's goal was the lone score in St. Ursula's 1-0 win over Strongsville (Ohio) in the Division I girls' soccer final Saturday.
Sure, Strongsville outshot St. Ursula, earned more corner kicks and had one shot hit the post and a goal wiped out by an offside call, but it was St. Ursula's defense, led by junior keeper Aubrey Bledsoe, that maintained the clean sheet in the school's second straight state title.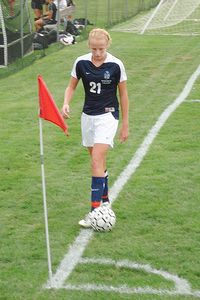 Sheldon ShealerSacred Heart, with Jacki Hafele, won the Kentucky girls soccer state championship Saturday to lead a long list of FAB 50 winners.
Burchenal and Bledsoe top a list of seven underclass starters who could return -- barring club commitments -- to St. Ursula's roster next fall. Combine the returning talent with a 40-1-5 run over the past two seasons, and St. Ursula makes a strong case to start the 2009 fall season as the ESPN RISE FAB 50 preseason No. 1 team.
Speaking of teams with high expectations in 2009, Sacred Heart (Ky.), which played St. Ursula to a draw, returns 18 of 23 players from this year's state title-winning squad.
Sacred Heart wrapped up the Kentucky title with a 2-0 victory over Highlands on Saturday. Underclassmen Lucy Chauvin and Jenna Price scored goals and sophomore Maddie Peabody recorded the shutout. Sacred Heart's lone setback in a 21-1-3 season was to Maryland No. 2 McDonogh. Sacred Heart, like St. Ursula, has won back-to-back state titles.
Around the country this past weekend …
• Ben Beaver and Chris Ritter scored in the first half and New Trier (Ill.) went on to claim its second state title in three years with a 2-1 victory over Edwardsville (Ill.). The significance of the match, beyond the state title, is a fair comparison between the Chicago teams and the lower state squads, such as Edwardsville, that mix it up with the St. Louis powers. The victory will secure a national top-five finish for New Trier.
• Seldom do we get to talk about Maine soccer, but the Class A girls' final is worth a look. Waterville routed Gorham 5-1 in the final, ending Gorham's 70-match in-state undefeated streak. Waterville finished the season 18-0-0. It should be noted that Gorham played -- and lost convincingly -- to Strongsville (Ohio), the state runner-up. Strongsville went to Maine and played two matches, which counted as part of the team's regular-season schedule. Gorham opted to count the matches as scrimmages.
• The St. Xavier (Ky.) boys' soccer team packed quite a punch while routing every team en route to a second straight Kentucky state title. St. Xavier, a preseason FAB 50 top-five team, outscored its four state playoff opponents by a a combined 25-5 margin. Six players scored in the team's 7-2 state final win over Highlands.
• Thanks to Joseph Lopez and Hancell Guevara, Brentwood (N.Y.) lives another week as the ESPN RISE FAB 50 No. 1 team. Lopez served up Guevara for the lone score as Brentwood defeated Massapequa 1-0 in the Long Island Class AA final. Brentwood advances to the state semifinals where it will face Baldwinsville. The match between Brentwood and Massapequa was important in sizing up the New York teams, which are separated into three primary groups -- the state public schools, the Catholic League and the New York City league (PSAL). Massapequa entered the match with two losses (to St. Anthony's and Chaminade).
In other New York finals on Sunday, Martin Luther King and St. Anthony's emerged with titles. MLK, making its 13th straight PSAL final appearance, secured its 11th title with a shootout win following a 1-1 draw over previously undefeated Beacon. Beacon had twice defeated MLK during the regular season. St. Anthony's finished an undefeated season with a 4-1 victory over Archbishop Molloy in the Catholic state final. St. Anthony's secured a national top-five finish and remains in the hunt for the top spot in the FAB 50.
• In New Mexico, La Cueva started the season ranked among the top 15 boys' teams in the country. It ended the year holding up the state's large-school championship trophy. La Cueva went 22-2-0. During the regular season, it avenged its lone in-state loss. La Cueva's other loss was to FAB 50 No. 2 Sacramento Jesuit (Calif.).
Sheldon Shealer is the soccer editor of ESPNRISE.com. You can mail him here.
SPRING BOYS' SOCCER RANKINGS