Commentary
Yonga coming into his own
Updated:
November 13, 2008, 5:38 PM ET
By
Sheldon Shealer
| ESPNRISE.com
The backyard soccer games between Joe and Paul Yonga are few, but at least they are now competitive.
[+] Enlarge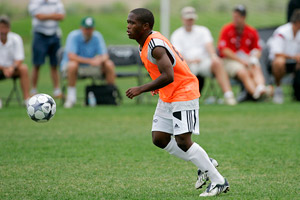 Sheldon ShealerPaul Yonga scored 22 goals with 23 assists as a junior and now he has been named Class A Mr. Soccer for his senior season.
Joe is the senior captain at Cornell University.
Paul is a junior at Totino-Grace High School in Minnesota.
The five-year age gap gave Joe the advantage in backyard soccer years ago, but Paul gained the experience and skill to take his game to a higher level.
Paul, who plays for the Minnesota Youth Academy team, is a member of the Region II pool and is one of the nation's top junior prospects.
Yonga was listed by ESPNRISE.com among the top 10 players at his position at this summer's ESP camp in Denver, which featured 125 of the top juniors. He led his fourth club team, Plymouth Soccer Association, to back-to-back state cup titles in the under-14 and under-15 age groups.
Paul said he is not close to verbally committing, and does not have any clear favorite colleges at this point.
This fall, Paul scored 22 goals and added 24 assists, helping Totino-Grace to the Class A state final, where it had to settle on a runner-up finish to Blake School. Yonga earned Class A first-team all-state honors. He should be in the running for state player of the year as a senior.
"I started playing soccer at 3 or 4," Paul recalled. "My brother and my dad [Jerry Yonga] would go in the backyard and they would teach me moves."
Paul said Joe dominated the backyard play for years, but "I'm definitely catching up."
The most recent time the brothers laced it up in the backyard was this summer, shortly before Joe returned to Cornell for his senior season.
"He tried to show me up," Paul said with a laugh.
So who won?
"Well, if you talk to him, he'll say he won," Paul said. "But really there was no clear-cut winner."
Sheldon Shealer covers high school sports for ESPN RISE.
SPONSORED HEADLINES
MORE BOYS' SOCCER HEADLINES
MOST SENT STORIES ON ESPN.COM
SPRING BOYS' SOCCER RANKINGS