Commentary
Hard work pays off for Elmont's Rodney
Updated:
January 19, 2009, 2:46 PM ET
By
Jon Mahoney
| ESPNRISE.com
Elmont (N.Y.) boys' soccer coach Pat Corvetti's first encounter with Ahkeel Rodney was an eye-opening experience to say the least.
[+] Enlarge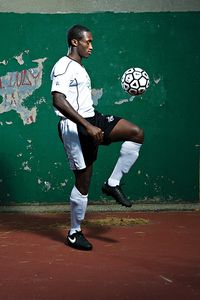 Kelly Kline/ESPN.comAhkeel Rodney was named an ESPN RISE All-American this fall.
An eighth-grader at the time, Rodney and his Elmont junior high team faced New Hyde Park's junior high squad, then coached by Corvetti, with a district championship on the line. To Corvetti's chagrin, the game quickly turned into Rodney's personal showcase as he netted seven goals in Elmont's 7-0 victory. As first impressions go, this was the ultimate.
"I was like, 'Why the heck is this kid playing junior high soccer?'" recalls Corvetti, who became a varsity assistant at Elmont the following year and took over as head coach the year after that.
Beginning with one game on the opposing sideline and continuing in his four years at Elmont, Corvetti has watched Rodney blossom into one of the nation's most promising talents. Now a high school senior, he is a member of the player pool for the U.S. Under-18 National Team and even traveled with the U-20 squad to a tournament in Mexico earlier this year. The 5-foot-11, 185-pound forward/midfielder earned NSCAA/adidas All-Region honors in 2007 and has committed to play at Virginia.
Or, put simply by Corvetti, "He's a man amongst boys."
Rodney earned significant playing time as a freshman at Elmont and even started a few games, finishing with four goals and five assists on the season. He came into his own as a sophomore, recording nine goals and 11 helpers as the Spartans finished first in Nassau Conference AA-III.
Success came early for Rodney, but he never took his foot off the accelerator. Coaches and teammates were blown away by the relentless work ethic he displayed year round in his attempt to transform from a good player into a great one.
His dedication paid dividends during a monster junior campaign in which he led all of Long Island with 33 goals and added three assists to earn Nassau Player of the Year honors from Newsday.
"My mind0set is to always work harder than the person next to me -- to never let up no matter what," Rodney says.
Rodney's Favorites
TV Show: "The Fresh Prince of Bel-Air"
Movie: "Old School"
Actor/Actress: Will Ferrell
Musical Artist: Kanye West
Rodney brings the same attitude with him come game time. No matter how many defenders are on him, he's going to do everything in his power to help his team find the back of the net.
He is a threat to score whenever he has the ball thanks to his combination of blistering speed and a powerful shot he can unleash with either foot. After piling up 18 goals as a senior this fall, he finished his career with a school-record 64.
But the most notable goal of his career may have come while he was representing his country. Rodney was one of 10 U-18 players called up to play with the U-20 team at the Copa Chivas Tournament in Guadalajara, Mexico, this past January. He logged three starts and came off the bench twice in the five-game tournament, scoring a goal in the team's final game, a 2-0 win over Mexican club team Santos.
In typical fashion, Rodney came away from the experience motivated to work even harder.
"I got to see the competition, and everyone else is just like me," he says. "I've got to find something to push me over the edge."
[+] Enlarge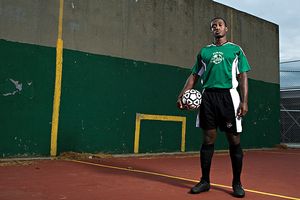 Kelly Kline/ESPN.comRodney committed to play for Virginia.
One way Rodney distinguishes himself is with his aggressiveness. Whether he's inside the opponent's 18-yard box or fighting for possession in the midfield, Rodney always makes his presence known.
"On 50-50 balls, he's crushing people," Corvetti says. "You don't want to be on a 50-50 ball with him on the other end."
That trait served Rodney well when he transitioned into a new role at Elmont as a senior. With just two starters returning from a team that went 11-4-1 last year, Rodney moved from striker to center midfielder this fall. Not only did this make the team more balanced, it alleviated the double- and triple-teams Rodney faced in previous years because of his scoring prowess.
The move resulted in Rodney scoring 15 less goals than he did a year ago, but his assist output jumped from three as a junior to 14 as a senior. Despite the decrease in goals, Rodney still finished second in Nassau County in that category and was the county's overall points leader in the regular season.
Rather than be upset about the shift to an unfamiliar position, Rodney embraced the challenge because he knew it gave the Spartans the best chance to win. What else would you expect from a three-year captain who often helped Corvetti by giving the team pre-game pep talks?
"He's a special kid in so many ways on and off the field," says Corvetti, whose Elmont team finished 8-7 this fall to take third in the conference.
Rodney also impressed by staying with the Elmont program for all four years of high school. Many players of his caliber would have given up high school ball to concentrate on club soccer or national team commitments. Rodney managed to do all three and is glad he made the decision.
"I feel comfortable in this area," he says. "All my friends and family are here. I want to live a normal life. This won't be my only opportunity."
Next year, Rodney will take his well-rounded game to Virginia's top-notch program. And though he'll be many miles away, his impact on the Elmont soccer program won't be forgotten.
"He put us on the map," Corvetti says.
And Corvetti is glad he got to experience it as Rodney's coach. Because his memories of going against him are far less pleasant.
Jon Mahoney covers high school sports for ESPN RISE.
ESPNHS.com
SPRING BOYS' SOCCER RANKINGS