Commentary
Club teams could hurt U.S. high schools
Updated:
November 21, 2008, 10:17 AM ET
By
Joe Trost
| Special to ESPNRISE.com
Many believe that soccer in the U.S. has long been a sport that even soccer people in America can't figure out.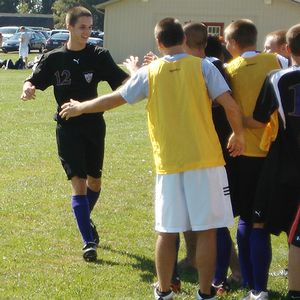 Sheldon ShealerTop players such as Matt Hutchison (12) could be forced to choose between the Development Academy and high school soccer.
From failed professional leagues to the continued struggles of the U.S. men's national team on the world's stage, it makes some wonder if the sport will always be a second-class citizen in America.
When you look even deeper into the soccer problems in this country, it stretches all the way to the high school level, where coaches across the nation are battling with the sport's main administration -- the U.S. Soccer Federation.
Bad blood has resulted from U.S. Soccer running its developmental program in the middle of some high school seasons. A number of affiliated, high-profile clubs within that program have jointly decided to ban their players from joining their high school soccer teams, despite U.S. Soccer's public statement last year encouraging participants to play high school soccer.
"This first year was a learning experience [for the kids]," El Camino Real (Calif.) boys' soccer coach David Hussey recently told the L.A. Times. "If the second year, they still think the development league is more important than high school, there's a problem.
"I won't declare war because you don't want to make any enemies, and we don't know how long the academies are going to last. We're losing the battle right now, but these kids and their families are making the decisions. If the rules say if you play in the academy, you can't play high school, I don't have a problem telling my kids, 'These are the rules.'"
As Hussey and countless other coaches continue to point out, the people caught in the middle of this tug-of-war are the thousands of high school players.
"I think the future of high school soccer today is as good as it was 10 years ago," Jesuit (Calif.) boys' soccer coach Paul Rose said. "Club soccer has tried to make gains into the high school arena, and in our area, many high school players may practice a couple of times a month with their team. But mostly the high school season is a time for club coaches to take some needed time off."
Rose is one of the few coaches at a high-profile high school program who hasn't yet been affected by the academies.
"We currently have no academies in our town, but I am sure one is coming -- probably next spring," Rose said. "However, one academy can only take 20 players, so the rest will be confined to club and could play high school.
"Many high school soccer players are not club players. There are only a handful of us who have mostly club players, and we could be affected if the academies try to take kids away.
"Academies, club soccer and high school soccer are so different. There is no substitute in terms of the emotion in playing for one's high school. This year, we played Davis when we were ranked No.1 in the country and they were ranked No. 7. We had somewhere between 3,000 to 4,000 people at the game, and it was just a nonleague game. Even my national player admitted that he had never been in a game like that."
High school players are learning that one minor tryout could make their decision for them. In 2007, five boys' soccer players in California were ruled ineligible after participating in a tryout for the San Jose Earthquakes' developmental team.
Marie Ishida, executive director of the California Interscholastic Federation, ruled the players had violated CIF bylaw 213-D, which states that high school players cannot participate in any tryout for a professional team in any CIF-approved sport unless the player has written approval from the school's principal and the tryout has no more than five players.
MLS teams around the country continue to host invitation-only tryouts for high school players. With MLS teams sponsoring their own developmental academy teams, many believe this will cause even more eligibility issues for high school players in the coming months and years.
This fall in Illinois, the state association elected to not host any of its state playoff games at Toyota Park, home of the Chicago Fire, because of the Fire's request for its academy players to skip the high school season. The Fire backed off that request once the Chicago Magic, touted as the nation's No. 1 youth club by Soccer America, publicly announced that it was letting its academy players play on high school teams.
[+] Enlarge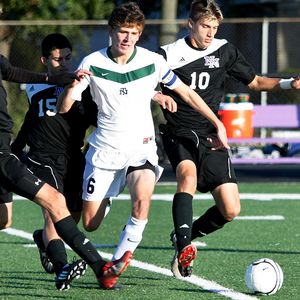 New Trier Soccer ProgramMidfielder Chris Ritter leads New Trier.
"High school soccer is still an option for players," said New Trier (Ill.) coach Craig Fairbairn, who led the Trevians to their second state title in three years this fall. "I have five current players on the Fire Academy team.
"All of them played this fall and really enjoyed the chance to play with their friends, who they had played with since they were U-9. It was special for them to finish high school that way."
If Fairbairn had lost those five special players, odds are New Trier would not have been the last team standing in Illinois. Nevertheless, he is hoping everyone can work together for what is best for the players and the sport.
"The academies are drawing some players, but not all of them," Fairbairn said. "The academies have been supportive of the high school programs by allowing the players to play their season and then get back to their team.
"I think both can survive with a little bit of cooperation from both sides. We cannot forget these are just high school kids, and some of them, while not outwardly expressing it, may feel they are being torn away from their friends on weekends.
"They do need some time to be just kids and hang around with their friends. There is some social and emotional growth that has to be considered for the whole-child development. Maybe that is why some of these kids burn out after a while."
Joe Trost covers high school sports for ESPN RISE.
SPONSORED HEADLINES
MORE BOYS' SOCCER HEADLINES
MOST SENT STORIES ON ESPN.COM
SPRING BOYS' SOCCER RANKINGS