Commentary
Stopper finding new ways to recruit
Updated:
December 4, 2008, 1:24 PM ET
By
Joe Trost
| Special to ESPNRISE.com
Avi Stopper has been around the game of soccer for a long time.
[+] Enlarge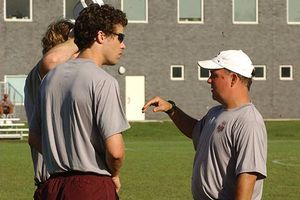 CaptainU.comAvi Stopper coaches at the University of Chicago.
The former high school and college star and coach at the University of Chicago has always wondered if a parent or athlete has stood up and proclaimed, 'I want to play Division III.'
"Of course not," said Stopper, founder of the college recruiting site CaptainU.com "It would be kind of like saying, 'I'm going to Vegas, and I want to stay at Hal's Motel and Eatery.'"
As countless high school players and their parents have learned over the years, the recruiting process can be a confusing and frustrating experience at times. There's no doubt players across the nation have those feelings right now with National Signing Day only a few months away.
"The biggest myth surrounding college recruiting is that if you're good enough, college coaches will find you," Stopper said. "To understand why this is nonsense, think about the tens of thousands of high school athletes who are all trying to land the same few spots. It means that the odds of a college coach randomly seeing you and deciding that you're his next star are ridiculously slim."
This weekend for example, the Marquette men's soccer program will be just one of the programs scouting hundreds of players at the U.S. Development Academy Showcase in California. According to Marquette associate head coach Stan Anderson, the Golden Eagles already have a list of players they will be looking at.
"We've heard from 25-to-35 kids who will be playing in the U.S. Development Academy Showcase," Anderson said. "We will watch those kids and proceed or halt at that point."
Another myth is the fact that athletic aid is prevalent for these athletes. " In reality, many programs have less than the NCAA max of 9.9 scholarships. Kids do need to sell themselves as soccer programs do not have unbelievably large staffs to recruit with," Stopper said. "They should use DVDs and YouTube. Kids also need to showcase their skills either in showcases or via top clubs."
According to Stopper, as hard as it may be, players need to stop looking at colleges as Division I, II and III and more so at what the college will offer them in the long run.
"The obvious conclusion to draw is that Division I is very good, Division II is weaker and Division III is the weakest," Stopper said. "The best college teams in the country are at the top of Division I. But lower down the table, there's much more parity than you might think. In most sports, top Division II or Division III teams are often as good or better than mid-tier Division I teams."
Illinois women's soccer coach Janet Rayfield believes there is some truth to Stopper's statement -- at least in women's soccer.
"When the growth spurt occurred in women's soccer, there was a gap between the number of programs and the number of talented players," Rayfield said. "As a result, I think many top Division II and Division III programs could compete with many of the mid-tier Division I programs.
"I think Division I programs continue to improve and the place at which the top programs from other divisions compete may be farther down in the Division I structure. On the women's side, I think you will always have a group of very talented athletes who choose to compete at a different level -- II, III or NAIA - because they have priorities and goals outside of soccer."
When high school-aged club teams used to play against college programs during the spring season, a number of premier clubs throughout the nation beat Division I programs on a yearly basis.
"Once you get past the top 10-to-12 Division I programs, there is a drop off," said Eclipse Select director Rory Dames, whose girls club was named the top program in the country by Soccer America. "We used to beat mid-major Division I programs with our under-17 and under-18 teams all the time when we used to play them. We're not going to be able to beat the Notre Dames and Florida States, but the top four or five clubs in the country can play with and beat 90 percent of the teams in Division I."
Some of the biggest differences between the divisions, however, aren't as much about quality as they are about commitment. NCAA rules strictly regulate the amount of involvement coaches can have with their athletes, and this varies significantly from Division I to Division II to Division III.
"In Division III, soccer teams aren't allowed to practice during the winter," Stopper said. "In the spring, they have a limited number of practices and are allowed only one actual game. By contrast, Division I teams are allowed to practice during the winter and play games on a regular basis during the spring."
The effect is a dramatically different college experience for athletes in different divisions. Sports are all-consuming in Division I and require athletes to miss out on many other college experiences. Division II and Division III athletes aren't allowed to spend as much time with their teams, which gives them more free time to explore other things.
"Players need to be as objective as they can when they look at colleges," Stopper said. "Try to forget about labels and instead assess the college and team for what it really is. Once they've evaluated a college objectively, they can pull back the curtain on what division it's in. Players may be surprised to find which ones they chose."
Joe Trost covers high school sports for ESPN RISE.
SPRING BOYS' SOCCER RANKINGS