Commentary
Scoring for Sierra Leone
Updated:
December 10, 2008, 1:58 PM ET
By
Joe Trost
| Special to ESPNRISE.com
There are many people who believe today's high school athlete expects everything to be given to him or her.
[+] Enlarge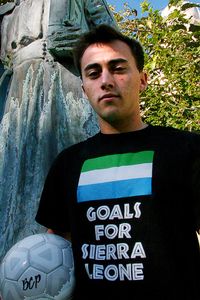 Brophy Prep soccer Every time Alberto Texidor and Brophy Prep score, Sierra Leone wins.
In some cases, that might be true. But don't tell that to Brophy Prep (Phoenix) boys' soccer coach Marc Kelly.
Each time the Broncos step on the field this season, Kelly's players have an opportunity to add to their individual and team statistics while helping children in war-torn Sierra Leone.
"We're presently running a campaign called 'Goals for Sierra Leone,'" Kelly said. "It's a fundraiser to buy either medical or other equipment for amputee soccer players in Sierra Leone.
"Each player and coach has agreed to donate $1 per goal, per game. In only five games so far, we've raised $350. In a 27-game season, that should lead to some good cash for the drive."
Sierra Leone suffered a decade of civil war until 2002, and many children witnessed or experienced atrocities. According to Victor Fornah from the Sierra Leone Red Cross, many children were abducted, conscripted or raped during the civil war.
Brophy, which began the winter season ranked No. 4 in the ESPN RISE FAB 50, is the lone team from Arizona ranked in the top 10 nationally. But that hasn't stopped the Broncos from going the extra mile off the field, too.
"A local company donated T-shirts, which we wear for our pregame warm-up, and there's been a huge demand for them within our student supporters group," Kelly said. "In the end, I'm quite certain that we'll go well over $2,000 for the drive, and that's not bad for its first year."
This off-the-field drive was actually developed by one of Kelly's players, Alberto "Tito" Texidor III.
"He's a fantastic left winger with a golden service," Kelly said. "The real special thing about him is his desire to give of himself and serve others without hesitation."
Texidor is set to play at Regis University in Denver next fall.
"Every time we score a goal, we're excited, but we're also helping people in Sierra Leone," said Texidor, who plans to major in international business and global management. "People are buying the T-shirts we designed, which is helping spread the awareness even more to what's going on over there.
"Our fans see us with the shirts on before our games and in school. We really have a chance to make a major impact on and off the field this year."
Brophy joins Wheaton Academy (Wheaton, Ill.) as the latest high school program to help those in need in Africa. Each year, Wheaton Academy raises money and brings soccer equipment to children in Zambia, Africa.
"Brophy has excellent students and individuals," Kelly said. "Community service here is pretty much a given -- not a rarity.
"It's extremely important to bond together as a group off the field. Working on service projects and helping other people in need, that's really where our team building happens."
Joe Trost covers high school sports for ESPN RISE.
SPONSORED HEADLINES
MORE BOYS' SOCCER HEADLINES
MOST SENT STORIES ON ESPN.COM
SPRING BOYS' SOCCER RANKINGS