Commentary
Five players who shined at the Disney Showcase
Updated:
January 6, 2009, 4:41 AM ET
By
Sheldon Shealer
| ESPNRISE.com
The Disney Showcase not only is an outlet for youth standouts demonstrate their talent, but also a forum where lesser-known players literally can become overnight stars.
[+] Enlarge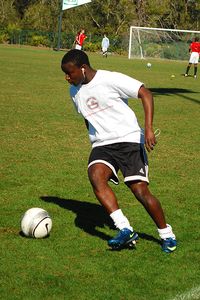 Sheldon Shealer Alhaji Toure, a senior at Wheeler (Ga.), caught the attention of college coaches by scoring five goals as a guest player while helping the team to a Disney Showcase title.
ESPNRISE.com surveyed some of the hundreds of college coaches to find five players who raised their stock by virtue of their play at the event this past week. This list, by no means, is all inclusive. Throughout next week, ESPNRISE.com will expand the list, and break it down by age groups. The following players, however, are ones who may not be regional or national team members (yet), but had the college coaches talking.
ESPNRISE will offer extended profiles on the top three players on this list next week.
Counting it down ...
5. Ross Tomaselli, CASL Chelsea FC (N.C.), Class of 2010
A coach at a mid-level Division I program watched Tomaselli and then made the bold statement, "We have no chance at him. He'll end up at Wake or Duke."
Whether that's the case, time will tell, but for certain Tomaselli's midfield play in the Under-17 Showcase drew recruiters' attention. Tomaselli is not a total unknown to the soccer scene. He has had stints with the under-14 and under-15 national teams.
4. Gabe Hoffman-Johnson, Seacoast (Maine), Class of 2010
In the profile book, he is listed as "Matthew," but goes by his middle name "Gabe."
Either way, it was clear that this forward from Maine is bound for a Division I program. During the high school season, he was named to the NSCAA All-America squad as a junior.
Maine certainly is not a soccer hotbed, but more college coaches than usual flocked to the Seacoast matches to see Hoffman-Johnson play.
3. Kyle Emerson, Dallas Texans Houston '92 (Texas), Class of 2010
Emerson has the makings of a major college prospect.
The midfielder with great touch, clean passes and a strong shot put it all on display in the Texans' finale, a 4-0 victory over the Wellington Wave in the championship match. Emerson got the team started with a 30-yard bullet of a strike early in the first half.
2. Emmett Lunceford IV, CESA Premier '92 (S.C.), Class of 2011
Lunceford was playing a year-up on the region squad, starting and dominating his midfielder position. College coaches love his size and skill.
At Disney, the South Carolina native showed the ability get involved in the attack, and at times, create great scoring chances for himself and teammates.
1. Alhaji Toure, Alpharetta Ambush, guest player (Ga.), Class of 2009
When coach David Eristavi lost three players before the Disney Showcase, all three called up for the Region III teams that were competed at the event, he turned to Alhaji Toure, and what a find.
Although he qualifies as a under-16 player, he is a high school senior at Wheeler. Toure scored five goals and added a pair of assists in leading the Ambush to a U16 Showcase title. He formerly committed to the University of Central Florida, but told ESPNRISE.com that he is unsure where he will attend college. One thing is for certain; several college coaches were talking about this athlete who seems to have been overlooked in the recruiting process by virtue of playing for a less-known Atlanta-area club. Toure has two older brothers, one playing professionally in Mexico.
Sheldon Shealer covers youth soccer for ESPNRISE.com
SPONSORED HEADLINES
MORE BOYS' SOCCER HEADLINES
MOST SENT STORIES ON ESPN.COM
SPRING BOYS' SOCCER RANKINGS