Commentary
Woodlands soccer bounces back
Updated:
January 8, 2009, 10:57 AM ET
By
Joe Trost
| Special to ESPNRISE.com
It's a moment in time that Dina Graves will never forget -- ever.
[+] Enlarge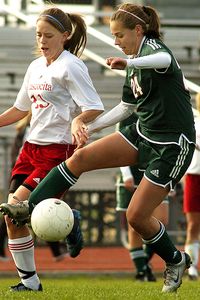 Kingwood soccer Teresa Sorrentino and The Woodlands have landed a preseason top 10 ranking in the FAB 50.
Trailing 3-0 with 27 minutes to play in the girls' soccer regional final last season, The Woodlands coach watched her team somehow rally from the huge deficit to tie the game and force overtime.
"I believe that is one of the most incredible comebacks in Texas high school history," Graves said.
But there was no happy ending for Graves and Co., which dominated last season by outscoring its opponents 100-16 and going unbeaten in 27 of 28 games (24-1-3).
That one loss was the regional final.
"We eventually lost on the fifth shooter of the shootout," said Graves, whose team watched in pain as eventual state runner-up Plano East celebrated. "We are looking forward to getting another chance to make good on that loss. My girls worked hard and I am very proud of them, but it hurt."
Shannon Funke, who is now at the University of Texas after playing three seasons for The Woodlands, made sure her teammates would never forget last season. She recorded an audio essay about that playoff loss, hoping it would provide motivation for this year's squad, which returns 17 players.
"It has been a long year to put the red and green back on and play together again," Graves said. "The year ended bittersweet last year, and we hope to give ourselves another chance this year.
"The girls have worked hard and look forward to getting that chance, but understand there is a long road ahead of them in the coming months."
But with the talent Graves has back, the long journey could be a fun and record-setting one for The Woodlands.
Players to watch:

[+] Enlarge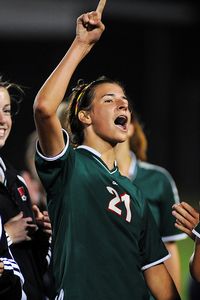 The Woodlands soccer Kylie Cook and The Woodlands have a clear vision of their 2009 goal -- to be No. 1 in Texas.
Olivia Kintigh, forward, Sr.: The four-year varsity standout, who plays club for the Houston Dynamo, was the District 15 offensive MVP last season. She finished the campaign with 21 goals and 17 assists.
"Olivia has been a captain for the last two years and leads by example in every aspect of her life," said Graves of the Oklahoma recruit.
Kelsey Missimer, defender, Jr.: The play of this star defender was one of the main reasons why The Woodlands allowed a mere 16 goals in 28 games last season.
"Kelsey has fought through ankle injuries and concussions, but always bounces back with courage and tenacity," Graves said. "She is little, but packs a punch."
Kylie Cook, midfielder, Jr.: The Houston-bound playmaker had 13 goals and 20 assists last season.
Kelsey Bass, midfielder, Sr.: According to Graves, the three-year varsity player has a knack for being in the right place at the right time.
"She scores or assists on goals when we really needed them," Graves said. "Kelsey creates more than her stats show."
Meghan Gibbons, forward, Jr.: Gibbons, who will play at Georgia, could be the player to watch this season for The Woodlands.
"Meghan was hurt last year and had knee surgery at the beginning of the year," Graves said. "She then traveled and played overseas during our season, too. She is extremely talented."
Joe Trost covers soccer for the Chicago Sun-Times and is a contributor to ESPNRISE. You may reach him via e-mail, .
SPONSORED HEADLINES
MORE BOYS' SOCCER HEADLINES
MOST SENT STORIES ON ESPN.COM
SPRING BOYS' SOCCER RANKINGS